If anyone thinks Donald Trump hasn't been given a fair shake, just review the tape. Time and time again, the president has attempted handshakes with domestic and foreign leaders using his signature herky-jerky motion, leaving a trail of only despair. It was even the subject of a "Last Week Tonight" segment that aired Sunday.
But that was before this meeting with Canadian Prime Minister Justin Trudeau.
On Monday, Trudeau bravely stepped up to the president and grabbed him by the shoulder to brace against Trump's unorthodox movements. The prime minister left the encounter with his arm intact. It was nothing short of incredible.
To understand the importance of the moment, just look to John Oliver. Merely hours before Trudeau's meeting with Trump, the HBO host aired a whole segment about Trump's tragic handshakes.
Oliver first pointed to the expression on Japanese Prime Minister Shinzō Abe's face after escaping Trump's death grip.
"That is the prime minister of a country known for awkwardly long formal displays of respect, and even he is going, 'Oh, fuck this shit,'" said Oliver.
The comedian then played a lowlight reel of Trump's other awkward handshakes, unintentionally summing up why Trudeau's shake was so significant.
Actually, the hero lies in Trudeauuu!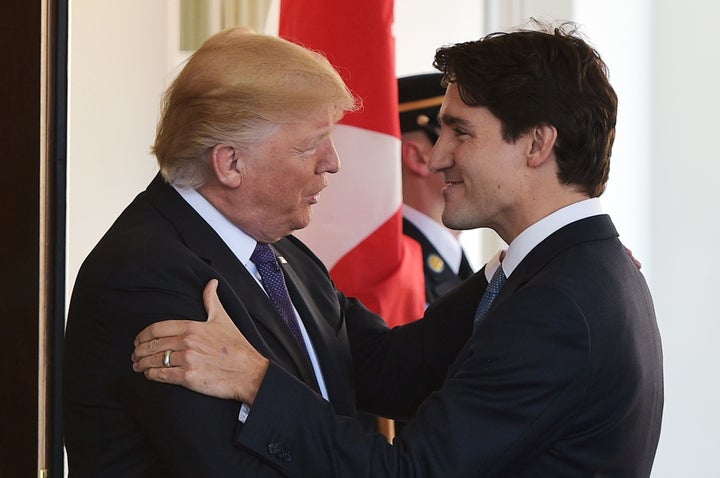 REAL LIFE. REAL NEWS. REAL VOICES.
Help us tell more of the stories that matter from voices that too often remain unheard.
BEFORE YOU GO
PHOTO GALLERY
Nationwide Protests Against Trump's Executive Order