On the first "Last Week Tonight" following his August break, John Oliver had an important message for college students: stop watching his show right now. Well, maybe not right now ... maybe right after he provides a greater understanding as to the cost of higher education.
In an in-depth segment on the student loan crisis in America, Oliver uncovered the truth about many for-profit colleges, including their astronomical costs, what they spend their profits on and, most shockingly, their recruitment policies.
"It's maybe not saying much for your business model," Oliver railed, after revealing one school's "Manchurian Candidate" inspired recruitment strategy, "if your essential logic is, 'Hey guys, this worked really well for the Nazis, let's at least give it a go.'"
With $1 Trillion in student loan debt owed as of 2012, incoming college freshman can probably count on paying for their education for the rest of their lives. So, Oliver summed up, they better turn off the television and get out there and enjoy the next four years while they can.
"Last Week Tonight" airs Sunday at 11:00 p.m. ET on HBO.
Related
Before You Go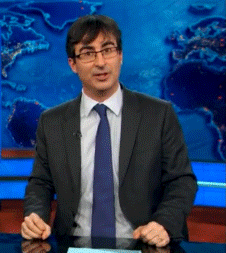 John Oliver GIFs
Popular in the Community