Reacting to Donald Trump's controversial comments that protesting athletes ought to be "fired" if they take a knee during the national anthem, comedian John Oliver had some choice words for the president during the opening segment of his Sunday show.
"Putting aside the free speech implications... how is kneeling in front of a flag more disrespectful to it than grinding it against your gnarled old boner?" asked the "Last Week Tonight" host, sharing a June 2016 photograph of Trump hugging an American flag.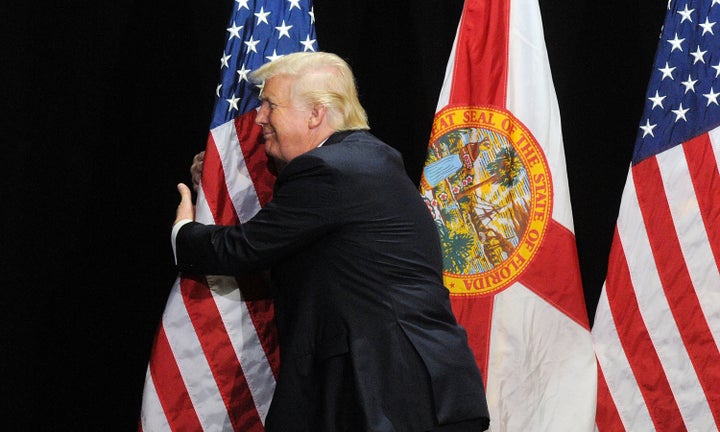 During a speech in Alabama on Friday, Trump used the expletive in apparent reference to Kaepernick.
"Wouldn't you love to see one of these NFL owners, when somebody disrespects our flag, to say, 'Get that son of a bitch off the field right now, he's fired'?" Trump said during his speech.
He later doubled down on his criticism of protesting athletes in several follow-up posts on Twitter.
Trump's remarks provoked a furor in the NFL community this weekend. Several athletes, coaches and team owners have condemned his comments, and during games on Sunday, players and staff of many teams ― including the Jacksonville Jaguars, Baltimore Ravens, Detroit Lions and New England Patriots ― demonstrated in defiance of the president.
At a Jaguars-Ravens game held in London, an estimated 27 players and staff from both teams took a knee on the field during the national anthem. Jaguars owner Shahid Khan, who donated $1 million to Trump's inaugural committee, stood and linked arms with his players to show his support.
Even NFL Commissioner Roger Goodell ― who has drawn his share of controversy as head of the league ― distanced himself from Trump's "divisive comments," saying they demonstrated a "lack of respect" for the NFL and its players.
Oliver pointed to Goodell's condemnation as evidence of how bad things have become.
"When you have lost the moral high ground of Roger fucking Goodell, something is horribly wrong," Oliver said.
Watch the entire clip above.
Popular in the Community