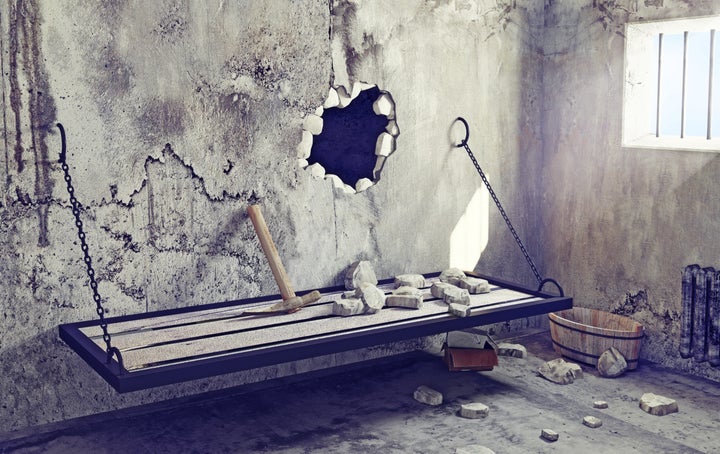 Somewhere in the world, one very elusive prison escapee may be celebrating a record 60 years on the lam.
Hannan, who would now be 82, has remained at large ever since.
It's not actually known whether Hannan is still alive. But he's never been registered as dead, so he is de facto known as the world's most successful prison fugitive.
Hannan was sentenced to 21 months behind bars for stealing a car and assaulting two cops, according to the Daily Mirror.  But he broke out from the facility with fellow inmate Gwynant Thomas after just 30 days by using a knotted bedsheet to climb over the wall.
The duo burgled a nearby gas station and stole overcoats, beer and cigarettes before leaving the isle. Thomas, also 22, was detained and returned to the prison within 16 hours after being spotted by a truck driver.
Hannan, on the other hand, managed to avoid roadblocks, and is believed to have returned to his native Ireland soon after. To this day, he is still a wanted man. The Dorset police force launched several major manhunts in the years following Hannan's escape, but he was never traced.
In 2001, Hannan overtook double killer Leonard Fristoe's record of 45 years and 11 months on the lam after a prison break, per the Telegraph. But as The Guardian reported at the time, Hannan will only be included in the Guinness World Records if he is caught or gives himself up.
Fristoe reportedly killed two sheriff's deputies in 1920 and escaped from state prison in Carson City, Nevada, on Dec. 15, 1923. Over 40 years later, in November 1969, Fristoe's son turned him in after an argument in Compton, California, where Fristoe had been living as Claude R. Willis.
REAL LIFE. REAL NEWS. REAL VOICES.
Help us tell more of the stories that matter from voices that too often remain unheard.