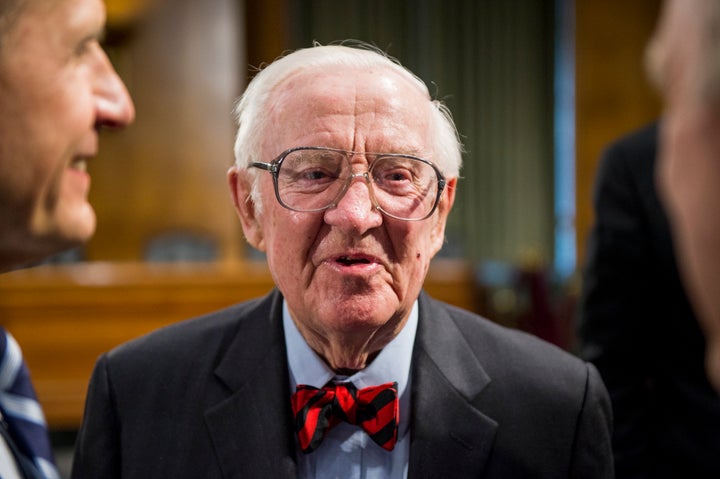 NEW YORK -- Retired Supreme Court Justice John Paul Stevens has some words of advice for the Senate over its refusal to consider President Barack Obama's nominee to the high court.
"Go ahead and hold a hearing" on Judge Merrick Garland, Stevens said Thursday.
The subject came up during a public conversation with National Law Journal reporter Marcia Coyle held at the New-York Historical Society. Coyle guided Stevens through a range of topics, including his World War II military service, his evolving views on the Constitution, and his perspective on some of the court's most controversial decisions -- including Bush v. Gore, which he said the Supreme Court never truly "survived" politically.
The focus of their exchange, though, was the present Supreme Court -- how it functions with only eight members and how it has been politicized since the death of Justice Antonin Scalia.
"I'm not aware of any confirmation process that's been delayed to the extent that this one is," Stevens said. He added that it's "really unfortunate" that the court will likely be down one justice months into its next term, which begins in October.
Stevens said "there are certain cases you just can't decide" with eight justices, since there is a "distinct possibility" that the court will deadlock 4-4 on the really difficult issues. So far this year, the Supreme Court has tied in three cases, including a major challenge to public sector unions.
Stevens knows a thing or two about vacancies and an understaffed court. For a few weeks in September 2005, he took on the role of acting chief justice following William Rehnquist's death -- a job that fell to him as the most senior associate justice at the time. The Senate acted quickly to confirm John Roberts as the new chief, getting him in place by the beginning of the term that October. Stevens himself retired in 2010 and was replaced by Justice Elena Kagan.
As for Garland, Stevens said that he was a "really fine judge and an awfully decent man" and that the president "couldn't have picked a better" nominee to fill Scalia's spot.
"I would say no. I'd reserve the right to say no."
Fifty days have now passed since Garland was nominated, and Senate Republicans are still refusing to schedule a hearing. The current battle bears little resemblance to what he experienced in 1975, Stevens recalled. After President Gerald Ford nominated him, he sailed through the Senate on a 98-0 vote, and his confirmation hearing wasn't televised.
Asked if there was anything Chief Justice Roberts could do now to fill the vacancy temporarily, perhaps by calling him or another justice out of retirement while the Senate gets its act together, Stevens said he wasn't sure if there was a legal mechanism available. (Retired justices do sometimes fill in on lower federal courts.) But he recalled a time that he and the late Chief Justice Rehnquist proposed a rule to do just that in the event of an unforeseen Supreme Court vacancy.
"We both were in favor of it, but nobody else on the court was," Stevens said, to laughter from the audience.
Some have argued that the Supreme Court is required by law to have nine active justices. But even if Roberts interpreted that to mean he could call on a retired justice to serve, Stevens might not be so amenable to the idea.
"I would say no," the 96-year-old demurred. "I'd reserve the right to say no."
Stevens is now the second retired justice to express views on a Supreme Court with too few members. Days after Scalia's death, Sandra Day O'Connor said the Senate should "get on with" doing its part to confirm the president's then-still-to-be-announced nominee.
The third living retired justice, David Souter, remains active as an occasional circuit judge but shuns the public spotlight. He is unlikely to step forward with any comment about the Supreme Court's current troubles.
"From what I know of Justice Souter, he'd probably have a backpack packed and be headed for the White Mountains," Coyle said.
Popular in the Community