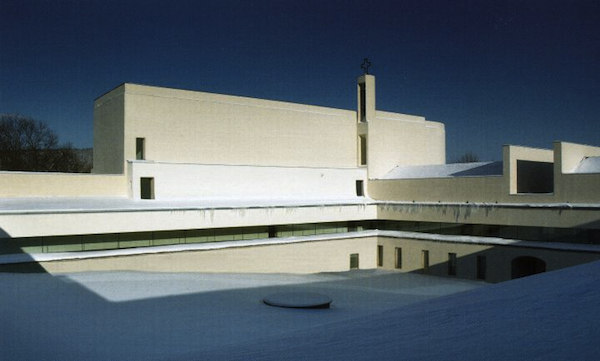 Novy Dvur Monastery, Czech Republic 2004
There is hardly any clutter in sight but minimalist architect John Pawson is profusely apologising for the mess in his offices next to King's Cross station. Pawson, best known for his clean, understated aesthetic has tended to shy away from the limelight, preferring to work on private commissions, such as homes and monasteries to taking on higher profile public projects. "I often follow my nose and follow the flow of the river, and I've been fortunate to meet such amazing clients and been offered work," he explains. "Maybe it is now time to start doing more competitions and choosing specific things to work on. I've just tended to do what has come to me; I've been very lucky. " The architect has been lucky indeed. No overnight sensation, Pawson's quiet and complex designs have slowly come to the fore. Just last year, the Design Museum mounted an exhibition celebrating Pawson's first 30 years as an architect, a roving exhibit which has now moved to the recently opened Architekturmuseum in Munich, and will be relocated shortly to the Bisazza Foundation near Vicenza in Italy. Worldwide interest reflects the enduring and global appeal of Pawson's work. This year, the Design Museum has commissioned him to re-design their new home in the former Commonwealth Institute building on Kensington High Street, a major undertaking scheduled to open in 2014. This is the architect's first public building and looks to be one of many.
Video by
With 30 years of work behind him, it is easy to assume that Pawson's ambition was to be a designer from day one, but he insists that he was a late bloomer. "I never really intended to become an architect, at least not in the beginning. I didn't start architecture until I was in my 30s. Maybe that was a good thing. You don't want to be let loose on buildings until you've had a bit of experience," says the Eton-educated Yorkshireman.
After a failed attempt at running one of his father's textile businesses and an engagement that had not gone to plan, Pawson left the country for Japan where he spent one night in a Zen Buddhist monastery trying to learn how to be a monk, and another four years teaching English. Though his stint as a trainee monk only lasted 24 hours, Japan, on the whole, made a lasting impression.
"Spending four years in Japan and one night at the Eihei monastery...I rather failed at trying to become a Zen Buddhist monk...those four years enforced what I already felt. Obviously, there are certain cultures and certain countries throughout history that at specific times have embraced that notion of simplicity, such as Zen Buddhism in Japan. I certainly learned so much in Japan. Mostly from people, but you also learn from places. " It was there that he met designer and architect Shiro Kuramata whom he befriended and who would later encourage him to go to the Architectural Association School of Architecture.
Pawson attributes his leanings towards simplicity, not just to the tradition of Zen Buddhism, but also to his background in Yorkshire. "I think the most formative years were really my background in Yorkshire, growing up with my Methodist parents," he offers. "My mother had an innate modesty. She had a genuine love of simplicity and was unpretentious."
He carries this philosophy through to his views on life and work. "I always say that everyone can do design if they want to. It is not a magical thing. It is just hard work. When people say you can't be an architect because you don't do Maths or you can't be an architect because you don't read books, and those sorts of things. It's not entirely true, because you don't need those things initially to be an architect."
Outside of architecture, what makes Pawson happy? "I have a very supportive family. My wife, Catherine and I have been married now for 22 years. My two sons and my stepdaughter are sorted, as they say. They've left home and are doing interesting things. I really enjoy their company. If I want get away, I get on my bike and ride into the hills in Gloucestershire." He beams when he talks about his children. "My son Caius has his own label called the Young Turks underneath XL Recordings. The other night he kindly took us to a Florence and the Machine concert in Alexandra Palace, which was nice. I also like Jack Peñate who has a new video, which is rather haunting, and of course I'm looking forward to The xx bringing out their next album."
The architect is keeping himself busy. He has just published an inspiring new book, A Visual Inventory, a collection of select photographs taken from his personal archive of 250,000 images shot over the last decade. From the new passenger terminal at Stockholm airport to a Gothic Revival grand staircase by George Gilbert Scott, the book features a fascinating body of reference material that gives us a peak into the designer's personal world. Though it's certainly insightful seeing the designer's thought processes and inspirations, there's nothing quite like surveying one of the architect's works up close. As Pawson declares, "Architecture is to be experienced physically - walking into places, living in them is really what it is all about. That's where you get this special atmosphere and thrill."
John Pawson, an exhibition at the Architekturmuseum, in the Pinakothek der Moderne, Munich runs until Sunday May 20th.
Popular in the Community