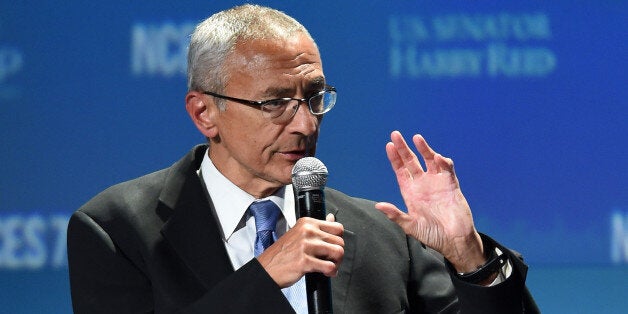 As John Podesta -- a senior advisor to President Barack Obama -- stepped down from his post on Friday, he tweeted that his biggest regret about leaving the administration was some unfinished UFO business.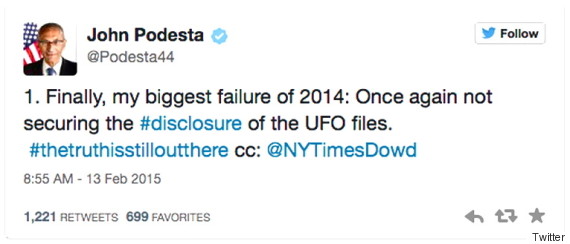 Podesta has a longstanding interest in UFOs that came to light after his first tour in the White House as President Bill Clinton's chief of staff between 1998 and 2001.
He's encouraged the powers-that-be to come clean about unexplained UFO cases, as seen in the following clip from a 2002 news conference at the National Press Club in Washington:
It's unclear exactly what trove of files Podesta meant, but his tweet renewed demands from UFO watchers that politicians open any and all files about outer space visitors.
"Podesta indicated in his tweet that he made an effort, somehow or another, to engage the UFO files question. That's all he has indicated. He didn't say who he talked to, how he did it -- he just put it out there," according to Stephen Bassett, executive director of the Paradigm Research Group.
Bassett is lobbying for a congressional hearing to terminate what he refers to as a decades-long official truth embargo on UFOs.
"In order for the truth embargo to end, the president must go to the Pentagon and they have to cut a deal, where the Pentagon gets assurances from the White House about how disclosure will take place, how the post-disclosure period will be conducted," Bassett told HuffPost. "And the president has to get confirmation from the Pentagon that when he announces the ET presence, that they're going to back him up. The whole purpose of this entire advocacy movement and everything I'm doing and other people are doing is to get that deal cut -- that's what it's all been about for at least the last 25 years."
If this is true, UFO proponents will certainly urge Podesta to encourage Clinton to do what her husband has said he tried to do when he occupied the Oval Office. The former president has made numerous statements in recent years, claiming that he looked into the UFO situation himself and saying that no such evidence was ever presented to him.
Watch President Clinton talk about aliens with Jimmy Kimmel:
The UFO lobby, such as it is, first pinned its hopes on Hillary Clinton when she ran for president in 2008, because of her ties to Podesta.
When the 2016 presidential campaign begins in earnest, and if Podesta does, in fact, play a major role in how it shapes up, UFO proponents and skeptics alike will closely watch to see if the truth is out there -- the UFO truth, that is.
Related
Before You Go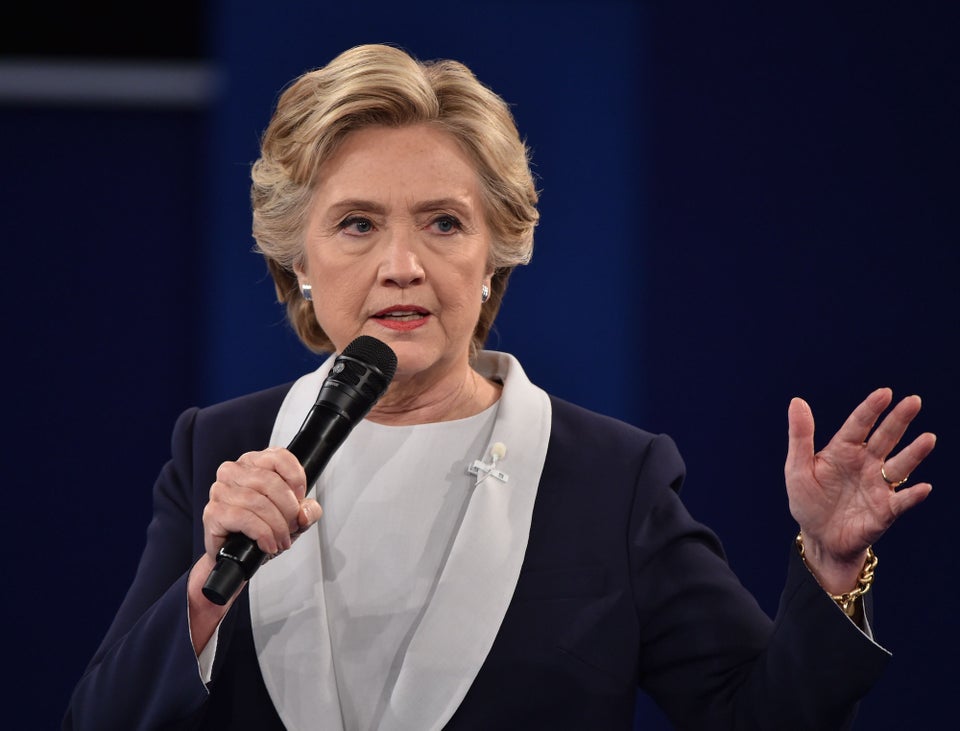 Politicians and UFO Sightings
Popular in the Community