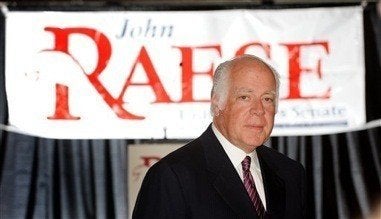 Republican candidate John Raese, who is facing off against Democratic Gov. Joe Manchin for the West Virginia Senate seat long held by the late Sen. Robert Byrd, said in an interview on Tuesday that he favors eliminating the federal minimum wage.
In an appearance on ABC News' "Top Line," Raese described the decades-old measure as useless and signaled his belief that it has been ever since it was signed into law by then-President Franklin Delano Roosevelt, a Democrat, in 1938.
"I don't think it worked then," explained the GOP hopeful. "It didn't solve any problems then and it hasn't solved any problems in 50 years."
When pressed on the matter and asked if he thinks the federal minimum wage rate -- $7.25 per hour -- should be repealed, Raese responded, "absolutely."
The Senate contender said he believes government has no place "micromanaging the economy," adding, "You don't want government to set price controls. You don't want government to set wage controls. It's an archaic system that frankly has not worked."
In an interview with CNN last week, Raese communicated a similar sentiment when he asserted that the minimum wage is "something that hurts a lot of youth employment in this country."
In the wake of those remarks, the Democratic Senatorial Campaign Committee took aim at Raese over his stance on the issue, as well as his larger economic platform.
"It's clear that multi-millionaire John Raese just doesn't understand West Virginia values," said a statement released by the electoral organization. "He's also faced questions about where he lives, after a report came out showing Raese owns homes in several states, including Florida, where his family lives in a 7,000 square foot home with a peach colored marble driveway."
ThinkProgress recently reported on an insight Raese offered into his own affluence and financial stability.
"I made my money the old-fashioned way, I inherited it," he said during an appearance on a conservative talk radio program. "I think that's a great thing to do. I hope more people in this country have that opportunity as soon as we abolish inheritance tax in this country, which is a key part of my program."
WATCH Raese back elimination of the minimum wage:
Calling all HuffPost superfans!
Sign up for membership to become a founding member and help shape HuffPost's next chapter