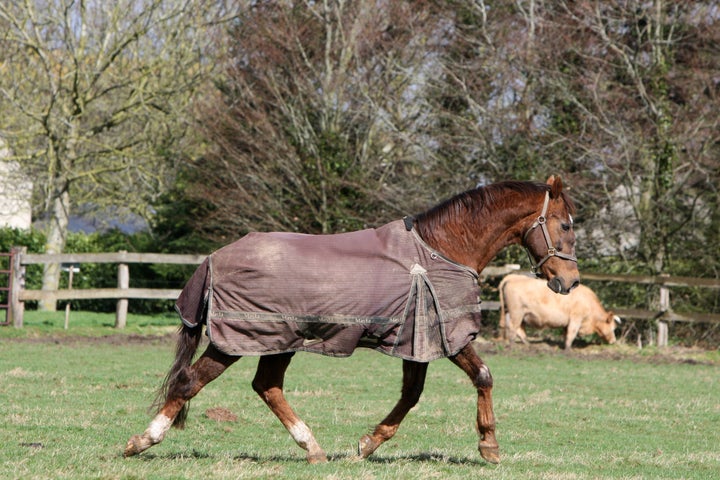 Police in Michigan have arrested a 62-year-old man who was allegedly caught on surveillance video having sexual intercourse with a horse. It is the second time the man has been accused of bestiality in the past 10 years, police said.
"I have been in law enforcement for 30 years and this is definitely a bizarre case," Sgt. Fritz Sandberg of the Clinton County Sheriff's Office told Weird News.
According to Sandberg, John Robert Mester of Clinton County has been charged with one count of committing sodomy and one count of aggravated indecent exposure.
Police began to focus on Mester in June after they were contacted by Cindy Heistand, a woman who runs a boarding stable in Riley Township.
Heistand told police she became suspicious when some of her customers spotted a suspicious man feeding the horses in her pasture. Concerned for the safety of the animals, Heistand purchased a video surveillance camera and mounted it in a tree overlooking her 15-acre pasture. She was shocked by what the camera caught on tape, police reported.
"[Heistand] contacted us after she had some footage of the suspect engaging in sexual acts with some of her horses she was boarding," Sandberg said.
The videos allegedly show a man feed a thoroughbred mare from a bucket. According to police, afterwards, he flipped the bucked over and stood on it, lifted the stable sheet and had sexual intercourse with the animal.
Upon reviewing the footage, the sheriff's office identified Mester as a suspect and turned the case over to the prosecutor's office. According to Sandberg, Mester has denied committing sexual acts on the horse.
"The sodomy [charge] is a 15 year felony, if convicted and [the] indecent exposure [charge] carries a maximum two year penalty or $2,000 dollar fine," Sandberg said.
According to the sheriff's office, Mester was arrested on similar charges in 2001.
"He was charged with having sexual acts with a pony but ultimately convicted of [attempted] animal torture. He spent 30 days in our county jail," Sandberg said.
"The case is obviously something we don't hear about or read about very often, but when it does we will treat it like any other crime and investigate it," Sandberg said.
Related
Popular in the Community