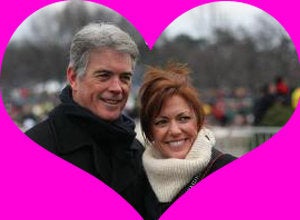 John King and Dana Bash may have some fresh competition for the title of CNN's Hottest Couple.
According to multiple reports, "American Morning" host John Roberts and dayside anchor Kyra Phillips are the cable news network's latest couple.
New York Magazine's Daily Intel blog writes, "A source close to the situation tell us that it's true! Phillips and Roberts are happily dating."
TVNewser also cites "sources close to the couple," writing that they have been dating (long distance) since December and that she met Roberts' family while in Toronto. Phillips, who grew up in San Diego and anchors from Atlanta, is reportedly "telling friends she's found her life partner" and planning a trip out west so Roberts can meet her family. Roberts broadcasts from New York.
Sources close to Roberts tell Huffington Post that he says Kyra is an absolutely incredible person and he's blessed to have her in his life.
Both Roberts and Phillips have previously been married -- Roberts split from his wife last year, while Phillips has been divorced for several years now.
Popular in the Community