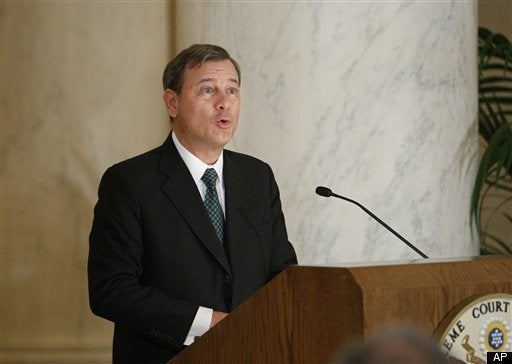 UPDATE 4:55 AM ET -- Anatomy of a rumor. So, it turns out that the rumor of Supreme Court Chief Justice John Roberts's resignation was all a prank started by a Georgetown University Law Center professor, if we can believe the account posted on the Above the Law blog.
On Thursday morning, Professor Peter W. Tague started the rumor during his criminal law class, during a discussion about the validity of informants not explaining their sources.
Per ATL, a student in the class told them:
Our criminal justice professor started our 9am lecture with the news that roberts will be resigning tomorow for health reasons- that he could not handle the administrative burdens of the job. He would not say how he knows- but halfway through our lecture on the credibility and reliability of informants he revealed that the Roberts rumor was made up to show how someone you ordinarily think is credible and reliable (ie a law professor) can disseminate inaccurate information.
UPDATE 1:45 AM ET-- RadarOnline retracts story. RadarOnline has added an update saying that Chief Justice John Roberts is not resigning:
Update: RadarOnline.com has obtained new information that Justice Roberts will NOT resign. The justice will be staying on the bench.
EARLIER: Gossip site RadarOnline is reporting that Chief Justice John Roberts is "seriously considering" stepping down from the Supreme Court "for personal reasons".
Roberts, a staunch conservative, was appointed by President Bush and has served on the court since 2005. While RadarOnline doesn't give a reason for the possible retirement, Roberts, 55, has suffered two seizures, in 2007 and 1993. Time magazine speculated in 2007 that Roberts may have epilepsy. However, the Supreme Court said after the 2007 seizure that Roberts was "fully recovered" and a neurological evaluation "revealed no cause for concern."
Sources told RadarOnline that retirement announcement could come "at any time."
A spokesperson for the Supreme Court has not yet returned a request for comment from Huffington Post.
Calling all HuffPost superfans!
Sign up for membership to become a founding member and help shape HuffPost's next chapter