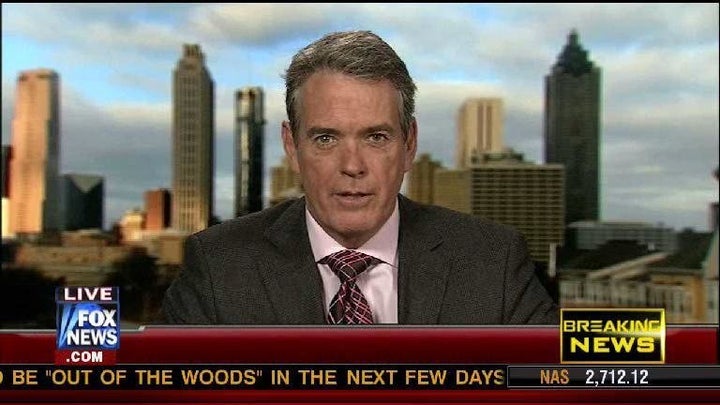 John Roberts doesn't miss the anchor desk.
The former co-anchor of CNN's "American Morning," who recently jumped to Fox News, is now out on the road as the #1 cable news network's senior reporter and loving it.
"The anchor desk is confining after a while," Roberts told The Huffington Post by phone Thursday. He called from the offices of the DEA, where he had just brought viewers for the first time inside the agency's "war room" as a drug raid was being planned. "It's great to be able to get out and meet people, to tell their stories. You can only see so much of the country from behind an anchor desk," he said.
Roberts is not even two months into his Fox News career, but already he is praising the organization and its leader, Roger Ailes.
"This is really a terrific place to work," he said. "It's really interesting to work for a place that has the vision of one person that immediately gets disseminated to everyone across the board. You don't have a huge flow chart that goes through myriad branches before it goes down to the troops. Basically you have Roger, and then a couple of people he has as his trusted lieutenants, and then there's the rest of us. There's very little left to interpretation when it comes to what we're doing. Everybody gets the message. That message is really just: cover the news. Tell me a story."
Roberts called Ailes "one of the most brilliant people in media today," and said that the opportunity to work for him and at the #1 news network was something he had to take.
When it comes to the reporting process, though, Roberts said Fox News covers the news in the same way that he saw at CNN and CBS News, with one major exception: they have far fewer people than their counterparts.
"Fox is a much leaner and in some ways meaner machine," he said. "We do not have the resources that CNN has; we don't have the number of people that CNN has either. But it's a group of people who really love what they're doing and they're willing to pitch in. Do more with less is really the kind of ethos here at Fox. We're the #1 network, but in some ways we're still an underdog because we're a much smaller organization."
Roberts still maintains ties to CNN, though: he is engaged to CNN anchor Kyra Phillips, and the couple is expecting twins next month. He says that their cable news rivalry keeps things interesting in their relationship.
"There's always a little bit of competition in every relationship, I think that's what keeps it fresh," he said. "The fact that we may be television competitors is an interesting dynamic, but we don't get angry at each other."
He said that he and Phillips share a "healthy, very friendly and loving spirit of competition," and added that there are some things they won't tell each other about their respective workplaces.
"It's kind of like when you work for the CIA, you don't tell your spouse everything," he said. "She lives where she lives, I live where I live, and if there is something proprietary about what either one of us is doing, we have to respect that. We don't say anything."
Phillips, who Roberts described as "extraordinarily pregnant," is set to give birth to boy-girl twins on March 21.
"It's very difficult for her to be comfortable," he said. "I've tried to utilize my talents in building her castles of pillows in bed that she can stretch across, in order to cradle her belly in such a way and lift up her neck so that she doesn't get acid reflux."
He added that he is "hesitant to travel too far for too long" with a pregnant Phillips at home, and that when he was reporting from London for ten days "she was getting a little antsy and thought that I had been away for too long."
And despite the couple's "engagement," Roberts says he doesn't call Phillips his fiancee and that they have no real plans to get married anytime soon.
"There's no plan for a wedding," he said. "I call her my wife, she refers to me as her husband....at our age, fiancee just doesn't sound right. And when you call somebody your sweetheart, eventually that gets old as well. Do I expect that at some point we'll get married? Yes, it's just that we've both been so busy working and preparing for our babies that we haven't found time."

Related
Popular in the Community