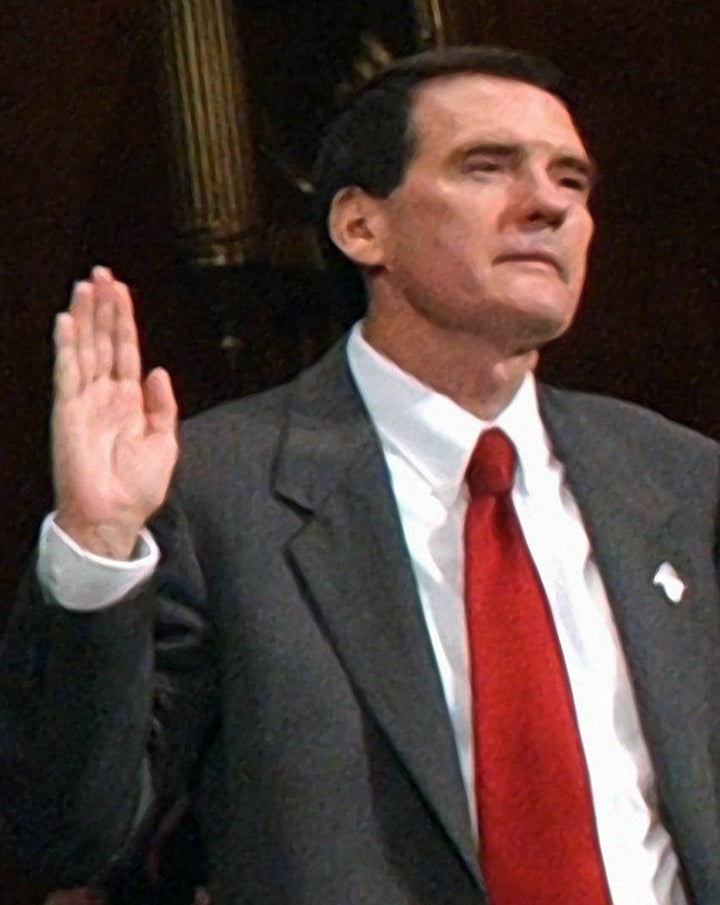 I still have John Roll's card in my old Rolodex, which dates back to 1979. I first met John when I was directing continuing legal education programs for the National College of District Attorneys, an organization that sponsored training seminars for prosecutors. John was one of several dozen lecturers who toured with me around the country; he gave talks on various topics related to the trial of criminal cases to young attorneys -- mostly recent law school graduates who had joined the staff of their local prosecutor's office.
When we met, John was a Deputy County Attorney for Pima County, prosecuting criminal cases, but shortly thereafter, he was appointed to the United States Attorney's Office in Tucson; the card I have is hand-written, containing both his new office phone number as well as his home phone -- because he wanted me to always be able to reach him easily. John never declined one of my invitations to speak at a seminar; he enjoyed the travel, the hotel stays, the dinners in nice restaurants, and the chance to meet new people. He was, without a doubt, one of the most personable lawyers I ever met. Polite to a fault, always impeccably dressed, John exuded charm, intelligence, and occasional wit, though he seemed shy in some respects. In a one-on-one situation, John was quite the conversationalist, and as a lecturer in front of a crowd, he was a scholar without peer. But in a smaller group of people, say, at one of our dinners, John became a listener, paying close attention to the others but never dominating the conversation, because he seemed to feel that at the age of 33, he still had much to learn from the more senior prosecutors who lectured along with him.
Aside from his sparkling personality, one of the things I remember best about John was his fair-minded approach to his work. As he often stressed in his lectures, John was not interested in seeking a conviction for the sake of the conviction. Unlike some prosecutors who were eager to rack up a win record, John constantly underscored the importance of finding and presenting solid evidence that would support the case, in the hope that the ends of justice would ultimately be served. And though he was quite an accomplished trial lawyer, he never bragged about his skills and rarely told the kinds of war stories that many prosecutors seem to relish.
The other strong memory I have about John was his eagerness to complete his assigned lectures and swiftly return home to Arizona and his family, to which he was dedicated. A husband and father first and foremost, John was also a strong man of faith, and during the five years that we worked together, a good friend to me. When I left my post in 1984 after a lengthy illness, John sent me a handwritten note of good wishes and thanks for including him in the many seminars in which he participated. It was just like him to take the time to do that. I wish now we had been able to remain close friends, but time, distance, and career changes made that unlikely. Still, I am very glad that I had the opportunity to be acquainted with him, even if only for a brief time.
Johnny, we hardly knew you. May you rest in peace!

Calling all HuffPost superfans!
Sign up for membership to become a founding member and help shape HuffPost's next chapter