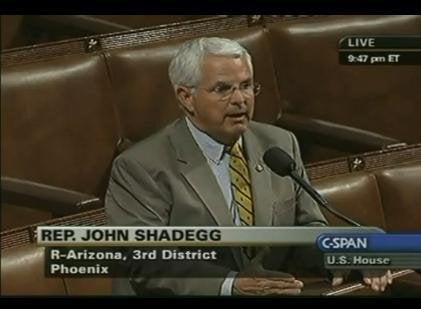 SHADEGG: I saw the Mayor of New York said today, "We're tough. We can do it." Well, Mayor, how are you going to feel when it's your daughter that's kidnapped at school by a terrorist? How are you going to feel when it's some clerk -- some innocent clerk of the court -- whose daughter or son is kidnapped? Or the judge's wife, or the jailer's little brother or little sister? This is political correctness run amok.
SHADEGG: I apologize for the insensitivity of my remarks with respect to the mayor or his family, however I think it is important to note that this decision involves potential risk to innocent people.
Now, right about now, you might be wondering, "Is John Shadegg so clueless that he doesn't realize that terrorists pose a 'potential risk to innocent people' no matter how or where or if or when Khalid Sheikh Mohammed is tried?" And the answer is, no, he's not that clueless. But Shadegg is not about to let reality impede his ability to offer insipid and self-indulgent political grandstanding!
Calling all HuffPost superfans!
Sign up for membership to become a founding member and help shape HuffPost's next chapter