Rep. John Shimkus (R-Ill.) suggested Wednesday that one reason Republicans are unhappy with the Affordable Care Act is because men must pay for health care plans that cover maternity services.
The congressman's comments came during a lengthy markup session in the House Energy and Commerce Committee, one of the first steps House Republicans took to advance their bill to repeal and replace the health care law. During the hearing, Rep. Michael Doyle (D-Pa.) asked his colleague Markwayne Mullin (R-Okla.) to explain what he meant when he said premiums were "skyrocketing" in his state "because of the mandates from Obamacare."
"What mandate in the Obamacare bill does he take issue with?" Doyle asked. "Certainly not with pre-existing conditions, or caps on benefits or letting your child stay on the policy until 26, so I'm curious what is it we're mandating?"
"What about men having to purchase prenatal care?" Shimkus replied. "Is that not correct? And should they?"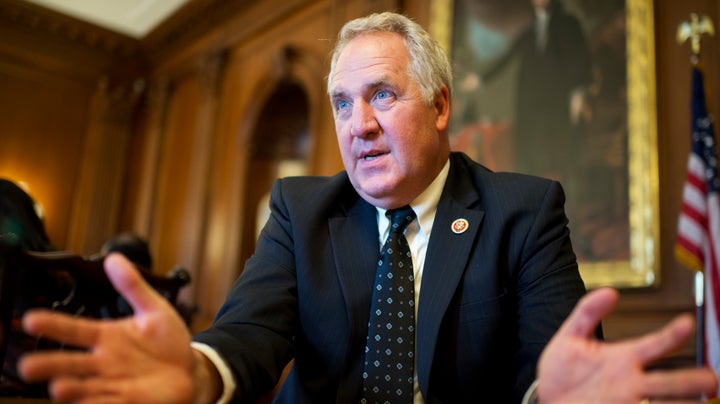 Doyle appeared confused by Shimkus' comment.
"There's no such thing as a la carte insurance, John," he said.
"That's the point," Shimkus replied. "We want the consumer to be able to go to the insurance market and be able to negotiate on a plan ..."
"There's not a single insurance company in the world that does that," said Doyle. "You're talking about something that doesn't exist."
Committee members then turned the hearing back to the amendment under consideration.
Shimkus' press secretary didn't immediately return a request for comment.
NARAL, the reproductive rights advocacy group, tweeted out a clip of Shimkus' comments:
Maternity care, both before and after birth, is one of the essential services the Affordable Care Act requires plans to cover. Other required services include hospitalization, preventative care and pediatric services. The Republican replacement bill will eliminate these requirements for Medicaid plans by 2020 and will instead leave the decision of what is considered essential up to the states. The GOP bill, however, does maintain the essential benefits requirement for individual plans.
Many Republicans have long argued in favor of letting people buy cheaper plans that don't cover as many services, arguing that blanket coverage for things like maternity care and mental health services drive up premiums and make health care more expensive for everyone.
Shimkus is also not the first lawmaker to ask why men should have to pay for the cost of delivering a child. In 2013, then-Rep. Renee Ellmers (R-N.C.) questioned then-Health Secretary Kathleen Sebelius on the matter during a House hearing.
"To the best of your knowledge, has a man ever delivered a baby?" she asked.
Of course, pregnancy is not just a woman thing. It biologically requires a man to be involved at some stage in the process.
Prior to the Affordable Care Act's passage, insurers could consider pregnancy a pre-existing condition and deny coverage for maternity services. According to the Department of Health and Human Services, 8.7 million women gained maternity coverage as a result of the legislation.
Support HuffPost
The Stakes Have Never Been Higher
Popular in the Community