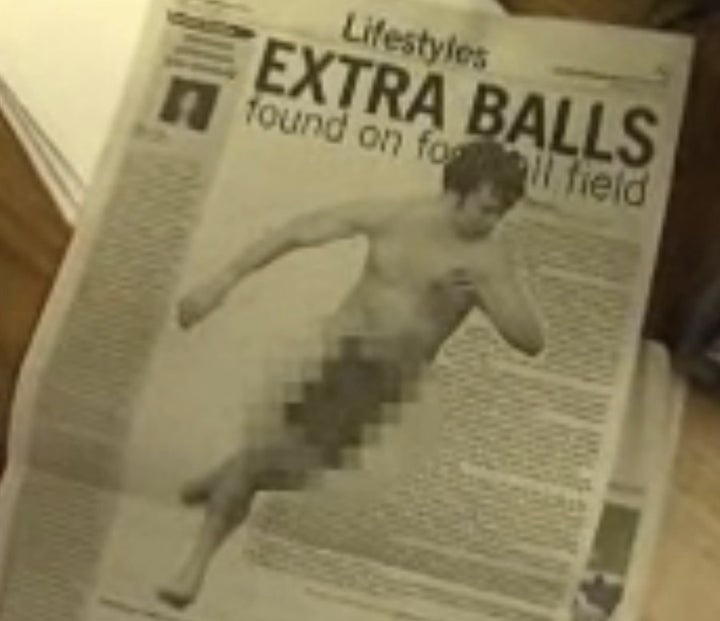 Football fans at last weekend's East Carolina University vs. Southern Mississippi game got a little more than they paid for when John Sieglinger, a 21-year-old, pulled off his clothes and streaked across the field during the halftime show, The East Carolinian reports.
Sieglinger, who isn't a student at the school, was tackled by security and arrested, but not before he did a cartwheel and danced on the field, according to The Daily Reflector.
WATCH A VIDEO OF THE STREAKER BELOW
"The decision by The East Carolinian to publish a photo of a streaker that showed full frontal nudity was in very poor taste," said Virgina Hardy, the school's Vice Chancellor of Student Affairs, according to a report from WNCT-9. "The leadership at East Carolina University does not agree with that decision and does not support it."
According to Poynter, the paper's editor, Caitlin Hale, said "we felt that our audience, which is primarily the ECU student body, should have access to unedited and factual photos of the streaking incident." She said that the photos "were not meant to be seen as sexually suggestive or insulting."
For his part, Sieglinger told The East Carolinian that streaking was on his list of things to do before he dies. "The crisp Greenville air caressing your nut sack as you run, there's nothing like it," Sieglinger told the paper.
WATCH: Streaker runs across field during ECU-Southern Mississipi University Football Game: