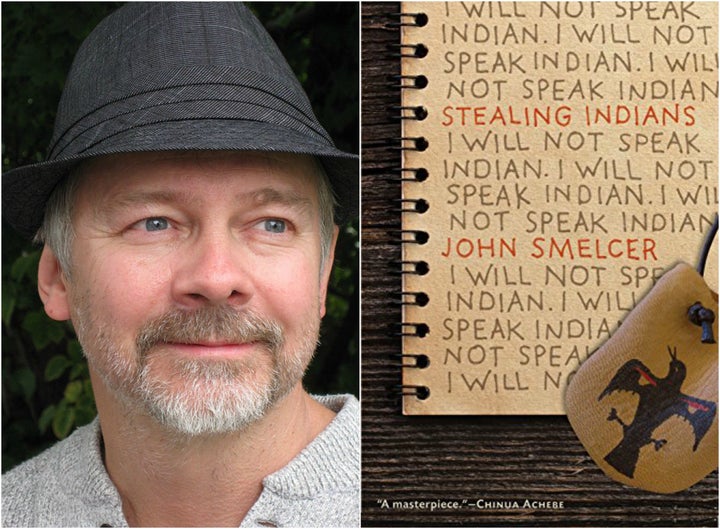 On Aug. 10, PEN Center USA named John Smelcer's Young Adult novel Stealing Indians as one of four finalists for the Literary Award in the YA category. Just two weeks later, the book ― and Smelcer ― have been overtaken by a long-simmering scandal that has called into question the book's cultural accuracy, the author's credentials and the swill of prestigious accolades surrounding both.
Smelcer has built a career around his Native identity, writing nonfiction, poetry and YA fiction about his Ahtna (an Alaska Native people) heritage and finding reasonable success. His books are emblazoned with blurbs from literary luminaries: Chinua Achebe, J.D. Salinger, Norman Mailer. He's laid claim to a Ph.D. from Oxford, friendships with prominent scholars and famous writers, and innumerable literary honors.
Stealing Indians has similarly received some glowing reviews, but for years, Smelcer's been an object of suspicion within Native circles, where authors including Sherman Alexie and Terese Mailhot, as well as scholar Debbie Reese, have raised questions about his Native heritage and his credentials, and critiqued his books as misrepresentations of history and Native cultures. The PEN Center finalist nomination, it seems, brought these long-ignored allegations to the fore. In an Aug. 23 profile in The Stranger, Rich Smith dug anew into Smelcer's background, and he too found a far different picture than the one painted by the author's polished resume.
The Oxford degree? Nonexistent. The literary honors? Mostly exaggerated or misleading. The blurbs? At least some appear to be fabricated ― surprisingly, many of the eminent authors he claims praised his work were dead when the blurbed books came out. (The cover of Stealing Indians features the praise "A masterpiece," attributed to Achebe, who died three years before the book came out.) His teaching career has been repeatedly interrupted by dismissals due to his misleading or false credentials, Smith reports.
"Children's books -- from their content to their authorship -- shape how people think about us."
Smelcer's Native identity has been a through-line in much of this controversy. He's portrayed himself as a bearer of Ahtna culture, the last fluent speaker of the language and someone who grew up steeped in tradition. Reese, who reviews children's books through the lens of Native representation, has long taken a critical eye to his work ― and reported on his career and background.
"Children's books ― from their content to their authorship ― shape how people think about us," Reese told HuffPost in an email. "All of this matters very much to the well-being of our tribal nations."
Though he is enrolled in the Tazlina village, an Ahtna tribe, his ties to the tribe are somewhat muddy: The child of white biological parents, he was adopted by an Ahtna man named Charlie Smelcer. He has made public a U.S. Department of the Interior certificate stating that he is "¼ Indian"; Reese wrote that his adoption would likely qualify him for such a designation based on Alaskan law. But it can also, she noted, be misleading. In the 1990s, in fact, Smelcer was appointed to the faculty of the University of Alaska Anchorage, as part of an effort to increase ethnic diversity on campus. When it was discovered by the university that he was not ethnically Native, the news caused a stir. He revealed to a local paper that he hadn't lied about his heritage during the hiring process, but, he said, he knew that his letter would give leave the impression that he was Native by blood.
"I was very careful with the dictionary, finding that word 'affiliated,'" he told The Anchorage Daily News. He did insist that he identified strongly with the Native culture that he grew up within, but his adoptive father pushed back on that characterization at the time. His son, he said, "grew up around a military environment, with cars and television and everything else like that. If he's used my Native heritage for his personal or professional gain, then that's wrong."
Native critics, like Mailhot, have also fixed on that point: Identity can be a tricky thing. But Smelcer's Ahtna identity has been central to his career success, which makes any murkiness surrounding it potentially troublesome ― especially when it's reflected in his work. "I don't know what 'Native' is," wrote Mailhot in 2016. "But I know when it's absent." She quotes several lines from poems by Smelcer published by The Kenyon Review (the poems were taken down following criticism), and calls out his reliance on "tropes about Indian mystics, nature, and how bad life is for us. The worst part about being a Native writer is competing with non-Natives, who will proudly serve up tropes about us to get a check and some limelight."
Though his YA books have received some critical praise, Reese says they perpetuate these troubling narratives. "Smelcer's statements about his identity are one problem, but the inaccuracies in Stealing Indians are another," she told HuffPost. "Even in fiction, basic facts have to be right." She reviewed the award-nominated novel, which follows four Native children in the 1950s who become friends when they're removed from their communities and placed in a boarding school, for her website, American Indians In Children's Literature. She lays out numerous historical inaccuracies and damaging clichés, and criticizes the book for ignoring or erasing tribal specificity. "The parts about the character's identities as Native children [...] contribute to monolithic thinking," she said ― that is, they encourage readers to think of Native peoples as one vague whole, rather than a group made up of many sovereign tribes with distinct cultures, beliefs and traditions.
To say this episode prompts feelings of déjà vu would be an understatement. A similar, if less bizarre overall, controversy raged around Canadian novelist Joseph Boyden last year. The case of Smelcer is so odd ― the iffy blurbs, the inflated or manufactured credentials ― that it suggests the work of an all-around con artist. But appropriation of Native identity by writers is a perennial problem.
"Why do writers pretend to be Indians?" David Treuer asked in Slate in 2008. He cited the Margaret Seltzer case from that year but many from years and decades before ― Forrest Carter, who wrote The Education of Little Tree; Archibald Belaney, who wrote as Grey Owl; and more. Why does this keep happening, even nearly a decade after that article? Treuer pointed to one big reason: far more Americans are familiar with the tropes and stereotypes about Native peoples than they are with any actual Native people. "We Native Americans are dwarfed by the ideas that abound about us, and this imbalance lends itself to invention," he wrote.
And, if you play it right, it can be profitable invention. Critics point to expectations in the publishing community and American society generally that Native writers present themselves, and their stories, in a specific and expected way ― a formula that Native writers are less likely to deliver than a non-Native writer who knows the culture mostly from stereotypes and pop culture. "Are voices like Smelcer's, that play on tropes of Native people, or discuss our plight in familiar ways, more palatable to publishers and prize juries?" Mailhot asked in The Los Angeles Times.
The answer seems to be yes. "[Smelcer] presents as being Indian in a way that non-Natives and Natives agree is the 'most authentic' way of being Indian," Alexie told Mailhot. But human experiences rarely fit perfectly into such a mold. Many Native people today live in cities, for example; many have experiences quite unlike the one Smelcer presented of an upbringing hunting moose and caribou to feed his family.
Reese pointed out that playing into these familiar narratives, as she argues Smelcer did, can crowd out real representation of Native cultures. "His success means [books] that accurately depict who we are ... fail," she tweeted.
She urged readers to seek out books that contain accurate portrayals of Native life ― even characters written by non-Natives, she tweeted, simply need to be "well done" rather than built on misleading stereotypes.
Back in 2008, Treuer made a similar plea. "There are many Indian writers with stories to tell that are ignored because they do not fit the preconceived notion of tragedy and cheap melodrama," he wrote. "The more than 2 million of us living in the U.S. who are not fakes ― our lives (especially if they are happy lives) will continue to go on unseen."
Thanks to the hard work of authors like Alexie and Mailhot, and critics like Reese, more and more of those stories are being seen. But the Smelcer saga makes clear yet again that the publishing industry, and reading public, have a blind spot when it comes to the stories of Native writers. We wouldn't be so easily conned if the damaging tropes that we consume about Native Americans didn't continue to hold significant power in the marketplace, and in our minds.
Update: On Monday, Pen Center USA removed Stealing Indians by John Smelcer from the shortlist for its Young Adult Literary Award after allegations surfaced that the author had exaggerated his credentials and fabricated praise for his work from high-profile writers. The organization announced the decision in a tweet on Monday afternoon; it had earlier placed an asterisk next to the book's listing and stated that they would be investigating "concerns expressed by some within the literary community" about Smelcer and the book.
CORRECTION: A previous version of this article mistakenly referred to Archibald Belaney as Archibald Delaney. His name has since been corrected.
Related
Before You Go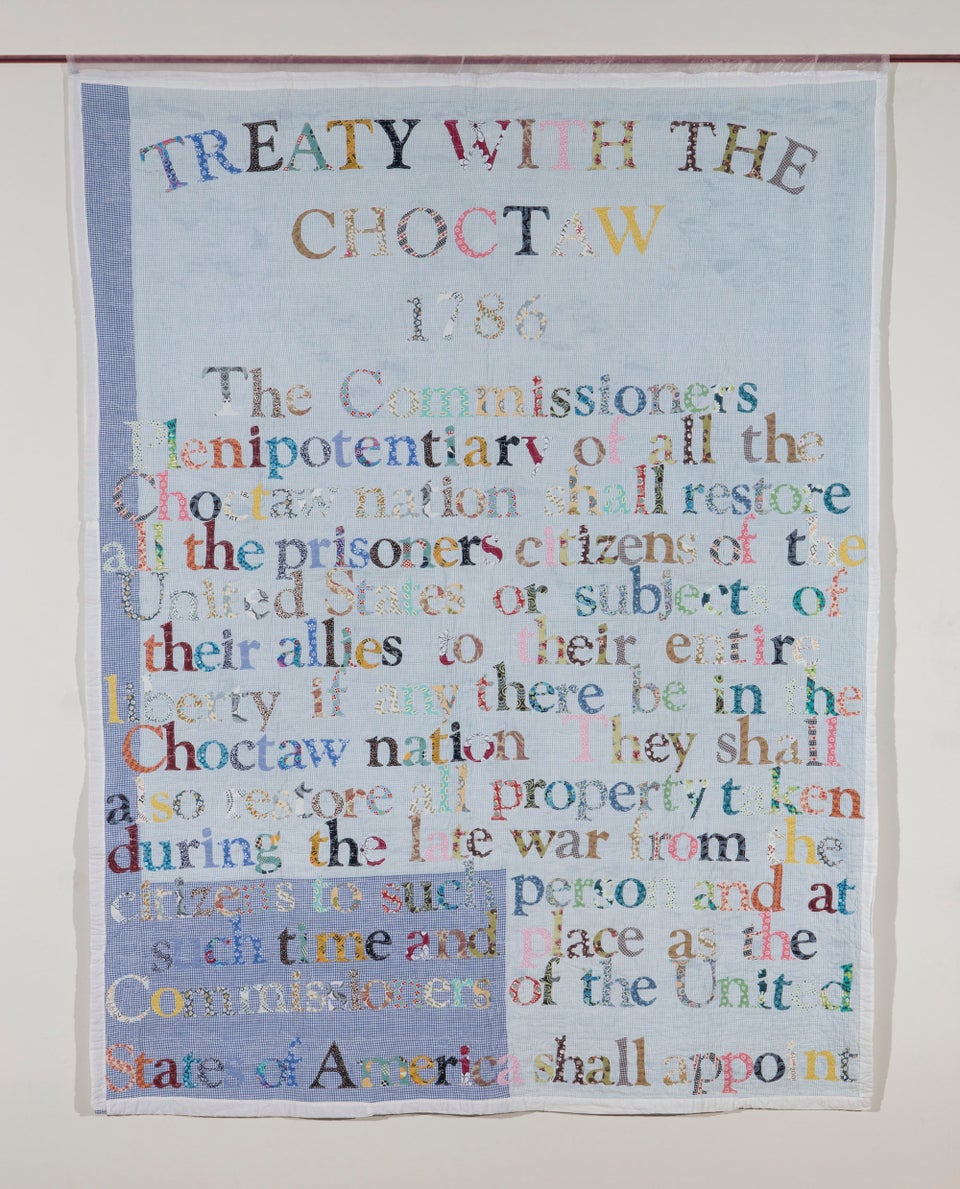 Native American Treaty Quilts