John Spinello earned a small spot in pop culture history 50 years ago when he invented Operation, the battery-powered game that lets kids play surgeon.
But now, the 77-year-old Illinois man needs $25,000 in oral surgery and can't afford to pay for it, having sold the rights to his creation for just $500.
Spinello says he's not bitter and prefers to not focus on the healthcare crisis.
"Look, everyone needs medical care," Spinello told HuffPost Weird News. "I prefer not to dwell on that aspect and focus more on the joy that the game has brought to so many over the years."
The campaign had raised more than $1,300 by Monday morning, mostly from toy industry insiders. A sister website, ILoveOperation.com, is selling copies of Operation personally signed by Spinello.
In addition, Spinello is planning a December auction of his original game prototype, hoping to raise at least another $35,000, according to toy designer Tim Walsh, who is organizing the fundraiser along with fellow designer Peggy Brown.
Spinello invented Operation while he was an industrial design student at the University of Illinois. The Bloomington resident was tasked to come up with an electric game where the object was to insert a metal wand into holes without touching the metal edges of the openings.
"I got an A," Spinello said.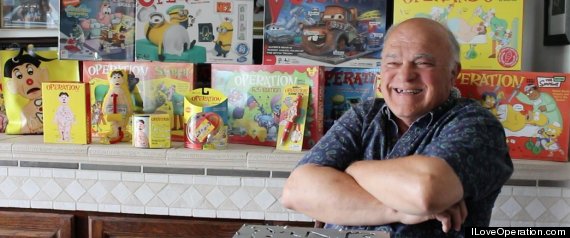 A family friend was so impressed that he helped Spinello get a meeting with Marvin Glass, a leading toy designer who gave the world novelty products like fake vomit and wind-up chattering teeth. He was also the force behind such classics as Mouse Trap and Lite Brite.
Glass didn't seem impressed until he touched the wand to the metal plate.
"It went 'BLATTT' and a spark jumped out of the stylus," Spinello said. "He threw [the stylus] up in the air and says, 'I love it! I love it!'"
Glass offered the young college student $500 -- about $3,771 in 2014 dollars -- and the promise of a job upon graduation in exchange for all the rights to the game.
But the job offer didn't happen.
"I did get the two checks -- eventually," Spinello said. "I had to call for them."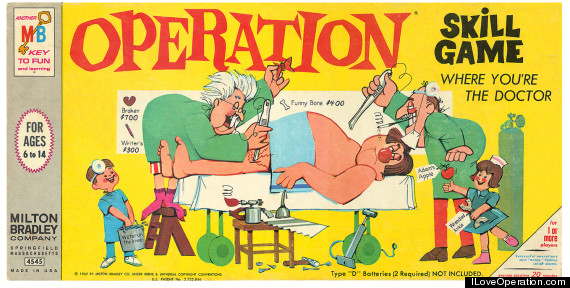 Walsh says Spinello is not bitter about the lack of royalties, though he estimates the game has generated at least $40 million in sales since its 1965 debut.
By the early 1970s, the game was heavily advertised on TV, and has made several comebacks over the years, with a "Shrek" edition in 2004, followed by "Simpsons" and "Spider-Man" versions.
Spinello's daughter has an extensive collection of Operation memorabilia that celebrates the game's history.
"John celebrates the game wherever he can, though his kids do give him a hard time in a good-natured way," Walsh told HuffPost.
Spinello is not broke, but a warehouse company he ran went under in 2008, and times have been tough since then.
Walsh says Hasbro, the gamemaker that owns the rights to Operation, has supported the campaign by allowing the fundraising team to use promotional images for fundraising purposes. In addition, he suspects the company may be very interested in purchasing Spinello's prototype (seen below).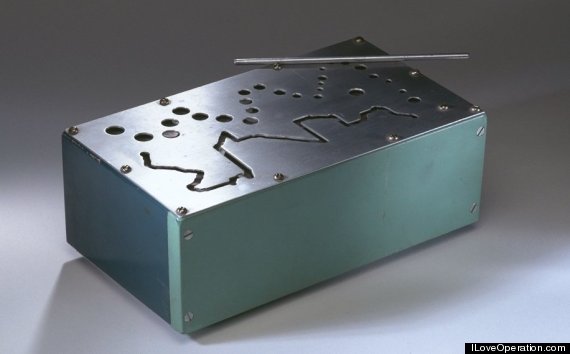 Even if the campaign doesn't reach its intended goal, Walsh hopes it raises awareness of Spinello's place in toy history.
"We were at a toy convention a few years back and so many people acted like Wayne and Garth [from "Wayne's World"] meeting Aerosmith," Walsh said. "He got a few 'we're not worthys.'"
UPDATE: As of Wednesday night, $23,690 has been raised for Spinello. In addition, Hasbro has announced that they have purchased the Operation prototype from the Spinello family.
"We were moved to see the recent outpouring of support from so many fans of the Operation game around the world regarding the medical needs of the game's original inventor, John Spinello. The Operation game has been a family favorite for 50 years and while we didn't buy the game from Mr. Spinello directly, his invention is an important part of Hasbro's history. Mr. Spinello recently announced his plans to put up for auction the original Operation game prototype that he designed in the early 1960's. Today we informed Mr. Spinello that Hasbro plans to purchase the prototype with the hope that the funds will help to defray his medical costs. We plan to proudly display it at Hasbro's global headquarters in Pawtucket, Rhode Island, to honor his contribution to Hasbro's gaming history."
The exact amount isn't being made public, but Walsh said "the offer was generous enough for John to accept."
Like Us On Facebook |

Follow Us On Twitter |

Contact The Author
Related
Popular in the Community