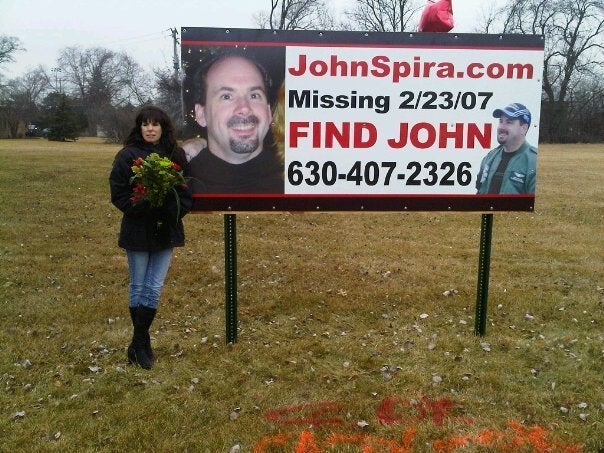 A loved one vanishes without a trace -- then more than five years pass without a single clue about his disappearance.
It's a glimpse at the life of Stephanie Spira McNeil, an attorney from Arizona. McNeil's brother, popular Chicago musician John Spira, has been missing since 2007.
"Obviously, it's been extremely difficult but what exacerbates the loss is the fact that we don't yet know what he went through, why he was murdered, how he was murdered and where he is," McNeil told The Huffington Post.
Police will not say if foul play has ever been suspected in Spira's disappearance, but McNeil said she has no doubt her brother was murdered and that whoever is responsible is still out there.
"I'm always trying to think of things to do to keep John out there -– to put pressure on the person responsible," she said. "I don't want them to get comfortable, relax and think they got away with it. I'm still here. It's been almost six years, and I'm not going anywhere."
Spira, a 45-year-old blues-rock musician known as "Chicago Johnny," has been missing since Feb. 23, 2007. He was last seen at about 7 p.m. at Universal Cable Construction Inc. in DuPage County. Spira co-owned the company with David Stubben, his business partner of 17 years.
Spira had plans to meet a friend for dinner in nearby Oak Brook at 8:30 p.m., but he never arrived. The following evening, John's band, The Rabble Rousers, was scheduled to play in Montgomery. However, "Chicago Johnny," well-respected and normally reliable, was a no-show.
Spira's estranged wife, Suzanne Spira, reported him missing the following day.
Authorities conducted a search of Spira's business and home in the 3000 block of King Richard Court, but said they found no signs of foul play. Both of Spira's vehicles were accounted for and there was no activity on his bank accounts.
McNeil was involved in multiple searches for her brother from the start. On Sept. 14, 2007, she erected a 20-foot missing person billboard across the street from Spira's place of business with his photo and information. Tragedy struck the following day.
"I got a call from John's best friend, who owns a restaurant around the corner. He said John's building was on fire. There were fire trucks from neighboring counties and they couldn't go into the building because for some reason there were bullets inside that were going off," McNeil said.
The building was a total loss. Not only did the business burn to the ground, but someone had taken down the 20-foot sign with Spira's photo.
"The sign was gone," McNeil said. "It just disappeared."
According to the DuPage County Fire Investigation Task Force, the fire investigation is still an open case. Despite the classification of the fire, or lack thereof, McNeil said she finds the fire "extremely suspicious" and believes it is connected to her brother's disappearance.
As the months turned into years, McNeil found herself making dozens of trips to Chicago. She diligently distributed fliers, organized searches and held vigils to raise awareness.
Most recently, McNeil contacted Clear Channel and asked if the company would help spread awareness about her brother. "They said, 'Sure, we'll do it'," she said. "They're putting up 14 billboards, so I'm ecstatic about how much exposure it could bring to John's case. I'm so grateful a company like that is willing to help after all these years. It's pretty amazing."
PHOTOS OF JOHN SPIRA: (Story Continues Below)
PHOTO GALLERY
John Spira Missing
McNeil said her brother's memory helps her move forward in her search for answers.
"He was passionate about so many things in life," she reflected. "He was a race car driver, a pilot, an extremely gifted musician and an all-around incredible person. I'm trying not to be cliché here, [but] in my eyes he was truly amazing. He was successful in his business, so intelligent, loved people, always had a positive outlook and such good energy ... He was so kind and he had a really sweet vulnerability that endeared him to people. He had an insatiable curiosity about everything, almost like a child, and was always excited about life."
Spira's estranged wife, Suzanne Spira, moved to Buffalo, N.Y., following his disappearance. She died of natural causes in October 2010.
The DuPage County Sheriff's Office has released very little information about Spira's disappearance. The lead investigator, Lt. Frank Bibbiano, did not return calls from HuffPost and did not reply to an email requesting comment. Spira's business partner, David Stubben, and Stubben's wife, Donna, also did not return calls seeking comment.
"Not knowing where he's at or what's happened is a huge frustration for me," McNeil said. "We were the greatest of friends, and I believe we had a really special bond. We didn't simply love each other because we're siblings, but we also really liked each other. John and I were close in age and had the same friends growing up, which was great. Losing him was really like losing a piece of me, my history and one of my best friends and most favorite people."
McNeil added, "Searching for the answers has been like looking for a needle in a haystack. I think at this point we're looking for somebody to crack."
John Spira is described as 5 feet 7 inches tall, 140 pounds, with brown eyes and brown hair. A $10,000 reward is being offered for information leading to the discovery of his whereabouts. Anyone with information should contact the DuPage County Sheriff's Department at (630) 407-2321.
Calling all HuffPost superfans!
Sign up for membership to become a founding member and help shape HuffPost's next chapter