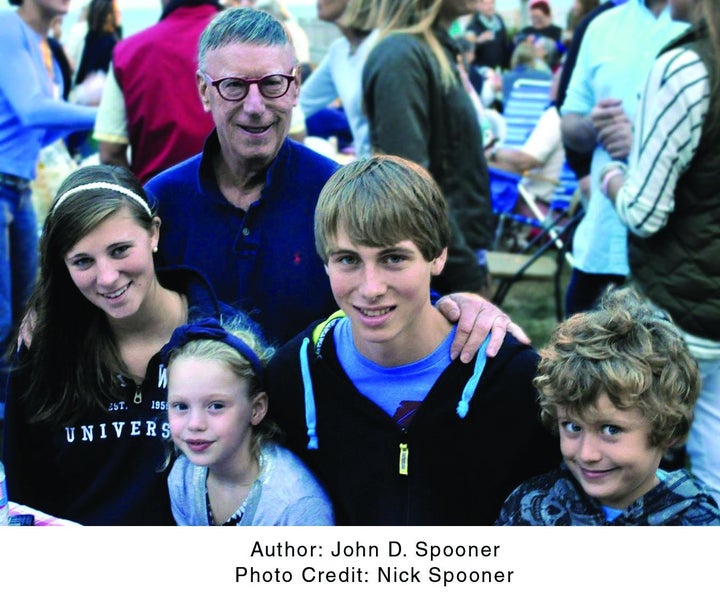 Men are no longer from Mars and women just from Venus. These days, we're all from everywhere. When your Mimi and I were married, the roles for men and women were clearly defined. No matter where in America you lived, the man was the breadwinner and went to a job every day. The woman kept the house and raised the children.
Today, it's difficult to even define relationships. A sardonic friend called recently and said, "You wanna marry a goat? And if you're in love, who says a goat won't make a great spouse? The sky's the limit these days." Well, if the sky's the limit, it's more important than ever to have friends of the opposite sex. And I mean pristine friendships, no sex involved. There, grandchildren, I actually said the word I haven't mentioned in my letters to you—sex. Now it's out of the way. My parents had two kids, me and my younger sister. I remember her saying to me when she was about fourteen, "Yuck. How could you ever think about Mom and Dad 'doing it'? What a turnoff. Bad enough they did it twice, right?" You probably would not be surprised at how many young people think and have said the same thing.
I believe that if you are ever going to manage people or run a business, you'd better have a friend of the opposite sex with whom you can have free, frank, and often funny conversations. Here are just a few examples of what I've learned from my female buddies, ladies both older and younger than me.
My oldest woman friend is in her eighties. She doesn't hide her age. She tells me, "All I'm looking for is a dirty old man with a clean body." She sends me presents occasionally, like notepads with my photo on them and the quotation "Whatever it is...no." She loves giving presents, and I've tried to layer some restraint over her generosity to others, including me. "I was in retail sales until I was in my seventies," she always reminded me. "And I'd throw in a little extra to every customer I waited on: a perfume sample, a conditioner, a blush. And I'd give them restaurant, movie tips, as well. 'Sylvia's Services,' I'd tell them. And it separated me from the crowd of other salespeople. Be a little different if you sell anything," she said. And I've always remembered that.
On the "different" angle, I've had a woman lawyer friend who told me when we met, "I don't want to have anyone forget me. So I'll tell you a little story. I wanted my husband to have a special fortieth birthday present. He's a big Democrat. So I took a trip to Providence, rhode Island, went to a tattoo parlor. And had a donkey tattooed on my left butt."
"Well," she answered, "I won't show it to you, but I did get up on the firm's copy machine and—here." She whipped out a copy of her tattoo and said, "What a tribute to a husband. You can imagine how much thought and creativity I'd put into your legal problems."
Every time someone came to me after that, looking for a street-smart lawyer, I referred them to her. Sadly, for me, she became a judge and stopped taking private clients. But she had told me a few precious principles of hers, like:
1. Unless you're a nuclear physicist, you need human interaction. And remember, in that interaction the most important quality is a sense of humor. Because people are really terrified of one another.
2. We are not practical people; we believe what we see on the screen. I have handled hundreds of divorce cases and I know that marriage is something you have to work at every day, like constantly negotiating a peace treaty. American men won't believe that you cannot just marry for love.
3. Never overlook the obvious when dealing with people on any level. Tip O'Neill, the former Speaker of the House, once asked a woman in his district if she voted for him. "No," the woman said to the long-time congressman.
"Why not?" asked the surprised O'Neill.
"You never asked," the woman answered.
As an author, my friendships with women have, I think, made me better able to craft them as characters in realistic ways. As a businessman, I hope I'm sensitive to the opposite sex as well and try to appreciate them. It can help your business function more efficiently and profitably.
I have lots of quickie phrases and comments of wis- dom from my women friends and clients that I come back to often. One woman advertising executive told me right before I married your Mimi, "When you two start a family and pressures build in the office, it is key to remember, 'Don't be a pain in the butt around the house.' " This has been good advice for more than forty years.
Alyssa, I'll have a letter all for you, with street smart advice from men to women. I'm taking notes on it as you read this. Nope, you're not chopped liver, I'm just trying to make the milk and the chocolate cake finish at the same time.
When times are tough, we revert to our basic essentials.
REAL LIFE. REAL NEWS. REAL VOICES.
Help us tell more of the stories that matter from voices that too often remain unheard.