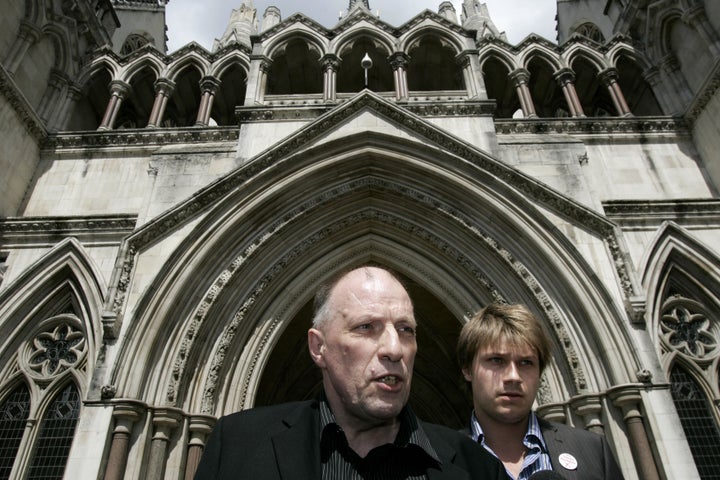 Being escorted by six policemen at JFK Airport is a great way to jump the lines, green activist John Stewart tells The Huffington Post.
Reports of the incident said Stewart was escorted off the plane last Thursday because he had made a vague threat to President Obama during the flight, but he told HuffPost this is not what happened:
"We landed at JFK airport and all the passengers were moving around and an announcement came over asking everyone to take their seats. A moment or two later, six policemen came through the door. I didn't think anything of it until they came up to me, they asked me if I was John Stewart, and then they escorted me off the plane," he said.
"The sergeant asked, 'Have you been making threats against the President and America?' and I said, 'No, of course not!' Clearly, he had been told something and he wasn't sure what to make of it. He started making calls, asking, 'What are we doing with this guy?'"
Stewart was labeled Britain's most effective green activist by the Independent on Sunday for his success in bringing together aviation-impacted communities, climate activists and fiscal conservatives. HACAN, Stewart's organization, challenges the U.K. government's policies on aviation. According to the website "Aviation Justice Express," which is providing information about Stewart's U.S. tour, many are concerned about the industry's impact on the environment: "Aviation is the fastest-growing source of U.K. greenhouse gas emissions: aviation emissions had doubled since 1990, while emissions from all other activities had fallen nine percent."
Stewart said he was escorted and held by immigration authorities for seven hours, where he was questioned at length by the FBI, U.S. Secret Service, and U.S. Immigration and Customs Enforcement.
"None of them asked me about threats. It seems a call had been made that a passenger, i.e. me, had been making threats against the President, and so my visa waiver was cancelled while I was in the air. We heard later that the plane was given special approval to land early," Stewart said.
The U.S. Visa Waiver Program allows residents from participating countries to travel to the U.S for business or tourism for 90 days or less without applying for a full travel visa.
"There was no mention of threats after the initial question by the policeman," Stewart said. "It's my own thinking that somebody rang them who clearly knows who I am, maybe someone in the aviation industry, but we'll never know who. It might also have been a ploy just to interview me, I don't know."
Stewart said the FBI "didn't seem to know much about" him and asked him questions about his tour. He said he handed them a booklet about the tour that mentioned civil disobedience and Dan Glass, who is involved in the U.K.-based, non-violent, direct-action organization Plane Stupid. The Daily Mail reported Glass superglued himself to Prime Minister Gordon Brown in July 2008 in protest of the Heathrow airport expansion. Stewart told HuffPost that Glass is still waiting for a full visa into the U.S. to be approved.
"The woman from the FBI knew about Dan, realized who I was and started asking me questions about Dan and his activities and how I was linked with the organization. I said that Plane Stupid was part of the wider coalition of HACAN," Stewart said.
"Everyone was courteous and no threats were made against me or anything. Eventutally they said, 'We've decided not to let you in.' They gave me no reason, but said I wasn't barred forever and a day, I just had to go back to the U.K. and apply for a proper visa ... I was back at Heathrow 24 hours after I left," he said.
Stewart said he was in shock and surprised at the time, along with an overwhelming feeling of disappointment that he could not go on to his planned tour.
A spokesperson at the FBI told HuffPost that the FBI only interviewed Stewart for a brief period of time. He said the FBI were not in a position to discuss what Stewart was questioned about and added that Stewart's flight was not grounded early.
Stewart said it was his first transatlantic flight. The activist has been criticized for choosing to travel to the U.S. by plane for the tour, but he told The Daily Mail, "I did look at the possibility of going by boat. But it takes ten days and the cost, at £4,000 -- is prohibitive." He added that the campaign focus is on short-haul flights from a third runway at Heathrow airport: "There would be a lot of hypocrisy if I were flying to Frankfurt."
Stewart is still participating in the aviation-impact tour around the U.S. during October via Skype.
UPDATE: A new campaign on Change.org launched by Aviation Justice is pressuring officials to grant visas for John Stewart and Dan Glass. As of Thursday afternoon, the campaign has recruited nearly 700 signatures.

Related
Popular in the Community