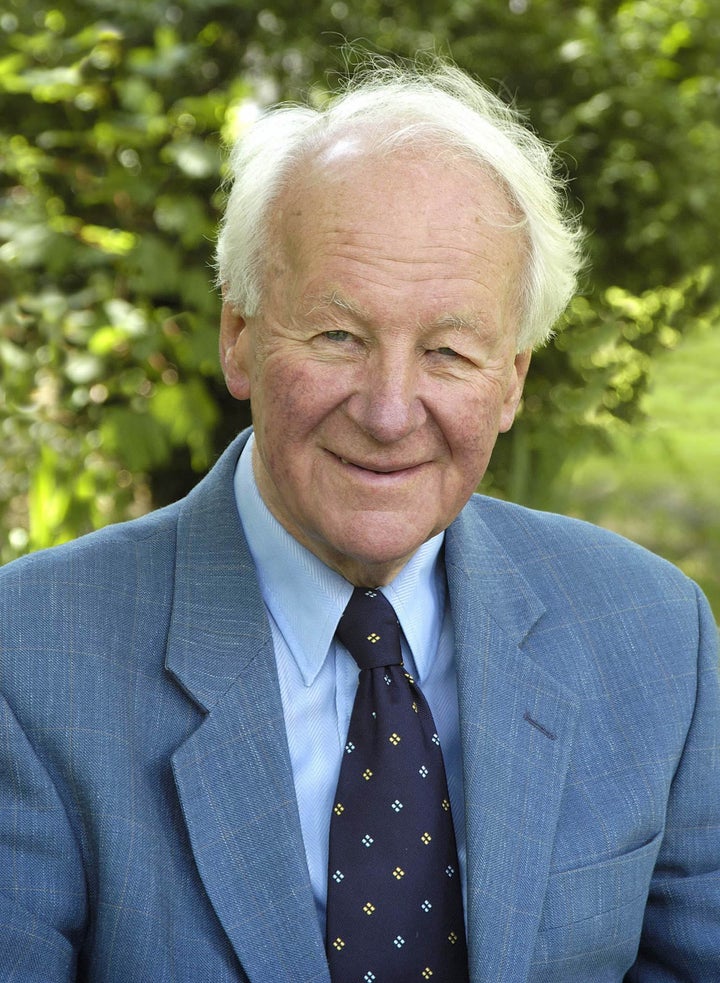 The American memorial service for the British Christian leader John Stott takes place today. Many have never heard of him, but the response to his death has, in its way, has been just as remarkable as the response to the death of Michael Jackson. 30 million won't watch Stott's service. It won't cost local taxpayers hundreds of thousands of dollars. But Stott's American memorial follows 30 others, on every continent, in places as diverse as Hong Kong, Auckland, Addis Ababa, Delhi, Vancouver, Lima, Manila and Jos. This is fitting for someone who made Time magazine's 2005 list of 100 of the most influential people in the world for his contributions to global Christianity. The official British service hasn't even happened yet. It takes place in St. Paul's Cathedral early in the new year.
Stott's American memorial isn't in Washington D.C., Los Angeles, New York or Boston. It's in Wheaton, a small town in Chicago's western suburbs. The setting will be plainer than St. Paul's, but Stott would be happy to be remembered there. For Stott was an evangelical, and Wheaton, with its 150 year-old Christian college, has long been an evangelical stronghold.
The contrast is still striking: St. Paul's Cathedral versus College Church, Wheaton. In England, Stott was born into the establishment. The son of a physician to the king, he graduated with top honors at Trinity College, Cambridge University. He was ordained in St. Paul's, at the heart of the British Empire, in 1945. When he visited the United States the powers that be ignored him. A few courageous souls invited the president of Harvard to come and hear Stott speak, only to be told that the president wouldn't turn out for the Apostle Paul. But in the large, decentralized, populist world of American evangelicalism, Stott won a hearing and lasting popularity.
Especially in places like Wheaton. Stott was hardly a typical preacher. He first made his mark in the United States speaking to students on university campuses and his sermons were not for the faint-headed. But for those tired of the anti-intellectualism characteristic of much post-war American evangelicalism he was a godsend. Wheaton had many such people, and Stott became an ally for professors who told their students that their minds mattered to God. He said the same thing, modelled it in sermons that were breathtaking in their clarity, insight and erudition, and did it all with a very English accent.
Stott thus became a standard bearer for a quiet change taking place in American and indeed world evangelicalism, namely a growing commitment to the life of the mind. Wheaton College itself has become more academically impressive. Only a handful of private colleges and universities send more students to doctoral programs. At tenure reviews, senior faculty have to hold their juniors to standards of scholarship higher than those they faced. The town, too, is brushing up its vita. College Church, the independent congregation that is hosting today's service, recently hired a new minister with a BA and PhD in history from Cambridge.
Stott's other contribution to American Christianity was political. He started out conservative and remained so on matters of life, sex and death. But his visits to universities in Africa and Latin America in the 1960's shook his capitalist confidence and he started to champion intervention for the poor. By contrast, American evangelical leaders gathering in Wheaton in 1966 were still wary of social concern. But over time Stott convinced many that God required them to care for people's bodies as well as their souls. A lifelong birdwatcher, he was also an early adopter of environmentalism.
Now, many Wheaton students spend their spring breaks with the deaf, the disabled, the addicted, the urban poor and the homeless. Students have set up organizations to address social issues, including the environment, consumer ethics, and HIV/AIDS. That doesn't mean they no longer believe Jesus' words that people need to be born again. But American evangelicals are more diverse than some suggest. There will be Obama bumper stickers in Wheaton next year.
On Jan. 13, people wearing suits and smart hats will get off at the St. Paul's tube station and head to the cathedral to remember John Stott. If the Occupy London activists are still camped outside St. Paul's, they may have some words with those climbing the steps to go inside. John Stott would have stopped, listened, and agreed with much of what the demonstrators said. I don't know the religious beliefs of those protesting in London or New York, but I imagine there are more evangelicals than there were in comparable events in the 1960's. The person they remember in suburban Illinois this afternoon is a large part of the reason why.