 A group of activists protesting Wells Fargo's foreclosure practices in California interrupted the bank's CEO Thursday while he was speaking at a banking conference in the state.
California homeowner Betty Badro says she walked onto the stage from behind and presented the CEO with her hand, a smile and a friendly "Hey John." But Stumpf probably wasn't expecting what came next.
"I said 'my name is Betty Badro, I've lived in my home for 19 years and you're going to sell it tomorrow,'" Badro told The Huffington Post. "He quickly withdrew his hand and walked away."
(Scroll down to see a photo of Badro confronting Stumpf)
After Badro's grand entrance, a group of about 25 protesters affiliated with the Alliance of Californians for Community Empowerment joined her, according to American Banker, which sponsored the conference.
Vickee Adams, a Wells Fargo spokesperson, wrote in an e-mailed statement to The Huffington Post that while the bank respects individuals' rights to express their opinions, the protest was unproductive.
"We are very disappointed in the actions protesters took at the Retail Banking Conference today that disrupted John Stumpf's presentation and the entire conference," Adams wrote. "This type of behavior damages efforts for productive dialogue and opportunities to work together to reach solutions."
The protest is part of a larger campaign by ACCE, a housing advocacy nonprofit, to urge Wells Fargo to provide more principal reductions to its struggling borrowers in danger of foreclosure. Principal reduction is a form of loan forgiveness -- if employed broadly, some economists say the practice could help alleviate the foreclosure crisis by lessening borrowers' loan principal to a number closer to what their home is worth.
ACCE's report claims that Wells Fargo is providing "far less" principal reductions to its California borrowers than Bank of America, despite servicing more loans in the state. The report also says that most of the distressed loans serviced by Wells Fargo in California are concentrated in African-American and Latino neighborhoods.
The report also claims that if Wells Fargo allows all of its more than 11,000 California homes in the foreclosure pipeline go through with the process, it would cost the state about $20 million in lost tax revenue.
Wells Fargo denied the report's findings in a statement, saying the bank has provided borrowers with $6.3 billion in principal reduction, most of which has gone to California borrowers.
"The report is based on flawed assumptions and connects findings from a series of unrelated studies," the bank wrote in the statement. "Wells Fargo has had an aggressive principal reduction program for loans that we own since 2009. Wells Fargo conducts all lending and servicing activities in a fair and responsible manner without regard to race or ethnicity."
But Badro says she interrupted Stumpf because she's still waiting for help. The 58-year-old California state worker admits that after asking for a loan modification, she did fall behind on some of her payments -- thanks to a combination of personal factors and what she says was information from bank staffers indicating the bank wouldn't modify her loan if she was current on her payments.
Now she's in danger of losing the Glendale, Calif., home where she raised her two kids. Tomorrow.
"It's a very delicate situation to be in, to not know if you have a house over your head," Badro said. "I'm powerless looking at this huge bank that doesn't have any mercy."
Wells Fargo spokesperson Adams contradicted Badro's report, writing in an e-mailed statement to The Huffington Post that there isn't a foreclosure sale scheduled for Badro's home.
"Wells Fargo continues to work with Ms. Badro to determine if there are any options that may allow her to stay in the home," Adams wrote.
ACCE, an offshoot of ACORN the now-embattled, national liberal advocacy group, has targeted Wells Fargo in the past. ACCE shut down a Wells Fargo branch in California in December what police described as a peaceful demonstration. The group also set up camp outside the Los Angeles-area home of a Wells Fargo shareholder in April chanting and protesting.
UPDATE: Badro claims that she was notified today that her foreclosure was postponed indefinitely.
LOOK: Badro confronts Stumpf at the conference: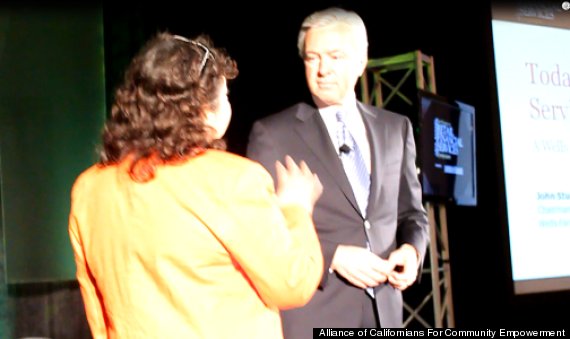 Calling all HuffPost superfans!
Sign up for membership to become a founding member and help shape HuffPost's next chapter
BEFORE YOU GO
PHOTO GALLERY
America's Worst Foreclosure Fails