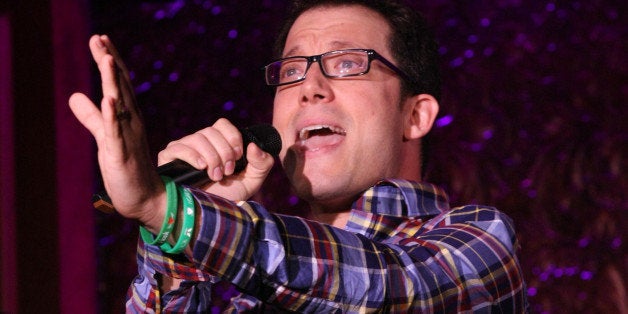 You can't blame John Tartaglia for having a minor case of the jitters about his new show. Having made a showbiz career out of playing puppets, inanimate objects and animals, the 35-year-old actor hopes "Decade Three," which premieres at New York's 54 Below on Sept. 8, showcases his talents simply as "a well-rounded, 3-D human being."
"Some actors do the leading man thing, others are purely comedic -- I kind of waver in-between the two," Tartaglia says of his stage resume, which includes "Avenue Q," for which he nabbed a Tony Award nomination, as well as Broadway stints in "Shrek the Musical" and "Beauty and the Beast," among other shows. "I'm one of those people who gets bored if I'm doing the same thing, and I'm bored if I'm doing what's expected."
In keeping with his flair for the eccentric, Tartaglia won't divulge too many specifics about his "Decade Three" set, although vestiges of his stage work and passion for Disney (as evidenced by "Johnny and the Sprites," his Emmy-nominated children's series) will certainly be in the mix. During a recent press preview, he crooned the touching "The Stars and the Moon" as well as the cheeky "Second Cousin," penned by Gary Adler and Phoebe Kreutz. Although "Stars" reveals his "more serious, vulnerable side," he is quick to note that the latter tune shows that "at the end of the day, I'm still the optimistic John, who always thinks of the glass being half full."
Check out Tartaglia's performance of "Disney Whore" below, then scroll down to keep reading:
In addition to his 54 Below cabaret debut, Tartaglia has plenty to celebrate these days. In November, he'll set out for Arkansas, where he's set to direct the premiere production of Duncan Sheik and Nell Benjamin's new musical "Because of Winn Dixie." He also recently wrapped a "life-changing, re-confirming" turn as the Cat in the Hat alongside student performers from Newtown, Conn., in a production of "Seussical." The show benefited the 12.14 Foundation, a nonprofit group honoring victims of the 2012 Sandy Hook Elementary School shooting.
On a more personal note, Tartaglia is a newlywed, having tied the knot with fellow Broadway performer Michael Shawn Lewis in upstate New York last year -- an emotional experience which he says will be very much reflected in his "Decade Three" show.
"It wasn't until a month before we got married that it really hit me … There really is an importance about standing in front of the people you love and saying those vows," Tartaglia recalls. "I now see why it was so important to fight for [same-sex] marriage. It's a privilege."
See Tartaglia's 2004 Tony Award performance below, then scroll down to keep reading:
As to whether or not he feels compelled to incorporate gay themes into his work, Tartaglia says, "I was a kid who wanted to be a 'Solid Gold' dancer when I was six, so [being gay] has always been a part of who I am as a performer. But there's a difference between expressing yourself when something feels right and making a specific effort to stand on top of a soapbox. "
Still, he seems hopeful that his marriage will be inspirational for a new generation of young Broadway fans, many of whom may identify as lesbian, gay, bisexual or transgender (LGBT). "As a teenager, I had no role models – I had nothing," he says. "So it's exciting to think that these kids now have something to strive for."
But audiences shouldn't expect to see Lewis, who co-produced "John Tartaglia's ImaginOcean," join his husband onstage in the imminent future -- not for any lack of interest. "It's something we always joke about, but we've yet to have the opportunity," Tartaglia says. "At this point, we've created together, written together and produced together, so the next logical step is that we perform together." He then adds with a laugh, "But who knows? Maybe we'd end up strangling each other, having to do eight shows a week."
John Tartaglia's "Decade Three" plays New York's 54 Below on Sept. 8 and 16. For more information, click here.

REAL LIFE. REAL NEWS. REAL VOICES.
Help us tell more of the stories that matter from voices that too often remain unheard.
BEFORE YOU GO
PHOTO GALLERY
2013 - 2014 Broadway Season Preview