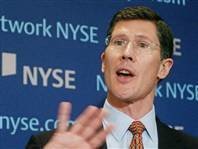 In early 2008, just as Merrill Lynch CEO John Thain was preparing to slash expenses, cut thousands of jobs and exit businesses to fix the ailing securities firm, he was also spending company money on himself, senior people at the firm say.
According to documents reviewed by The Daily Beast, Thain spent $1.22 million of company money to refurbish his office at Merrill Lynch headquarters in lower Manhattan. The biggest piece of the spending spree: $800,000 to hire famed celebrity designer Michael Smith, who is currently redesigning the White House for the Obama family for just $100,000.
The other big ticket items Thain purchased include: $87,000 for an area rug in Thain's conference room and another area rug for $44,000; a "mahogany pedestal table" for $25,000; a "19th Century Credenza" in Thain's office for $68,000; a sofa for $15,000; four pairs curtains for $28,000; a pair of guest chairs for $87,000; a "George IV Desk" for $18,000; 6 wall sconces for $2,700; six chairs in his private dining room for $37,000; a mirror in his private dining room for $5,000; a chandelier in the private dining room for $13,000; fabric for a "Roman Shade" for $11,000; a "custom coffee table" for $16,000; something called a "commode on legs" for $35,000; a "Regency Chairs" for $24,000; "40 yards of farbric for wall panels," for $5,000 and a "parchment waste can" for $1,400.
Popular in the Community