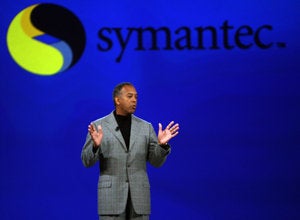 It has emerged that John Thompson, former CEO of the software company Symantec Corp., is the likely choice for Obama's Commerce Secretary, filling the void left by New Mexico Governor Bill Richardson earlier this month. According to the LA Times:
John W. Thompson, the outgoing chief executive of network security firm Symantec Corp., has emerged as a leading contender to be Commerce secretary, a move that would give the high-tech industry a major voice in the Obama administration.

Over the last decade, Thompson led the Cupertino, Calif.-based company from a small software maker to the top provider of antivirus and security programs, known for its Norton brand of products. An African American, Thompson also has been active in trying to bring more people of color into the high-tech industry.
The choice is not final because Thompson is still in the vetting phase of the selection process. According to a Democratic source interviewed by Reuters, "He (Thompson) is the leading candidate...he is still being vetted."
Thompson would bring valuable experience to the Commerce department and thus is already drawing hopeful praise from many in Washington, including commerce committee member Barbara Boxer. According to the Symantec website, Thompson has dealt with federal government affairs before, during the Bush administration:
In September 2002, President George W. Bush appointed Thompson to the National Infrastructure Advisory Committee (NIAC), to make recommendations regarding the security of the critical infrastructure of the United States.
If chosen and confirmed, Thompson will play an integral role in infrastructure side of the economic stimulus process--presumably more so than past Commerce secretaries, given the circumstances.
The LA Times also notes that Thompson and his wife, Sandra, have been very munificent and loyal Democratic contributors in years past, including a $50,000 donation to Obama's inaugural committee.
Related
Popular in the Community