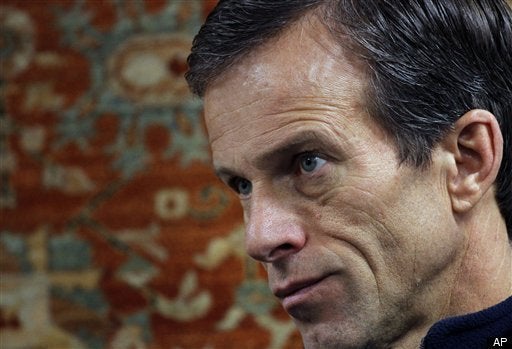 Offering an earnest assessment of the 2012 landscape, DNC Executive Director Jennifer O'Malley Dillon acknowledged on Friday that among a field of generally flawed (in one way or another) Republican presidential candidates, there is one who genuinely scares her.
"This is personal but John Thune is somebody that I have nightmares about," she said. "I've worked for Tim Johnson and Tom Daschle and he is just a guy you can't ever count out. He has his head down and is doing some policy stuff. [You] just got to start looking at him."
O'Malley Dillon didn't elaborate much further. But her take on Thune, while broadly shared both in Republican and Democratic circles, was a bit more rare and candid than DNC officials generally make. And it would be curious to see what the chatter of Thune as the dark horse of the Republican field does for both his standing within the party and his own internal deliberations about his political future.
Speaking on a panel at Netroots Nation about the current electoral landscape, O'Malley Dillon addressed issues more pressing to the 2010 elections than the next presidential cycle. But in addition to her comments on Thune, she did acknowledge that former Florida Governor Jeb Bush stands out from the rest of the GOP field for his nuanced position on immigration reform -- a policy platform that could win him kudos from Hispanic voters.
UPDATE: An earlier version of this piece quoted O'Malley Dillon slightly inaccurately (owing to the poor audio quality of the segment). Her quote has since been updated. Meanwhile, DNC Press Secretary Hari Sevugan offers the following clarification about how the party is approaching the next presidential cycle.
"Certainly there are a number of formidable politicians whose names are floating around out there and who are jockeying to position themselves as the most right-wing. We don't underestimate any of them and are keeping our eye on all of them."
Calling all HuffPost superfans!
Sign up for membership to become a founding member and help shape HuffPost's next chapter