I don't mean to be insensitive to the Travolta family, who have experienced the most tragic of losses. But am I the only one who has noticed that celebrities, who are blessed in so many ways, are almost cursed when it comes to vacation and travel? The two things do not mix well.
How many of YOUR friends or acquaintances pass away on vacations or in vacation spots? It certainly seems like celebrities are far more affected by this awful phenomenon than regular folks.
The Bahamas Ministry of Tourism might want to think twice about encouraging celebrities to come to their shores. The country was the unfortunate location of the equally tragic death of Anna Nicole Smith's 20-year-old son Daniel, just 11 hours after he arrived to meet his newborn sister DannieLynn in September, 2006. Despite the fact that he died right in the hospital, medical personnel were unable to revive him.
The press attention, autopsies, investigations, and the paternity battle between Howard Stern and Larry Birkhead drew attention to the Bahamas for months.
Why does this happen to them more?
# 1 Percentage wise, they have way more vacation time than the normal population
# 2 A lot of them are afflicted with a sense of infallibility. They don't think they can have accidents and that can translates into reckless behavior.
Bobby Kennedy's son, Michael, crashed into a tree in Aspen and died in 1997 while playing a version of ski football. Sonny Bono also fatally skied into a tree on the Aspen slopes in 1998. Anna Nicole Smith clearly didn't think she needed medical attention for systemic sepsis syndrome, a lethal blood infection. The result: she passed away needlessly at the Seminole Hard Rock Hotel and Casino resort in Hollywood, Florida.
Many celebs also, ahem, have the tendency to drug and drink too much. Perfect example, Natalie Wood who drowned at age 43 after a boozy night on her vacation yacht in Catalina Island, CA in the company of husband Robert Wagner and costar Christopher Walken in 1981.
Less lethal are the romantic tragedies that celebrities experience on vacations and in vacation locales. And again, I ask you, do you have a large portion of friends whose relationships end up on the rocks in some of the most beautiful place on earth? Brad and Jen famously announced their separation after what appeared to be a snuggly second honeymoon on the beautiful island of Anguilla in 2005. Renee Zellweger's picture-perfect wedding on the tropical island of St. John to Kenny Chesney lasted all of 128 days before they announced their divorce. Pam Anderson and Kid Rock tied the knot during a wild yacht party in the St. Tropez yacht harbor in July, 2006 and split just four months later. Her next marriage to sex tape entrepreneur Rick Salomon in Las Vegas clocked in at 139 days before the bust up. Jessica Simpson and Nick Lachey made a famously photographed last attempt at patching up their "newlywed marriage" during a romantic trip to Florence in 2005. Needless to say, the divorce was announced a couple months later.
Finally there's the issue of celebrities in airports. I don't need an algorithm to know that the rich and famous have far more variety of mishaps in airports than your friends and neighbors. Could it be because not only do they think they're entitled to special treatment, i.e. not having to go through security like the rest of us? But many of them don't seem to think that there will be consequences for their airport misbehavior. And when they lose their luggage — watch out! If these following incidents don't convince you that Hollywooders should stay home, then at least they have been forewarned.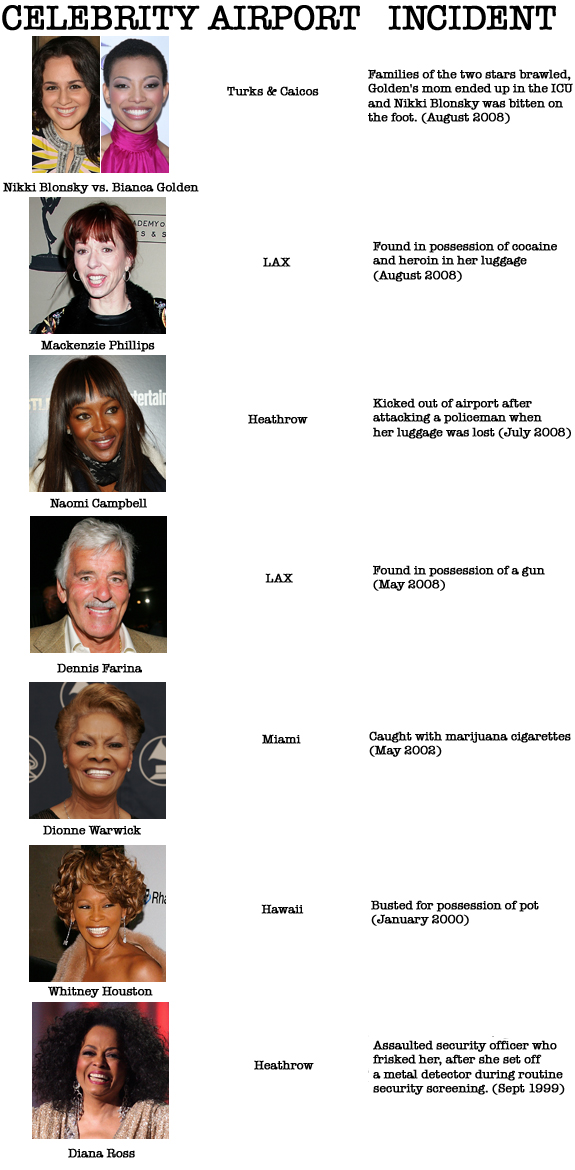 Popular in the Community