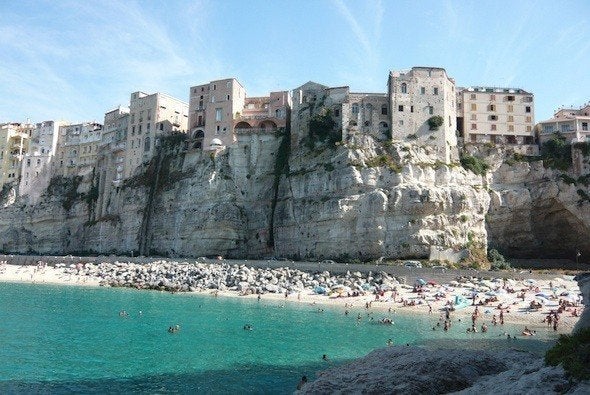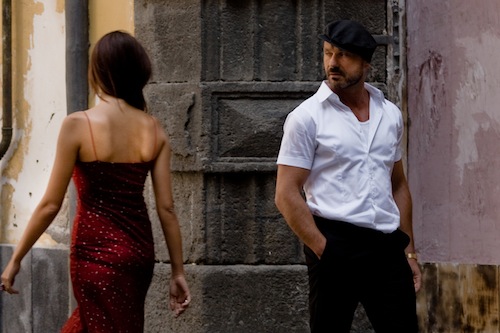 Certain works of art help us to reaffirm our sense of identity and uplift our self worth. In the past, I've drawn courage from Jhumpa Lahiri's The Namesake, Robert Redford's A River Runs Through It and Julian Schnabel's Miral, all connected by the common thread of accepting our uniqueness, while finding courage in the face of hardship.
And then I watched John Turturro's film Passione, a celebration of life at its best, an ode to the most vibrant city of earth and a love song to the people of Naples, my maternal hometown. Instead of trying to make the uncommon conform in an ordinary world, Turturro finds the magical beauty of this exotic Italian city and honors it with a film that will make audiences sing, dance and live like they never did before.
I first caught Passione in a dark screening room, on a balmy Cinco de Mayo in NYC. During its explosive 80-something minutes, Passione brought me back to my roots, through a voyage of rediscovery of the "canzone napoletana" -- the Neapolitan song. Filmmaker Turturro inspired newfound pride in my background, a pride that had perhaps gotten lost amidst my explorations of world cultures. But here's the great thing, within Passione I also uncovered the soul of my beloved Arabic music and the sultriness I crave in Flamenco dance, which are all part of the heritage of the Neapolitan songs featured in the film.
Musicians from Napoli have always been known to create, throughout the ages, the original melting pot of world music, seamlessly blending Eastern sounds with jazz, pop, reggae and traditional songs.
If you go to watch Turturro's Passione expecting corny renditions of "Santa Lucia" or "O' Sole Mio", you will be disappointed. On second thought, "O' Sole Mio" is featured in the film -- after all, any self-respecting Neapolitan will sing it on a sunny day to anyone who'll listen -- but reinvented with vocals by sexy Tunisian singer M'Barka Ben Taleb, along with agelessly handsome Italian superstar Massimo Ranieri joining in and the song's beloved original crooner Sergio Bruni. All the sounds of Passione are like the city which inspired them: constantly changing, shifting, being built anew. A trip to the underground city of Napoli Sotterranea will enlighten the visitor to the city's multiple layers of history. Its people, its culture, its music are not that much different from the geography of the place.
What you will find in Passione are witty musical performances like the one by Italian superstar Fiorello, singing and dancing alongside Turturro himself in their rendition of Renato Carosone's "Caravan Petrol". If the name Carosone sounds familiar, you were probably dancing to the Radio Ibiza remix of his "Tu Vuo Fa' l'Americano" this past summer. Also in the film, a husky, sensual rendition of the traditionally male-performed "Comme Facette Mammeta" (How Did Your Mother Make You?) by Pietra Montecorvino, from an arrangement by Eugenio Bennato, with haunting Arabic background vocals by Algerian rai singer Abbes Boufrioua. And not to be forgotten, my favorite childhood song "Dove Sta Zaza" (Where is Zaza?), which I could swear had some naughty double meaning my mother just never admitted to...
I found it impossible to write an impersonal piece about Passione, as this beautiful film required my full attention and complete immersion. Passione took me home to the Naples of heated discussions amidst my mother's family, attending countless theater performances and concerts featuring the works of master composer Roberto de Simone and lunches spent as a little girl among the Neapolitan musical elite, members of the Nuova Compagnia di Canto Popolare, all friends of my parents. I still remember sitting at the feet of one of the most charismatic personalities in Passione, Peppe Barra, who would come by our home with his now deceased mother Concetta, an amazing performer herself and, to my delight, a mystical coffee grounds reader.
Singer Raiz, Almamegretta's husky voiced frontman, said it best when he admitted that "to be from Naples is to be from nowhere and belong everywhere."
The hunky Raiz lends his guttural vocals in the film to one of the most haunting songs in Passione. "Nun Te Scurda" (Do Not Forget) seamlessly fuses traditional Neapolitan sounds, with a heavy hint of Arabic music and a reggae dub beat reminiscent of old Studio One remixes. In this anthem to an unmarried woman who defies all conventions at the risk of being called loose, Almamegretta and Raiz are joined by the captivating Montercorvino and Ben Taleb.
When introducing his film, Turturro said that he was asked to make a "Buena Vista Social Club type documentary" about the "gigantic juke box that is Naples." He disclosed in his director's notes "I don't know why, but I fell in love with the place" continuing further "the landscape, the poverty, the pain, the sea, the volcano, the coffee, the danger, the beauty, the dirt, the driving, the mystery, the sensuality, the food, the craziness, the irony, and the people. Most of all the people." The resulting Passione is a film that does Neapolitans proud and gets to the very heart of their mysterious and beloved city of Napoli.
Andy Warhol once declared "I love Naples because it reminds me of New York!" Turturro too has noticed this similarity. Naples is a chaotic contradiction of song and noise, love and hate, religion and black magic. For the first time visitor, it's enough to view the partially preserved bodies in the basement of the Cappella Sansevero -- private church of the di Sangro family -- to realize this is not your "average" city. And the Neapolitans love to claim their uniqueness, speaking a dialect incomprehensible to the rest of Italy and celebrating the concepts of otherwise taboo subjects like "o' femmenella" (the transvestite) who is hinted at in Passione, within the touching rendition of "Maruzzella" by Gennaro Cosmo Parlato -- wearing eyeliner.
But Turturro's greatest strength throughout the film appears to be his humble approach, allowing the magnetic performers featured to masterfully narrate their own version of the city through their selections. Surrounded by the graffitied walls of the popular courtyards, the dark, narrow lanes of the ancient inner city -- "i Quartieri" -- and the beauty of the women who don't have to try hard at all to appear scorchingly sexy, the musicians of Passione become superstars, bigger than life heroes and heroines, singing to our souls songs we never knew we craved.
Passione even tells the story of "Malafemmena", a song by the principe Antonio de Curtis, best known to US audiences as Italian funnyman Totò, written for his wife Diana. The film introduces audiences to the "Canto delle Lavandaie del Vomero", a traditional song dating back to the 1200s, and then easily explains the complex real-life dynamics of mixed-race children born of African American soldiers during WWII, through a splendid rendition of "Tammurriata Nera", featuring the elegant Barra. And if the film leaves you craving for its music, the soundtrack is slated to release in the US on June 14th.
From veteran cinematographer Marco Pontecorvo, who not only descends from cinematic royalty but has contributed his skills to projects such as HBO's Rome and the film Letters to Juliet, to respected Italian producer Carlo Macchitella, who brought the idea of a film about the Neapolitan song to the attention of Turturro, Passione is a project that leaves nothing to chance, even if the outcome appears otherworldly.
I'll admit there were many questions I wanted to ask Turturro about his heart-grabbing work of art but the film's NY publicist proved uncooperative. I was tempted not to write about Passione but in the end, I realized that a man who came to personally introduce his film at the press screening does not deserve to have his groundbreaking labor of love overlooked because of someone's moods.
Passione is one must-see which will not only bring passion to your life but will help you to rediscover the joy within your heart. I watched it with my mother, a "Napoletana Verace" (authentic Neapolitan) who declared at the end of the film: "Now, I feel I can die!" Never accuse a Neapolitan of being banal.
John Turturro's Passione opens on June 22nd in limited release. It screens in NYC exclusively at Film Forum and is presented by Beta Cinema, the same folks who brought you Italian masterpiece Il Divo, a film by, you guessed it, a Neapolitan!
Top image courtesy of Beta Cinema ©2011
Popular in the Community