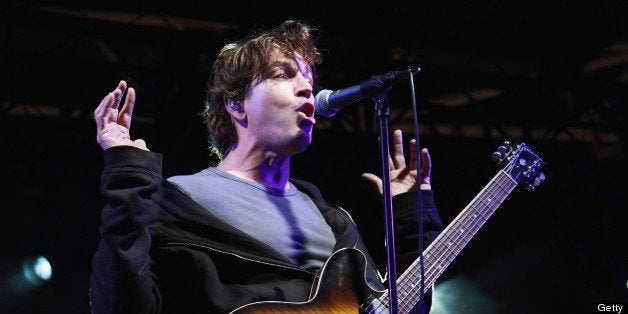 In the pantheon of San Francisco rock musicians, the names Third Eye Blind and John Vanderslice stand pretty tall.
In an interview published earlier this week, Vanderslice told The Onion's A.V. Club that his one interaction with the '90s alt-rock superstars left such a bad taste in his mouth that every time he hears the song "Semi-Charmed Life" it triggers, "this feeling of total anguish. Like when you make a terrible decision and it echoes throughout the ages."
Vanderslice was participating in a recurring feature called HateSong where the pop culture blog invites artists, actors and comedians to dish about their least favorite songs of all time.
Vanderslice told the A.V. Club that his hatred of Third Eye Blind's once-inescapable hit stems from an incident back in 2002 when the band booked six weeks of studio time at Vanderslice's legendary Tiny Telephone studio for what would eventually become the band's 2003 release, Out Of The Vein
Nestled in an inauspicious corner of the San Francisco's Mission District, Tiny Telephone is a music obsessive's analog-only paradise, whose low rates and meticulously curated gear selection have made it a place where you're likely to catch a local garage band scraping together their first album one week and indie superstars like Spoon and Death Cab For Cutie recording a chart-topper the next.
After coordinating with Third Eye Blind's management, including one producer he called, "probably the rudest person I've ever talked to in 15 years regarding booking the studio," Vanderslice finally got the opportunity to meet the band. However, lead singer (and HuffPost blogger) Stephan Jenkins came to the scheduled meeting 30 minutes late, and sat down without offering so much as an apology. Instead, Jenkins reportedly just asked about lowering the rate.
Vanderslice recounted the moment to A.V. Club:
Now, Tiny Telephone is known to be one of the cheapest studios in the country. We are so under market that we shouldn't have even allowed a major-label band in there. You know what I mean? It was like a subsidy to them. I think he imagined that I would have been flustered. He was doing like 101 intimidating negotiating tactics or whatever that he Googled the night before. I don't know what he was doing. And so I said, "Honestly, we're sold out every day, and I really think there's a disincentive to me to book six weeks for you because I'm going to push out my normal clients," etc. He didn't respond to anything. [...] All the other crew, they know just to be quiet because this is his mode of whatever douchebaggery. I don't know. He paces the studio, and then he just blurts out, "Okay, let's do it." Then he walks out of the door, fires up his motorcycle, and leaves.

Now the punchline is that I never saw him again, ever. They rented the studio, and they were there for a really long time, and I never saw him in there. Now, maybe he was there one day or one night on an off-hour, but I never saw him again, and I'm at the studio all the time.
While we personally think "Semi-Charmed Life" is possibly the single greatest song ever written about being young, dumb and on drugs in the City By The Bay--a cannon not exactly wanting for candidates--it's not all the difficult to see why Vanderslice, who has regularly been described as the nicest guy in rock, might be a little peeved.
Even so, earlier today Vanderslice tweeted:
In honor of the interview, HuffPostSF made a playlist featuring music from both artists and, let's be honest, it sounds pretty awesome:
REAL LIFE. REAL NEWS. REAL VOICES.
Help us tell more of the stories that matter from voices that too often remain unheard.
BEFORE YOU GO
PHOTO GALLERY
Celebrity Feuds