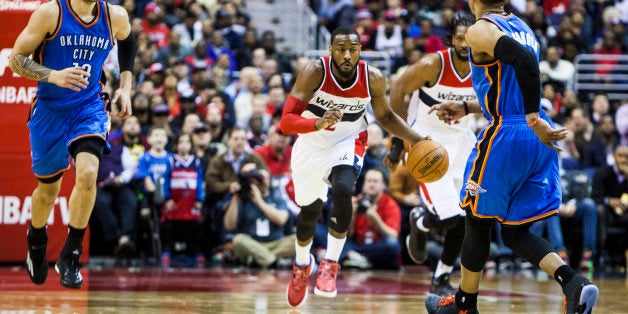 NEW YORK -- Call it a coming-out party for John Wall. The 24-year-old Washington Wizards point guard and former No. 1 overall pick is enjoying his best season to date, posting career highs in assists (10 per game) and in rebounding, and hoping to lead the Wizards on another playoff run. Off the floor, Wall has become a brand ambassador for Adidas and American Express, showing that success comes in a variety of ways.
The Huffington Post caught up with Wall in New York City before his first-ever start in the Feb. 15 All-Star Game at Madison Square Garden. We chatted about his growing prowess on the court, his sheer love of the open floor, why he still appreciates John Calipari and whether or not Kentucky can run the table en route to a national championship.
This interview has been edited and condensed for clarity.
You have taken another step forward this season and your numbers speak for themselves. What was the one thing from last summer you felt you had to improve?
Just improving my jump shot, adding post-up moves, adding a floater. Just trying to change every aspect of my game every year. You can get better and add something new, but you also gotta keep working at the things you're already good at.
Have you seen defenses guard you differently this year, now that your jump shot has become that much more consistent? Specifically in pick-and-roll where they're not necessarily going under the screen anymore.
Yeah, I think so. That's making the job a lot easier for me of getting into the paint and finding my teammates and letting the court open up even more where we're able to knock down shots.
What, then, is the next step in your maturation process as a lead guard?
My jump shot. The more and more I keep improving that and getting consistent with it on a nightly basis and keep knocking down open shots, it'd make my job a lot easier.
You say that, but it seems like you're taking -- and making -- big shots. It seems like you are quite confident already in doing so.
I'm confident any day. You know, I missed a couple of easy shots that would have been game-winners or put us ahead early in the season, but I still have the confidence to take those shots. I believe in my ability.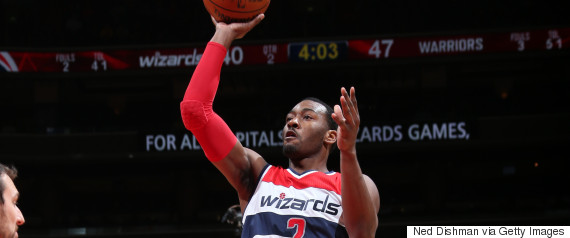 Oh yeah. You get up for Dame [Damian Lillard], you get up for Kyrie [Irving], you get up for Russ [Russell Westbrook], you get up for Derrick Rose, CP [Chris Paul]. You get up for all those guys. It's fun, it's exciting. You know it's going to be a challenge and everybody's watching.
I've never seen a point guard finish like you do on the break, even a great one like Westbrook or Lillard. What is it about the open floor that makes you so comfortable?
When I have a guy one-on-one guarding me, I feel like he's at my mercy.
And you have the luxury of going full speed.
Yeah, I've got the full speed, and then it's like there's no way he can stop me. He can either foul me or I'm going to get a layup because I have the opportunity to change directions still going at a fast speed.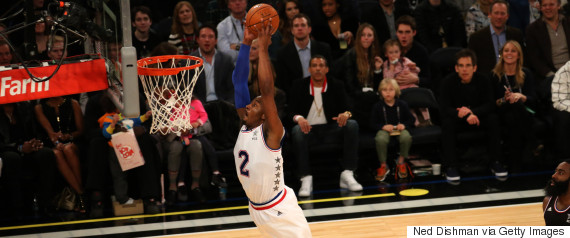 When you receive the outlet pass, at what point are you really starting to think 'pass or shoot'? It happens so fast, are you even thinking?
I don't think about that. Right when I catch the ball, if I see a guy ahead, I'm looking to pass. And then if I get into the paint, I'm reading to see if I have a layup or if the weak side defense is coming in.
When you look at a guy like Bradley Beal, your teammate at shooting guard, how good do you think he can become? How good can this backcourt combination become?
I think it can be real good. I got him to shoot the ball. I think if he can keep improving on his pocket passes and making passes and reading [defenses] -- I think sometimes he can't get the shot because guys are double-teaming him and forcing him to make a pass, and I think the Atlanta game showed a lot when he started attacking a little bit more. And that's what I say, is that when you're a great jump shooter, you can attack the basket a lot. That's the thing he should improve on, is getting to the free-throw line more.
You're actually getting to the line at a frequent rate and converting 76 percent. Are you saying to yourself on a nightly basis, 'Be more aggressive, be more aggressive'?
Oh yeah, even when Bradley's being aggressive I have to be the same aggressive player and not just back off. I could be more aggressive. I think in transition sometimes I pass on shots a lot.
Do you have conversations with yourself where you do pass up a shot in transition where you're being almost too unselfish?
No, I just view the defense. I know guys are coming to block my shot, so I just try to make the right read and make the right play for people.
Your alma mater, Kentucky, is undefeated and hoping to win a second title under coach John Calipari [pictured below]. Are they going to do it?
It'd be fun, it'd be exciting. They've got a great defensive team, I can't lie. They block shots and they do a great job down there, but we had the guard play.
What do you think are the chances that they can run the table?
That'd be great. I wish that Coach Cal could do everything -- win more championships and to be the first coach to go undefeated like that. It'd be exciting. They've got a great young group of guys. I've played pickup with them a few times, and they're all hard workers and they all want to improve.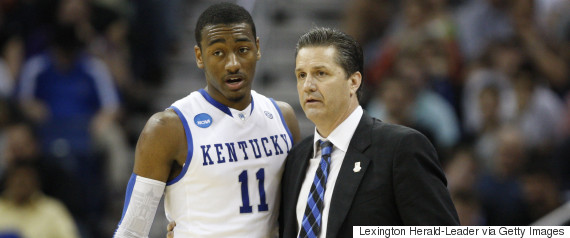 What are you able to draw from your time with Calipari?
Everything that you need to know about the NBA. He had the opportunity to coach there for a couple of years, he knew what it takes, and he was preparing us like professionals.
When Coach Cal says that Kentucky's not for everyone?
It's not. If you can't play basketball and get a basket one-on-one, he doesn't want you to be there. He's going to tell you that.
That's unbelievable. Can you elaborate on that?
He wants you to be able to beat your guy off the dribble. If you need plays called for you, like pick-and-rolls and all that, [he doesn't want you]. Coach Cal wants a guy that can get a bucket. If you can get a bucket or create for someone, he's perfectly fine.
With that in mind: the Harrison twins. Those guys aren't explosive one-on-one.
Yeah, they're not explosive, but they can make shots, shoot the ball and attack the basket, and I think they're improving. He has a different type of guard with those guys, so he's running more plays and pick-and-rolls for them.
At what point during your one year in Lexington did you realize that it's bigger than just wins and losses when you're playing at Kentucky?
The first day. First day, I was like, 'Yeah, this is all about [basketball and winning].' It's everybody's Super Bowl when they play us. So once you lose, the other guys are celebrating like they won a championship.
Oh, it's amazing -- 24,000 people every night. It's bigger than a lot of NBA arenas, so every opportunity [you get to play there], you're ready.
Yeah, I scored the last 15, 16, 17 points.
I'm not going to say it was a coming-out party, but it was the first time people really saw you play. Was that a big moment for you at the Garden, and do you draw from that ever?
Oh yeah, I had just played UConn at the Garden and that was my first real test in college, and then like a week later we were playing [North] Carolina at Kentucky and I had another big game. Yeah, that UConn game was pretty good.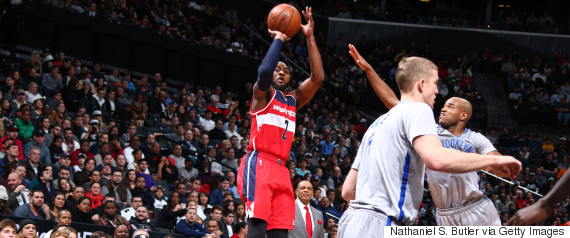 How much do you look at the sabermetric stuff? If you see you're 5 percent better from the top of the key, do you try and get more looks there?
Yeah, my sweet spots are the elbows, so during the games I try to get to those spots.
Yeah, that kinda elbow jump shot where you can attack the basket.
Nah, well, I don't look at the numbers or my percentages. I just know that's where I'm comfortable and that's where I work out of. So it's not about the numbers. Sometimes my numbers might be better from the wing, but I know where I'm comfortable in certain situations.
When I watch you play, it seems like you are more comfortable shooting in rhythm than spot-up situations.
Yeah, I like more rhythm. I'm more of a rhythm type of player.
Lastly, can I get a Kentucky prediction?
I just want them to win the national championship.
Email me at jordan.schultz@huffingtonpost.com or ask me questions about anything sports-related at @Schultz_Report, and follow me on Instagram @Schultz_Report. Also, be sure and catch my NBC Sports Radio show "Kup and Schultz," which airs Sunday mornings from 9 to 12 EST, right here.
Popular in the Community