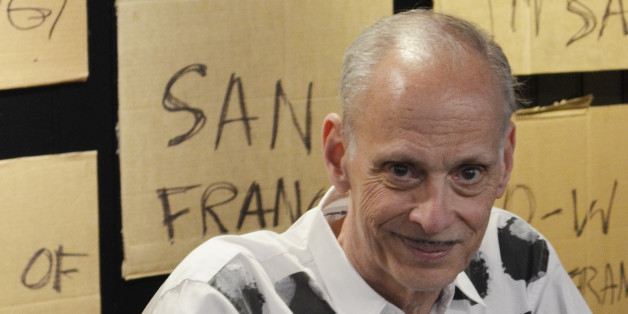 Filmmaker and author John Waters is funny, brash and brilliant. For decades, the so-called "Pope of Trash" has been peddling camp and gore -- and then some -- with films like "Pink Flamingos," "Female Trouble" and "Hairspray."
For his latest literary endeavor, "Carsick: John Waters Hitchhikes Across America," Waters hitched rides from his home in Baltimore to his San Francisco apartment in just eight days, armed with little more than a cardboard sign that read "I'm Not Psycho." The first two novellas imagine best and worst case scenarios: a kindly drug dealer hands him a bunch of cash, no strings attached; Waters is taken hostage by a wild drunk. The third part recounts actual events.
The Huffington Post sat down with the cult icon for a conversation in Provincetown, Massachusetts. Peering through dark sunglasses, Waters didn't hold back discussing hitchhiker sex, heterosexual discrimination, jazz junkies and his mustache:
I've never hitchhiked.
You never did? You pussy! You should try it up here [in Provincetown], to the beach or something, ease into it. I always hitchhiked. I mean, I never did this far when I was young, but I was raised that it wasn't bad to. All the kids in private and Catholic school hitchhiked home every day -- the parents expected you to. I had nostalgia for hitchhiking I guess, and so I thought of the idea like, let me challenge myself. Let's not play it safe.
Honestly, when have you ever thought to "play it safe"?
Fair point.
It gets a little graphic, so to speak, in "Carsick," the fictional parts at least ...
I imagined first, though, all the best and the worst that could happen so I could get all my fears and excitement and fantasies over with before I did it for real. I was preparing myself for reality.
If I hitchhike -- and I'm not saying I'm going to -- what's the etiquette I should know to follow?
First of all, you never do business in front of them, you don't talk on your cell phone, you don't check your emails. When you get into the car, it's improv -- you're in a little play and they're in charge. But you can take over psychologically, depending if they want to listen or talk, and I prefer that they talk because I feel like I have to do interviews all the time, you know what I mean? [laughs]
I think I do know what you mean. You were much more interested in their lives.
Yes, I was. I could tell if they had never heard of me, and that was fine. If they had never heard of me and they asked what I did and I'd say I make movies, I could tell when thought I was a liar, some homeless man with delusions of grandeur. Some came over to give me money and started screaming and laughing when they realized it was me. But they were all people who were trying to help me.
You didn't publicize the trip, so were people surprised to find you when they did recognize you?
I never even answered the press when the story did break. I didn't confirm that I was doing it. And it wouldn't have helped me anyway because I didn't know where the hell I was, standing on some road. It's not like fans are going to come running 200 miles into the middle of Kansas to give me a ride to California.
You'll never know. Was there anybody that you ...
Did I have sex?
Sure. Did you?
No. I didn't. But in the good and the bad part of the book I do. And when I was young I always did, yeah. I would've, but it's different when you're 66 and not 18.
Did anyone offer a ride and you thought to yourself "nope, too creepy"?
No. After waiting for eight hours, you get in with anybody. I didn't want to hitchhike at night and I probably wouldn't have gotten on a motorcycle, but that was never at option. At the end, I was desperate enough, I would have gotten on a motorcycle, I think. I waited 10 hours one day, almost had to sleep on the ground.
Where is the worst and the best place to hitchhike in America?
Bonner Springs, Kansas -- the worst. Ohio was bad everywhere. The best? Truckee, California -- nice air, I knew I was going to make it. It gets easier as you go West. People are going further. The worst is cities. The enemy is a local ride.
Is there anything that you quickly realized you had forgotten to pack?
The scissors for my mustache. I had to go into a damn Walmart for the first time in my life. I use cuticle scissors.
You write in "Carsick" -- a joke, I'm sure -- that an idea for your next book might be, "I'll retake every drug I ever took, in order (hash, pot, LSD, amphetamine, morning glory seeds, glue, heroine, MDA, opium, mushrooms, cocaine) and then do bath salts"?
A joke, I'm sure. Well, I think I'm joking. I wouldn't look forward to tripping though. I took a lot of acid -- I loved it. I don't take drugs now. It's just boring. And heroin, the only thing heroin is good for is listening to jazz. Jazz is the sound of heroin. You can't be a jazz musician and not be a junkie -- really!
Do you spend all summer in Provincetown?
I do. I wrote half this book here, a lot of my movies here. I'm not on vacation. I spend some of the winter here too, but not all of it. When I'm here and it's quiet, I feel ghosts. I know so many people who died here from AIDS and I feel ghosts. It's not a bad feeling, but it's not something I want to spend the whole winter with.
The Provincetown International Film Festival is happening during this interview. Do you think its important to have an "unofficially queer" film festival?
I don't think it's a gay film festival. I mean, if it's in Provincetown -- everything is kind of gay. I'm an anti-separatist. I don't think there should be gay film festivals. I think it should all be together. Gay is not enough.
Is it ever?
It used to be. When it was illegal it was. But now it's hard to feel too discriminated against [laughs]. At least personally. In the arts, I mean, I think straight people get more discriminated against. I want to have a whole hetero pride parade here in Provincetown, and I'm the grand marshal, and it's in February!
This interview has been edited and condensed.
Listen to an excerpt from the audiobook of "Carsick," narrated by John Waters:
REAL LIFE. REAL NEWS. REAL VOICES.
Help us tell more of the stories that matter from voices that too often remain unheard.
BEFORE YOU GO
PHOTO GALLERY
15 Reasons Why We Love John Waters