Los Angeles turned out in force to see John Waters interview Jeff Koons at the Orpheum theater, part of a series of conversations sponsored by The Broad. Yes, The Broad Museum is being branded with a text-driven logo reading "THE BROAD" even though, and we were reminded of this, it doesn't open for another year. Scary stuff when a museum that doesn't yet exist can deliver two true superstars, pack the 2,000-seat capacity Orpheum theater downtown and assert its supremacy as L.A.'s institutional home of contemporary art. And Eli Broad was in the audience, as was a range of the creative class from Ed Ruscha to Mark Ryden; from curator turned dealer Paul Schimmel to a goateed Mark Mothersbaugh, along with a gaggle of L.A. art world glitterati mixed in with lots of celeb-magnets usually spotted at B-List Hollywood parties.
The two giants of bad taste were introduced with matter-of-fact fanfare and got right down to work. Waters was the interviewer, Koons the subject, and right away the impish film director tried to turn it into a therapy session by asking Koons where it all started. A compliant, pleasant subject, the artist immediately went into a tale of how his older sister did everything better than him until one day he made a drawing and his parents were impressed.
The first impression Koons gives is that of a relaxed, earnest salesman, pitching his listener on a product with assurances and pleasant certainty. He talked about being inspired to want more from life by listening to Led Zeppelin. Kashmir never seemed more bland. In his delivery, the person that Koons most reminded me of was Mister Rogers and as the evening went on, he only got more "Hi Neighbor" with the audience. His veneer of cool sincerity never broke. And yet it was so saccharine that it seemed insincere. Having worked with actors for most of his life, this did not bother Waters at all.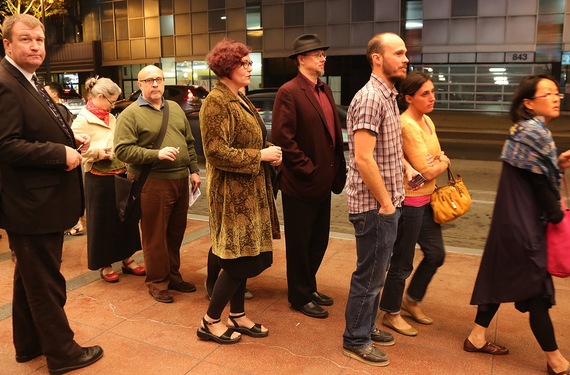 Painters Marion Peck and Mark Ryden (in hat) wait in the VIP line to gain entry to the Orpheum theater. PHOTO: Eric Minh Swenson
Rather than trudge through the muck about Koons (the litigation, the custody battles, leaving Gagosian gallery recently) Waters was never contentious. About as real as it got between the two was when Koons was discussing an artwork for a conical child's birthday party hat. He said he threw his son a one-and-a half-year birthday when he turned 18 months old and the child was abducted by his mother the next day. At one point John asked Jeff where ugliness fit into the work and Koons was utterly stumped. He discussed how all people have a dark side that needs to address the work but it just seemed so rehearsed. Ever the film director, Waters practically asked him to read his lines again. Koons went deeper into a rehearsed sales pitch and never answered the question. He was oddly incapable of addressing ugliness or even acknowledging its existence.
When given the pulpit to expound on what his work was about, Koons delivered a pithy sermon about acceptance and ending judgment. It sounded sweet on the surface but consider what he was saying: Ending judgment means ending critical thinking. Acceptance means liking whatever you are being given. The man's core message is a riff on blind consumerism and has an undertone of anti-intellectualism far more sinister than your average violent anarchist. Just what the billionaire art collector ordered!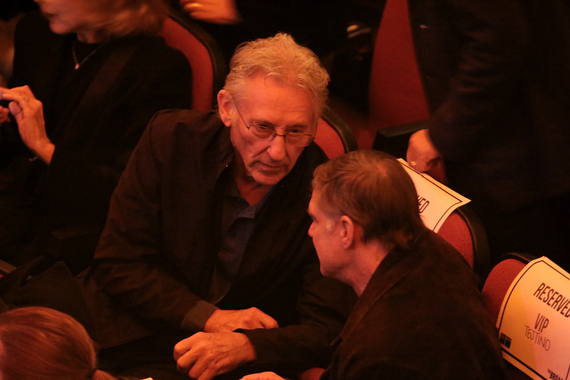 Artist Ed Rushca in conversation at the Orpheum Theater prior to the event. PHOTO: Eric Minh Swenson
With plenty of opportunities to mock or harass his guest, John Waters was the epitome of a gentleman, if perhaps a little too fawning. But it was never awkward and the hilarious asides by Waters were worth the $20 price of admission. Discussing his youth, Waters said "I was drilled on the rules of good taste, and made a career out of rebelling from it." Discussing a trip to the Baltimore Museum of Art where he bought a print of a Miró painting and hung it in his room, the negative reaction by all his young friends emboldened the young Waters to appreciate the power of art to upset and enrage people.
But the line that got the biggest applause from the quasi-elitist crowd was when Waters stated firmly "I think that art for the people is a TERRIBLE Idea". This was, sadly, the only real retort to the canned populism of the wooden Koons, who had rattled off a series of platitudes about how all the rich people buying his art meant that the art was usually free to see in the museum and how great it was for people to experience it all for free.
While his host Eli Broad was certainly flattered, the howls for that John Waters comeback let everyone know the loyalties and aspirations of the L.A. art world. While Koons asserted that he was not ashamed of his middle class roots to the point of never breaking character, Waters was our collective id, equal parts repulsed by the tchotchkes of American life but indulgent in the power of their ugliness. The Koons schtick was not to be believed but it was made bearable by the wonderful Waters, equal parts jaded and amused... and, in the end, probably relieved that Koons was as synthetic as imagined.
Popular in the Community