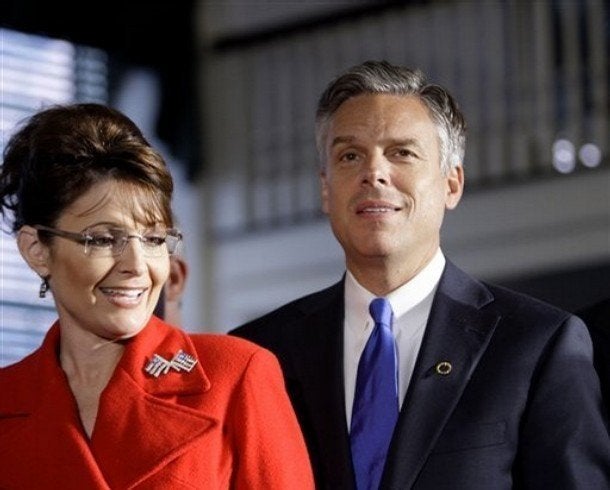 Another leading Republican strategist has voiced concerns about the direction of the GOP.
John Weaver, a top adviser to Utah Governor John Huntsman, said this week that the Republican party is headed for an electoral "blowout" if it continues to be defined by "Palin and Limbaugh and Cheney."
"If it's 2012 and our party is defined by Palin and Limbaugh and Cheney, then we're headed for a blowout," says strategist John Weaver, who advised Huntsman and was for years a close adviser to Sen. John McCain. "That's just the truth."
Until last week, Weaver was preparing for Utah Gov. John Huntsman's possible presidential run. Huntsman, who just accepted President Obama's invitation to become Ambassador to China, is a favorite of GOP moderates.
Weaver's comment is the latest in a series of calls from within the GOP for a more moderate tone. Last week, moreover, a National Journal poll of top GOP political insiders and strategists found last week that Republicans believe former Vice President Dick Cheney has hurt the party since leaving office.
Despite such warnings, top Republican leaders have continued to endorse the idea that Limbaugh and Cheney should represent the party.
John Boehner and Mitch McConnell, the House and Senate minority leaders, both expressed support for Cheney's attacks on President Obama during Sunday show appearances this weekend.
"It doesn't hurt us, it helps us," Boehner told CNN's "State of the Union." Boehner also said Cheney is a "big member in our party."
Meanwhile, RNC Chairman Michael Steele responded to a question on NBC's "Meet the Press" about Washington Post writer Dan Balz's claim that Republicans 'wince' at Cheney by saying, "There was no wincing here; the vice president expressed his view."
For moderates like Weaver, the GOP leadership's continued support for conservative voices suggests bad things for the Republican party's future.
"I firmly believe that Huntsman and people like him are the prescription for what ails us," Weaver said. "But I have the feeling that our party maybe won't order that prescription in 2012."
Calling all HuffPost superfans!
Sign up for membership to become a founding member and help shape HuffPost's next chapter