Entrepreneurship is the engine of our economy, but its true purpose lies in building community. Through the businesses we create, we become of service to our community and the world.
John C. Whitehead, former co-chairman of Goldman Sachs
One of America's great heroes and advocates for at-risk youth died a few weeks ago, on a Saturday afternoon in New York City. John C. Whitehead had lived a full life, passing away at 92 years old. He was one of the best friends and mentors I ever had--he had thousands of friends but he stood out as special to me--and I wanted to take this opportunity to honor him and our friendship.
John was born in 1922. A natural leader, he became chairman of Goldman Sachs, the Federal Reserve of New York and many other institutions, including the Mellon Foundation and the Boy Scouts of America. During World War II, John piloted a landing craft in Normandy on D-Day with so many heroes of his generation. After the war, he graduated from Haverford College in Pennsylvania and then went on to be top of his class at Harvard Business School.
John told me that at Haverford, he had learned the power of consensus. He was committed to the principles of We and of Teamwork, and this commitment, along with his fierce intelligence and drive, enabled him to rise among the ranks, eventually becoming one of America's most successful executives as he led Goldman Sachs to new heights.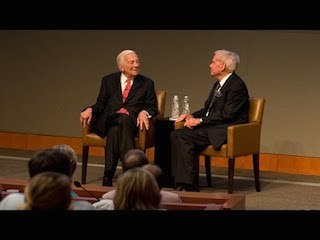 John Whitehead and Tom Brokaw (Source)
In 1983, John retired from Goldman Sachs at a budget meeting in Albany. He told me that he had retired in order to serve as Deputy Secretary under U.S. Secretary of State George Schultz, which John proudly did for five years, receiving the Presidential Citizens Medal from Ronald Reagan for his service.
From 1988 to 2014, John was a full-time philanthropist, business leader and investor. I first read about him back in 1991 and immediately wrote to him requesting a meeting. I received a call back two days later, to my surprise, and was invited to meet with John in his office. That encounter led to a 23-year friendship that I cherish today. John helped me build the Network for Teaching Entrepreneurship (NFTE), the nonprofit I founded in 1987, into a leader in providing entrepreneurship education to at-risk youth worldwide. He gave me hundreds of tips and so much valuable advice over the years as we built NFTE from a schoolteacher's dream into the $16 million foundation it is today.
John was a trusted advisor to the NFTE Board of Directors for many years and chaired the creation of our Board of Overseers. NFTE's global growth accelerated greatly when John became founding Chairman of the Goldman Sachs Foundation, as he helped shape the Foundation's dual focus on entrepreneurship and high-potential youth from underrepresented backgrounds. His support enabled NFTE to establish partner programs in both China and Germany and helped us fund impact research with Harvard University that has helped us verify that entrepreneurship education truly does help at-risk youth find their own pathways out of poverty.
Equally important, John introduced me to the business community of New York City. By vouching for me and for NFTE's mission, John enabled me to become an effective fundraiser and develop partnerships with donors that brought in the millions NFTE has used to establish entrepreneurship education programs for at-risk youth in 10 countries, with over 600,000 graduates to date. I learned so much from these business leaders that I was able to bring into NFTE's curriculum and to our students. The mentorship they provide to our students and alumni is invaluable, as well.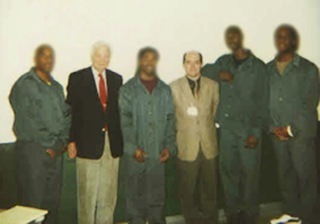 John Whitehead and Steve Mariotti visiting a prison entrepreneurship program they ran together in the 1990s (Source)
During our monthly meetings, John always imparted incredible oral histories. A favorite of mine was his story about a trip to Poland during the 1980s, during the Communist state. After he landed, John asked to meet the famous freedom fighter Lech Walesa, whom his host refused to include in the trip schedule. John insisted that he would fly to Lech's home until his Communist hosts finally relented, and allowed the visit. This was just one of many strikes in favor of democracy that John made during his 92 years.
John stood for absolute integrity and fearlessness, and the way he displayed those values at Goldman and as a philanthropist impressed me and became very important to me. I have tried to live by them, myself, and encourage them in my own friends and students over the years. John also had an incredible knack for being there--he was accessible and always willing to give advice and help others. A highlight of each year was going to see him and his beautiful wife Cynthia in Rhode Island. We planned that day every year in advance and I always looked forward to our wonderful seaside lunch.
Every August, around my birthday, I would take the train to Providence and check into the Marriott Hotel so I could get up early the next morning. I would rent a car and head to John and Cynthia's home, stopping at a fruit stand about twenty minutes away from their house. After the first year, I had the order down cold: four tomatoes and two onions, some cabbage, nuts, and carrots. I added two bottles of wine--one red and one white. Once I arrived, we would walk into his beautiful living room overlooking the water. Then we would talk for about an hour about how to build up entrepreneurship and young entrepreneurs. Later, we would drive over to his club and eat a soup and sandwich on the second floor.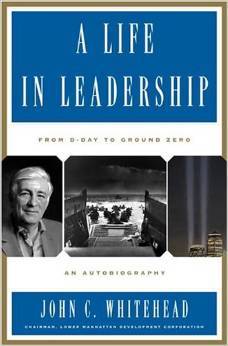 Over the years, I became friends with John's family, including his second wife, Nancy Dickerson, who sat through the very first NFTE fundraising dinner--a disastrous four-hour affair that she and John kindly sat through so that I would not have to close the evening alone. The day Nancy died was so tragic, and I will never forget seeing a devastated John at the board meeting soon after. He told me simply, "Thank you for providing this opportunity to me help others during a time of grief." What a remarkable human being.
This last year was a rocky one for me as I turned 61 and began reframing my career. After having spent the last thirty-plus years entirely focused on NFTE, it felt strange to consider new options and I looked to John for advice and leadership, which he gladly provided. I expressed my fears and anxieties to him and, as always, he was encouraging, supportive and wise. When in an insecure moment I told him that I felt like I might never find my way, he told me that never was too long a time, and to keep the faith. "You are a fine educator," John said, " get up off the ground and get back in the race."
I hope John is right--that never is a long time, and that I will see him again.
Calling all HuffPost superfans!
Sign up for membership to become a founding member and help shape HuffPost's next chapter