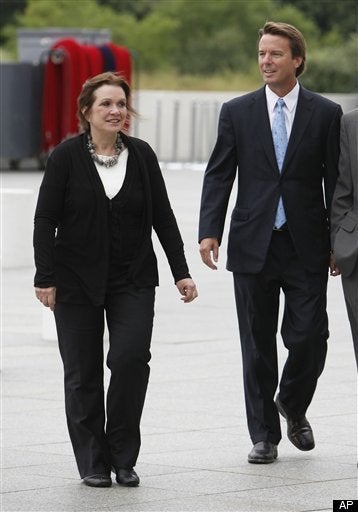 People Magazine reported on Wednesday that John and Elizabeth Edwards are now legally separated. According to People, Elizabeth has had divorce papers ready for nearly a year but has yet to finish the paperwork.
The last straw, Elizabeth's sister recounts, was when Elizabeth met Rielle Hunter and John Edwards' love child:
"She said, 'I've had it. I can't do this. I want my life back,' " her sister, Nancy Anania, tells PEOPLE in the latest cover story. Last December, Elizabeth met the 23-month-old Frances Quinn Hunter - the baby John fathered with mistress Rielle Hunter - in a mediated visit at a North Carolina hotel.
The news of the separation comes at the tail of a slew of new details about the dissolution of the Edwards' marriage, including John Edwards' former aide's claim that Edwards discussed leaving Elizabeth during the campaign.
The aide, Andrew Young, recounts more details of the Edwards' marriage, and John Edwards' affair in his new book, The Politician, including the discovery of a sex tape of Edwards with a naked, pregnant Hunter. "It was like watching a traffic pileup occur in slow motion -- it was repelling but also transfixing," Young wrote.
More details of the split here.
Popular in the Community