Sen. Johnny Isakson of Georgia, breaking with a silence adopted by virtually all of his GOP colleagues, tore into President Donald Trump for his recent attacks on the late Sen. John McCain nearly seven months after the Arizona Republican's death.
In an interview published Wednesday in The Bulwark, a news outlet recently established by conservative critics of Trump, Isakson said "America deserves better" than the president's persistent assaults on McCain.
"I just want to lay it on the line, that the country deserves better, the McCain family deserves better," he told the website. "I don't care if he's president of United States, owns all the real estate in New York, or is building the greatest immigration system in the world. Nothing is more important than the integrity of the country and those who fought and risked their lives for all of us."
He also said McCain "was better than I am, and I know it. John was the best of my generation. John McCain was and is a great human being."
Isakson, chairman of the Senate Committee on Veterans' Affairs, doubled down on his criticism of Trump in an interview with Georgia Public Broadcasting's "Political Rewind" program, calling the president's recent attacks on McCain "deplorable."
"You may be a Republican, you may be a Democrat ― we're all Americans," Isakson said. "We should never reduce the service that [veterans] give to this country."
Asked during the radio interview if he believes Trump is unstable, Isakson skirted a direct answer, saying he respects the office of the presidency "no matter who's in it."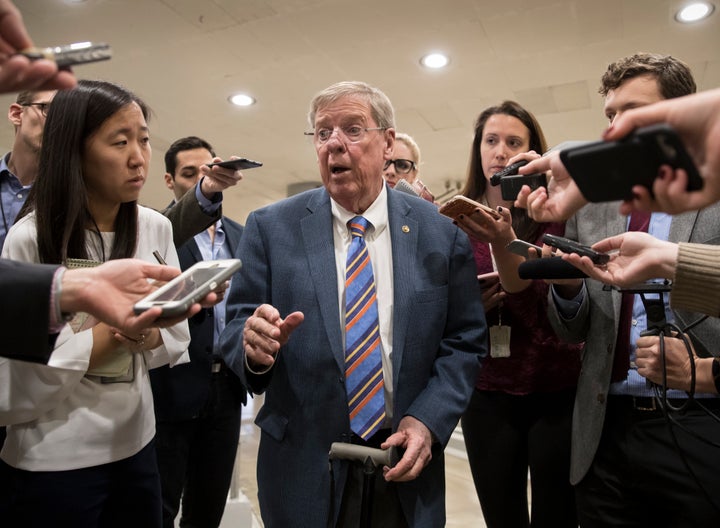 Trump, after a series of weekend tweets assailing McCain, on Tuesday told reporters he was "never a fan" of McCain, who died last August after battling brain cancer. The president slammed the lawmaker for helping to kill a GOP bill to repeal and replace the Affordable Care Act in July 2017.
"I think that's disgraceful," Trump said ahead of a joint press conference at the White House with far-right Brazilian President Jair Bolsonaro. "Plus, there are other things. I was never a fan of John McCain and never will be."
And Trump could not resist revisiting the subject on Wednesday. In a speech at a tank plant in Lima, Ohio, Trump complained that he gave McCain "the kind of funeral that he wanted," but "didn't get a thank you."
According to Politico, Trump in Ohio reiterated that "I've never liked him much." His comments received a cool reception, Politico reported.
As part of various tributes to McCain, his coffin lay in state at the U.S. Capitol, and his main funeral service was conducted at Washington's National Cathedral. It was unclear what Trump was referring to in his comment about McCain's funeral.
The president was pointedly not invited ― per McCain's instructions ― to the gathering at the National Cathedral. Those delivering eulogies there included former Presidents George W. Bush and Barack Obama.
Trump and McCain had several public spats before the senator died. Trump in 2015 infamously mocked McCain's five-year internment as a prisoner of war during the Vietnam War, saying that because he was "captured" he wasn't "a war hero."
Trump avoided military service as a young man during the Vietnam War era. When he was draft-eligible, he received deferments because a doctor diagnosed him with bone spurs in his feet.
"Nothing is more important than the integrity of the country and those who fought and risked their lives for all of us."
The president revived his attacks on McCain when he tweeted on Saturday that the decorated Navy veteran's legacy was stained by his vote against repealing and replacing Obamacare. Trump also falsely accused McCain in a Saturday tweet of "spreading" the infamous Steele dossier, which alleges Russian blackmail against Trump, to the media. He also mocked the late senator's academic record from when he was a student years ago at the U.S. Naval Academy at Annapolis, Maryland.
Meghan McCain, a co-host of ABC's "The View" and a daughter of the late senator, defended her father against Trump's attacks on Saturday.
"No one will ever love you the way they loved my father," she tweeted. "I wish I had been given more [Saturdays] with him. Maybe spend yours with your family instead of on twitter obsessing over mine?"
But few Republican lawmakers have responded by directly challenging Trump's jabs at the late senator. McCain's close friend, Sen. Lindsey Graham (R-S.C.), became a target of ridicule for a tepid response to Trump's weekend tweets that did not specifically call out the president.
"As to [McCain] and his devotion to his country: He stepped forward to risk his life for his country, served honorably under difficult circumstances, and was one of the most consequential senators in the history the body," Graham tweeted on Sunday. "Nothing about his service will ever be changed or diminished."
Graham, up for re-election in 2020, has transformed from a staunch Trump critic into one of the president's loudest cheerleaders since McCain's death.
Senate Majority Leader Mitch McConnell (R-Ky.) ― who has been crucial to pushing Trump's agenda through Congress ― defended McCain's legacy on Twitter an hour before Isakson's radio interview Wednesday. But, like Graham, he not directly take issue with Trump's attacks.
"It was a blessing to serve alongside a rare patriot and genuine American hero in the Senate," McConnell tweeted.
Following McCain's death last year, Isakson berated Trump from the Senate floor when the flag at the White House only remained at half staff for only a day. The White House later lowered the flag again to half staff until the end of the various funeral services for McCain.
"Anybody who in any way tarnishes the reputation of John McCain deserves a whipping," Isakson said then, "because most of those who would do the wrong thing about John McCain didn't have the guts to do the right thing when it was their turn."
This story has been updated with Trump's Wednesday comments on McCain.
Popular in the Community