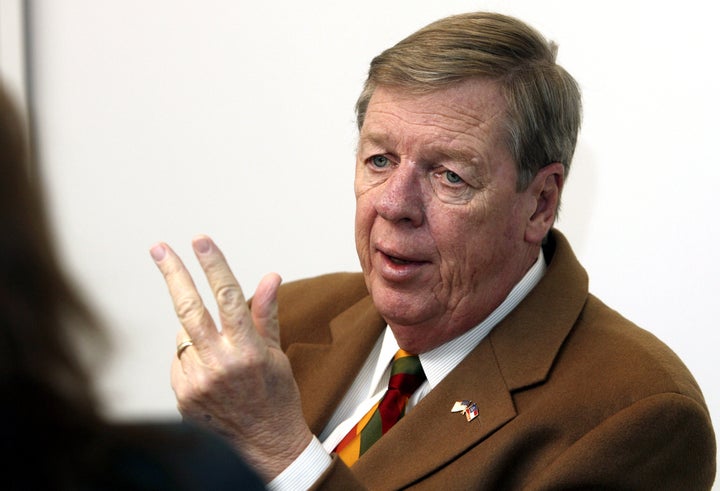 Breaking with many other leaders in his party, Sen. Johnny Isakson (R-Ga.) warned against a government shutdown in a debate on Sunday, saying it would endanger U.S. troops.
"Well, I think as long as you've got men and women deployed in harm's way in Afghanistan, the last thing in the world is you shut down the support system for those men and women," he said in the debate sponsored by the Atlanta Press Club and aired on Georgia Public Broadcasting. "So I would not want to do that."
At the same time, Isakson argued, the country needed to get its spending where "we had prior to this current administration and even prior to the last administration of President Bush." "Right now, the best thing we could do is set the 2008 budget caps as the new caps for the next budget year we go into, because that would reduce spending by $600 billion in the first year of appropriations after it was established," he added. "That's the way you have to do it -- with tough love."
Isakson made a strong case against a government shutdown, and it's likely an argument that Democrats will also use if the GOP leadership pushes the issue after November. So far, Republicans such as Alaska Senate candidate Joe Miller, former House Speaker Newt Gingrich, Rep. Lynn Westmoreland (Ga.) and Rep. Steve King (Iowa) have all floated the idea of a government shutdown in order to eliminate government programs they don't like (such as health care reform).
In an interview with The Huffington Post, President Clinton warned of the human consequences of a federal shutdown, pointing out that government workers don't get paid and all sorts of essential services simply stop. Former Republican House Majority leader Dick Armey, who was with Clinton and Gingrich during the government shutdown in the 1990s, said it is premature to be talking about such a move at this point.
Both Senate Minority Leader Mitch McConnell (R-Ky.) and House Minority Leader John Boehner (R-Ohio) are reportedly still open to a possible shutdown.
Popular in the Community