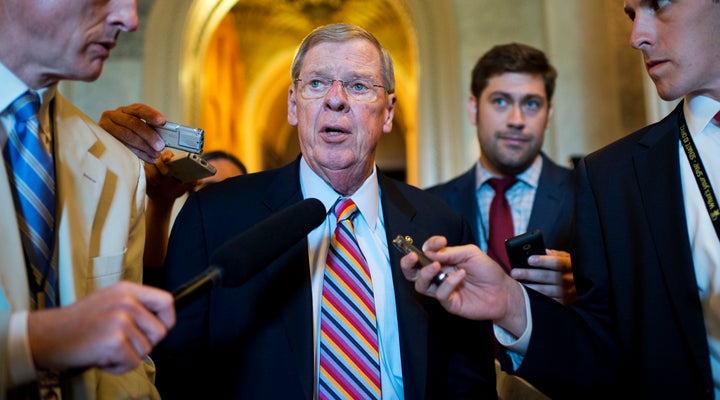 "My prediction is this: if Hillary Clinton wins next Tuesday, Garland will be confirmed before January," Isakson told The Atlanta Journal Constitution Friday. "He's probably a lot more conservative than anybody she would appoint. If Donald Trump wins, there probably won't be a confirmation of Merrick Garland."
Obama nominated Garland, the chief judge of the U.S. Court of Appeals for the D.C. Circuit, on March 16 to replace the late conservative Justice Antonin Scalia. Garland has never even received a hearing in the Senate Judiciary Committee because Republicans refused to confirm a justice before the election. They hoped, of course, that a Republican would win the presidential election and they could get another conservative to replace Scalia.
Isakson's comments, however, reflect the grudging acknowledgment by many Republicans that Trump continues to trail Clinton and seems likely to lose. A Clinton win would present the GOP with the exact scenario that Isakson presented: Confirm Garland, widely known to be a more moderate judge, or let Clinton choose someone potentially far more liberal ― an especially likely outcome if the Senate flips to Democratic control in this election.
Sen. Jeff Flake (R-Ariz.) also recently said that confirming Garland before January if Clinton wins is the best option for Republicans.
But other Republicans are already advocating for a different strategy: Double down and don't confirm any justices nominated by a Democratic president, even if that means the Supreme Court stays at eight members.
"If Hillary Clinton becomes president, I am going to do everything I can do to make sure four years from now, we still got an opening on the Supreme Court," Sen. Richard Burr (R-N.C.) said.
"I promise you that we will be united against any Supreme Court nominee that Hillary Clinton, if she were president, would put up. I promise you," Sen. John McCain (R-Ariz.) also said.
These comments directly contradict Republicans' initial excuse for refusing to move forward on Garland. Their stated rationale was that the public deserved a say, through the election, in deciding whether the next justice will be liberal or conservative. Burr himself said, "The American people deserve a voice in the nomination of the next Supreme Court justice."
Apparently, that voice is relevant only if it goes for Donald Trump.
Vice presidential nominee Sen. Tim Kaine (D-Va.) told The Huffington Post in a recent interview that, if Republicans do dig their heels into the ground, Democrats would move to eliminate rules allowing a minority of senators to block Supreme Court nominees.
"I was in the Senate when the Republicans' stonewalling around appointments caused the Senate Democratic majority to switch the vote threshold on appointments from 60 to 51. And we did it on everything but a Supreme Court justice," Kaine said. "If these guys think they're going to stonewall the filling of that vacancy or other vacancies, then a Democratic Senate majority will say, 'We're not going to let you thwart the law.'"
CORRECTION: An earlier version of this story incorrectly identified Tim Kaine as a Republican.
HUFFPOST READERS: What's happening in your state or district? The Huffington Post wants to know about all the campaign ads, mailers, robocalls, candidate appearances and other interesting campaign news happening by you. Email any tips, videos, audio files or photos to scoops@huffingtonpost.com.