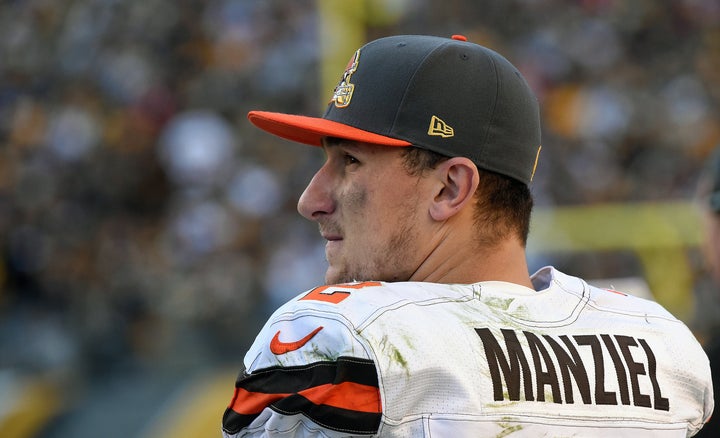 The Johnny Manziel experiment in Cleveland took yet another sour turn Tuesday when the Browns announced that the quarterback would be replaced in the starting lineup. The apparent trigger -- video of Manziel allegedly partying last weekend in Texas during the team's bye week.
He'd said he would lie low, so the question for Manziel is: Again? The question for the Browns is: How much longer do they want to play this game with the former first-round draft pick?
The recent trouble comes on the heels of what was thought to be a successful stint in rehab for Manziel during the offseason. Head coach Mike Pettine had named him the starter less than two weeks ago. Now he's QB3, behind journeymen Josh McCown and Austin Davis. 
"Everyone in this organization wants what is best for Johnny just like we do for every player in our locker room," Pettine said in a statement. "I'm especially disappointed in his actions and behavior because he has been working very hard."
What is perhaps most disappointing is Manziel's repeated history of mistakes and questionable judgment. His demonstrated lack of maturity -- and this obviously includes his time at Texas A&M -- isn't merely an issue, but rather a disaster. At 22 years old, Manziel is already a massive distraction in the locker room and maybe worse, a failure. Where in the past we've tried to think of him as a "project," we can no longer give him the benefit of the doubt.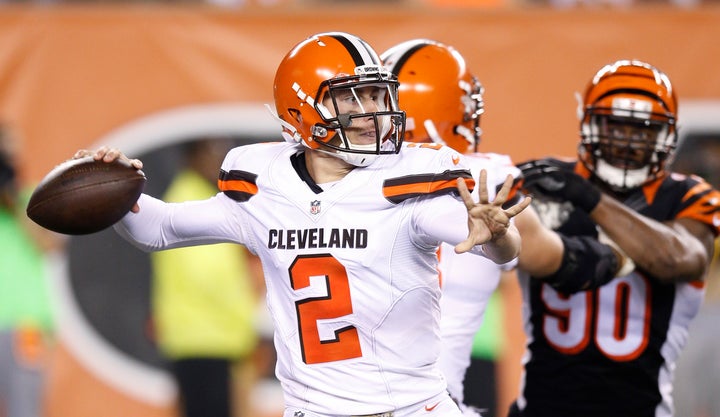 Remember, this is a player of whom perennial All-Pro and future Hall of Fame left tackle Joe Thomas -- the longest tenured and most respected Brown -- said in April, "He lost probably a lot of trust among the guys on the team'' because of the way he handled himself last season. 
In addition to the drinking and the alleged domestic violence, the other problem for Manziel is his actual play on the field. In six games this season, the former Heisman Trophy winner (he was the first freshman ever to win the award) has completed 59.4 percent of his passes -- a woeful stat that ranks him 25th in the league, sandwiched in mediocrity between Brian Hoyer and Colin Kaepernick.
Manziel is also slotted in the bottom half of the rankings in yards per attempt. In other words, he's not exactly slinging it down the field either.
Moreover, his scrambling prowess and dynamic playmaking ability -- in essence, what the Browns traded up for in the draft -- have hardly been on display. Despite the lack of tape to watch, opposing defenses seem to have keyed in on when he actually wants to run. In four 2015 starts, Manziel has amassed a measly 84 yards on the ground.
NFL players, to be sure, are often lauded for their on-field personalities: You made a great play? Celebrate! Just look at J.J. Watt. Or Odell Beckham Jr. Or Antonio Brown. But you earn the right to do that. Or if you're Johnny Football, you earn the right to flash the "money" sign.
Maybe Browns linebacker Karlos Dansby, a former second-team All-Pro, summed it up best when he said of his teammate: "He's a prisoner of his success."
But impressive as it was, Manziel's past success can no longer carry him.
As Browns fans know better than most, there are a finite number of people who can play quarterback in this league. Since 1999, when the franchise rejoined the NFL, no team has suffered through more failed leaders on the field. It started with Tim Couch, the first selection in the '99 draft and a colossal bust by any metric, and continued on down the years with 22 flops, including Jason Campbell, Brady Quinn, Colt McCoy, Charlie Frye and Brandon Weeden.
Sadly for Johnny Manziel, as exciting and talented as he may be, it seems like he's already sealed his fate to be the next in that line.
Calling all HuffPost superfans!
Sign up for membership to become a founding member and help shape HuffPost's next chapter