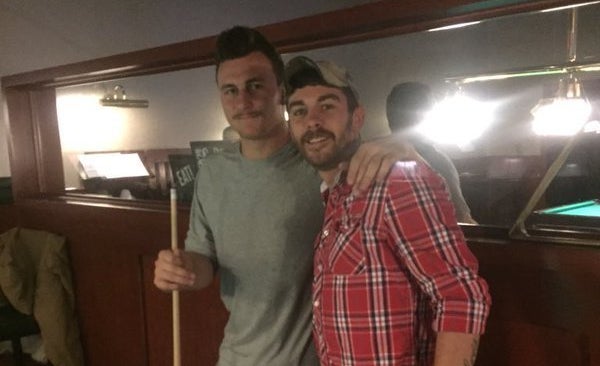 There he is, in the flesh and freshly mustached: Cleveland Browns quarterback Johnny Manziel.
But how did we get here? How did a week of Manziel manhunting end inside of a dark pool room? The Browns and many media members are probably asking the same question. But examining at a week's worth of reporting on Manziel's latest example of episodic behavior can help provide a more complete picture of what exactly he's been up to lately. 
Saturday Morning, Jan. 2: The Great Escape
The Cleveland Plain Dealer's Mary Kay Cabot reports that Manziel, sidelined by a concussion sustained against the Kansas City Chiefs on Dec. 27, was at the Browns practice facility on "Saturday morning" for concussion treatments. The exact time of Manziel's visit is unknown.
Presumably, Manziel made his great escape to Las Vegas sometime after his morning rendezvous with the cops and the Browns, who were preparing to face the Pittsburgh Steelers the next day. (Manziel, under the NFL's concussion protocol, was not required to attend the game.)
Saturday Night, Jan. 2: The Party Don't Start Till Johnny Walks In
That night, Johnny Manziel wasn't Johnny Manziel. No, no. He needed to hide -- to be someone else, someone normal, for a change. Enjoying himself past 3 a.m. under the alias "Billy," according to Monday night's report from ESPN Las Vegas, Manziel disguised himself using a blond wig, glasses, a hoodie and a "fake" mustache throughout his time on the strip. (Shameless enterprising sports fans have already taken advantage of Manziel's bizarre look.)
USA Today's Scott Boeck broke the news of Manziel's arrival in Las Vegas early Saturday night, but with an evening of fun already planned, Manziel attempted to indirectly refute Boeck's claim with an Instagram response: He geo-tagged (a feature he's never used before on Instagram) himself at home in Ohio with his dog, duh. Of course that's where Manziel is! 
By Sunday morning, however, the credibility of Manziel's adorable puppy post was shot. 
Sunday Morning, Jan. 3: BUSTED!
Tuesday, Jan. 5: Manziel Becomes A Modern Waldo 
Following Monday night's report of Manziel's "Super Trooper"-like Las Vegas costume, one overly enterprising Cleveland news station stalked around Manziel's home in Avon, Ohio. Thus, WEWS, an ABC affiliate, began its cringeworthy "Manziel Watch."
When reporter Megan Hickey knocked on Manziel's front door (not a bad place to start the search), an apparent friend of Manziel's answered and refused to comment before indicating that Manziel was at home, but too busy on the phone to talk. 
Wednesday Morning, Jan. 6: The Media's Stakeout 
Determined to snag a glimpse of Manziel, the television station's "Manziel Watch" continued into Day 2. This time, reporter Kristin Volk was assigned to stalk Manziel's whereabouts. Like Hickey, Volk approached Manziel's front door after hearing "guys' voices," but was shocked to hear silence upon her knocks. No one opened the door for Volk, and she resigned herself to a four-hour stakeout of the home. 
Wednesday Night, Jan. 6: FOUND WITH MUSTACHE
As WEWS scrapped together footage to produce another "Manziel Watch" segment, Manziel stepped out into plain sight. Well, that is, if you frequent pool halls at Dave & Busters locations in Ohio. 
Manziel remains radio silent, but after a whirlwind week of rumored partying and hiding behind closed doors and disguises, it's no surprise to see Manziel's Browns teammates posing concerning questions about their quarterback's lifestyle. 
In Manziel's mind right now, the truth is probably somewhere in between. But man, that's a wicked mustache. 
PHOTO GALLERY
Amazing Sports Photos
REAL LIFE. REAL NEWS. REAL VOICES.
Help us tell more of the stories that matter from voices that too often remain unheard.