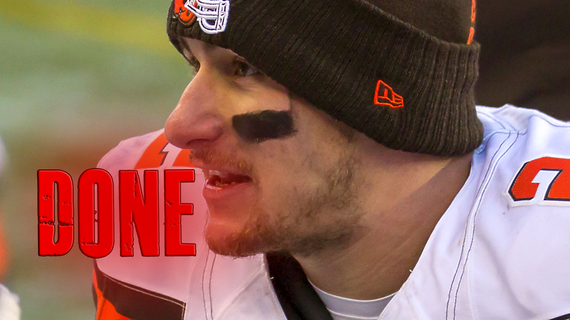 The beleaguered former NFL quarterback, Johnny Maziel, is likely finished with his NFL career. What began as something that had all of the potential in the world has been squandered on drugs and alcohol, partying and the occasional violent outburst.
He was done then and he's assuredly done now.
At just 23-years-old, Manziel has managed to destroy his reputation far and wide, losing two agents this year already.
In the 14 NFL games he played, he did tack on eight touchdowns as he partied his way out of the starting position and the Browns' locker room.
For what it's worth, some players have made impressive comebacks, like Von Miller. But this is a clearly different story.
Manziel has already been through rehab. He's been extended the helping hand of the Browns over and over again, only to slap it away. And he's been offered help from his closest friends and allies.
According to Sports Illustrated, Drew Rosenhaus, his former agent, recently dropped him after Manziel didn't seek rehab.
Yep, he's a freaking mess people.
Newer reports have found him partying in the pit at the Choachella festival, where Fox says he was seen stumbling around obviously intoxicated.
Is there any saving grace for this once hot prospect? Yes, there is. He's got millions left over from his contract. There still is time for him to enter rehab, get his act together and prove to the world that he can be a functioning adult.
If he manages that, he may be able to convince an NFL team in the future that he still has what it takes to be a pro.
But the chances of that happening are very slim. What will likely happen is that this turns into another ugly story of an NFL draft bust that pisses away his millions and is broke by the time he is 30.
He used to be Johnny Football. Now he's Johnny the Addict. Hey, I heard Paris Hilton is looking for a new beau. Could be a match made in heaven.
Visit

NowItCounts.com

,
The Destination for Americans 50+

for stories that matter to you covering financial, health, beauty, style, travel, news, lifestyle, food, entertainment and sports.
REAL LIFE. REAL NEWS. REAL VOICES.
Help us tell more of the stories that matter from voices that too often remain unheard.