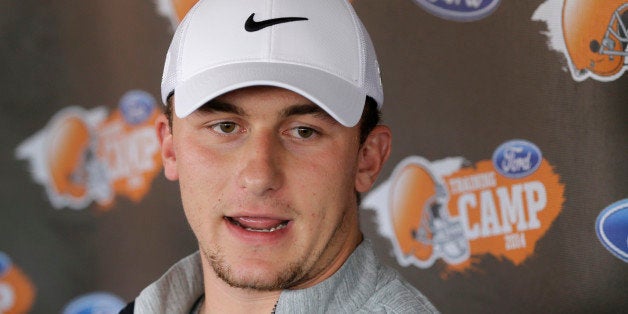 The quarterback, a former Heisman winner, struggled both on and off the field in his first year in the NFL. The exact reason for his decision to enter rehab is not clear at this time. In a statement, Manziel's camp and family asked for privacy.
"Johnny knows there are areas in which he needs to improve in order to be a better family member, friend and teammate and he thought the offseason was the right time to take this step," Manziel's adviser, Brad Beckworth, told ESPN.com through a spokesman. "On behalf of Johnny and his family, we're asking for privacy until he rejoins the team in Cleveland."
In a prepared statement, Browns general manager Ray Farmer said the team would "fully support" Manziel during his time in rehab.
Manziel's off-the-field behavior has long been a source of controversy. Manziel's parents have required him to visit an alcohol counselor in the past. Before the 2014 season even began, Browns officials asked Manziel to stop partying so much. A few weeks later, a photo of Manziel rolling up a dollar bill was widely circulated. (People often roll up dollar bills so they can snort cocaine.)
Manziel's partying ways didn't stop during the season, according to a number of reports. ESPN reported in January that Manziel was found by team security in his home "drunk off his a--" the morning before the team's last game of the season. Only days before, Manziel had told reporters he planned to take his job more seriously so that he could become "the guy" for the Browns.
"Johnny's his own worst enemy," one source told ESPN.com at the time.
Related
Popular in the Community