NEW YORK -- Mark May 8 on your calendar: The 2014 NFL Draft will be the last time Johnny Manziel finds himself overlooked by the NFL. The former Heisman Trophy winner, drafted 22nd overall from Texas A&M, is a can't-miss superstar who will make every team that passed him over in 2013 rife with regret.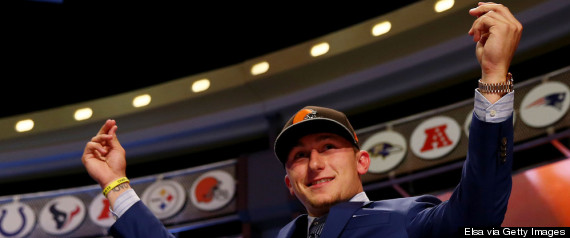 Manziel instantly moves the needle for the Cleveland Browns, a franchise that has made the playoffs one time since it came back into the NFL in 1999. From a fan's perspective, Manziel is pure gold: The Browns have already sold more than 2,300 season tickets. Ohio's not-so-favorite son, LeBron James, even wore a Manziel jersey on a flight from Miami to Brooklyn. On the field -- where it matters most -- Manziel is a major score for the Browns, a team that has gotten the most of its career starts from former No. 1 overall pick Tim Couch.
Make no mistake: Manziel, at under 6 feet, is not a perfect quarterback prospect. He makes errant throws and over-scrambles at times. He abandons the pocket when he shouldn't and takes unnecessary risks with his body. Without question, he is a freewheeling talent who will stray from the game plan. The almighty New England Patriots apparently felt like his antics were not worth the risk. In a leaked scouting report, he is called a "spoiled brat." And yet, when it comes to Johnny Manziel, we throw all of that out the window because of the incredible intangibles -- the good trumps the bad. And that is precisely the lens through which the Browns have decided to view him: the swashbuckling, fearless leader who single-handedly beats Alabama in Tuscaloosa and torches Oklahoma in the Cotton Bowl, only to do the same thing against Duke a year later to overcome a 21-point first half deficit.
Sometimes the mark of a truly great player and leader is how he's perceived by the guys that know him best: his teammates. While there remains speculation that Manziel can in fact draw resentment and ire from teammates, we should not ignore the comments like these: "Johnny's always been a leader," Julien Obioha, Aggies defensive end, said after the Duke game. "He's the best college football player ever, I believe. That's what he's been, the best college football player ever."
For the Browns, failing quarterbacks isn't the entire story either, but rather the type of failing quarterback and failed draft picks: Think Brady Quinn and Brandon Weeden, both of whom were ironically selected 22nd overall as well. Manziel is not the big-eyed Quinn or the flat-footed Weeden, but instead, a dynamic talent and exactly what this organization needs.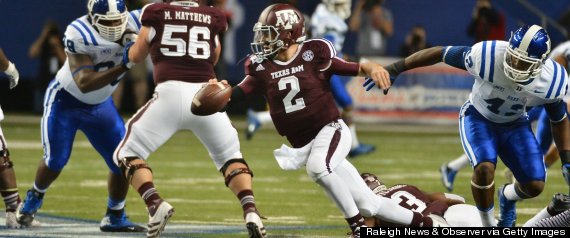 "I never put any stock into where anyone said I may go," he said after being drafted. "Obviously those teams that passed me up, that adds fuel to the fire. This is a great day for me. For me, there is no disappointment."
Moving forward, consider that newly minted Browns offensive coordinator Kyle Shanahan helped Robert Griffin III make the transition from college to the pros so seamlessly in Washington. Whether Manziel starts immediately or not is immaterial. While he may not be the most polished, eventually he will become the starter -- regardless of Brian Hoyer's rehab situation from a torn ACL. And when that does happen, he will become one of the league's next great stars, not just an NFL RedZone favorite, but also a dominant quarterback who will help turn around a moribund franchise.
Email me at jordan.schultz@huffingtonpost.com or ask me questions about anything sports-related at @Schultz_Report and follow me on Instagram @Schultz_Report. Also, be sure and catch my NBC Sports Radio show, Kup and Schultz, which airs Sunday mornings from 9-12 ET, right here.
REAL LIFE. REAL NEWS. REAL VOICES.
Help us tell more of the stories that matter from voices that too often remain unheard.