The Cleveland Browns' 29-year-old quarterback Brian Hoyer seems to provide the kind of story you can feel good about. Hoyer grew up in Cleveland and wanted to go to Ohio State. Instead, the Buckeyes didn't offer, and Hoyer's best offer came from Big Ten rival Michigan State.
After a terrific collegiate career, he went undrafted in 2009 and bounced around with numerous organizations as a backup until last season. This year, while leading the Browns to a surprising 7-6 record, he has held off first-round draft choice and fan favorite Johnny Manziel.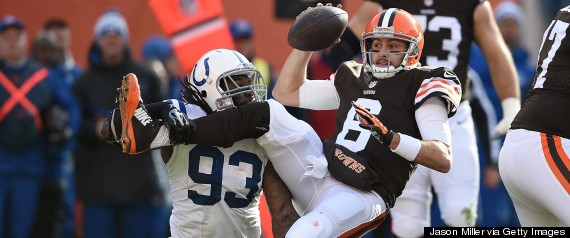 But with all due respect to Brian Hoyer, he is just another guy. Recently, he has has turned in woeful play and a lack of production during a pivotal stretch of the season. Manziel, even the most ardent Hoyer fans would agree, is the superior talent and undoubtedly the future of the organization.
These days, the AFC playoff picture is murky at best. Yet Cleveland, despite a painful 25-24 home loss on Sunday to Indianapolis, remains in the thick of it. The Browns infamously have endured a miserable stretch of quarterback play since their inception, both pre- and post-1999. Before selecting Manziel in 2014, they employed failed first-rounders Brady Quinn and Brandon Weeden. All in all, they have had 19 different starting quarterbacks since 1999 (when the team franchise was reinstated into the NFL), combining for the lowest quarterback rating in pro football.
This is a quarterback-driven league, and Hoyer, after totaling 140 yards passing with zero touchdowns Sunday, has now gone four games without a single TD. And during that span, he's thrown eight interceptions while combining for the lowest quarterback rating in the league. The Browns defense has played commendably -- scoring twice against Indy -- but you cannot win in the NFL with an offense this inept. It is the reason why the Browns traded up in the draft to nab Manziel in the first place.
Hoyer's Sunday performance came against a Colts defense which was thrashed by Colt McCoy for nearly 400 yards and 3 TDs the week before and literally went down in the wrong side of the record books when it allowed Ben Roethlisberger to throw for 6 TDs while amassing 522 yards threw the air, good enough for the fourth highest single-game total in NFL history.
Perhaps Jordan Cameron, the Browns Pro Bowl tight end, summed it up best on Sunday by putting it as bluntly as possible: "We suck," Cameron told reporters.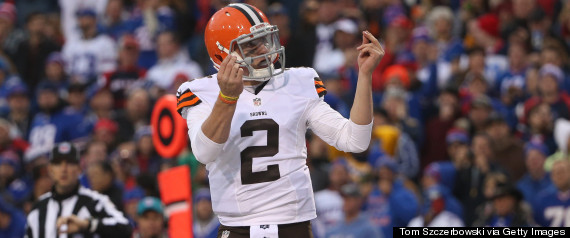 Meanwhile, there is Mr. Manziel. Even with his faults, he provides a level of excitement, pizzazz and most importantly, effectiveness that Hoyer doesn't. When he entered the Buffalo game during Week 13, the Browns offense had been stuck in neutral all afternoon. Almost immediately, he scampered for an electric 10-yard touchdown run. The game's result had already been decided, but it was a reminder of how dynamic the former Heisman Trophy winner can become when simply given the opportunity.
After the loss to Indy, Browns head coach Mike Pettine -- a rookie himself -- was asked about his thought process moving forward in terms of his quarterback.
"I haven't even thought about it," Pettine said. "It's something we'll get together and discuss at some point. It's too fresh after this one to think forward."
It was "too fresh" in August or maybe September, but this is December. Pettine's choice of words is downright laughable, and a reminder that he remains out of his league, quite literally.
The Browns have not been to the playoffs since 2002 and haven't won a playoff game in two decades. Johnny Manziel may not turn out to be the team's savior, but with the clock ticking on the Browns season, now is well past the time to find out.
Email me at jordan.schultz@huffingtonpost.com or ask me questions about anything sports-related at @Schultz_Report, and follow me on Instagram @Schultz_Report. Also, be sure to catch my NBC Sports Radio show "Kup and Schultz," which airs Sunday mornings from 9 to 12 EST and "Countdown to Kickoff with Jordan Schultz" from 12-1 for fantasy football, right here.
REAL LIFE. REAL NEWS. REAL VOICES.
Help us tell more of the stories that matter from voices that too often remain unheard.