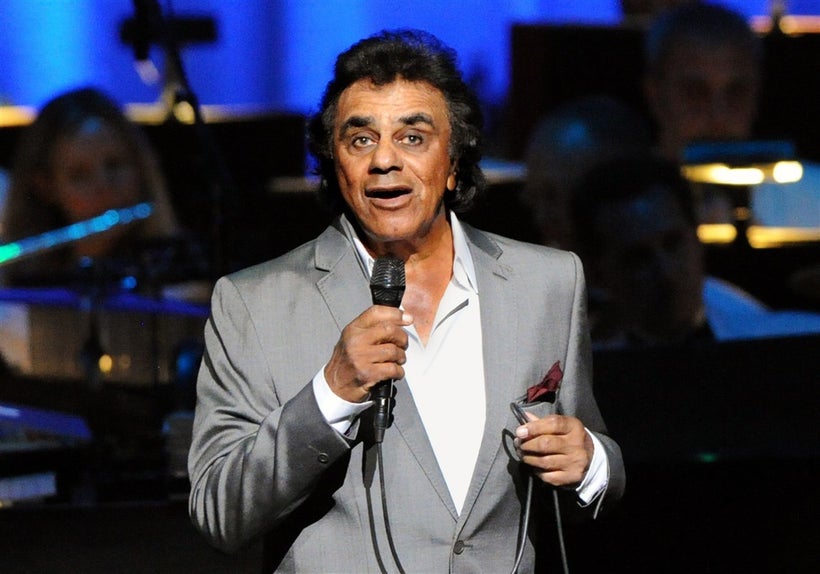 "Incomparable" is a word that is repeatedly strewn about these days, describing individuals and events that may actually be compared to others without much thought or imagination. For a true understanding of the word, one need look only as far as the legendary Johnny Mathis' next concert date. During his Sunday night performance at the beautiful Sacramento Community Theatre, Mathis personified the word over and over again.
For starters, in an entertainment world where would-be divas have kept Sacramento audiences waiting for hours, Mathis' lights dimmed promptly for his 7:30pm performance.
There were a few things that the casual observer may have missed last night, like the perfectly adorned pocket square on the singer's immaculate suits, or his flawless microphone technique. Mathis selected an old-school corded mike as his duet partner for an evening of wine, roses and yes, a seemingly endless barrage of misty, water-colored memories of a time when songs were well written, well produced, and well sung.
And oh, those songs! How can one compare much of today's painfully pedestrian "hits" with the classics Mathis performed last night — songs like "Misty," "Chances Are," "99 Miles To LA," "Life Is A Song Worth Singing," "Gina," "The 12th Of Never," "Wonderful, Wonderful," or "I'm Stone In Love With You?"
Mathis leaped across decades more easily than many of his loyal fans hopped out of their cars outside of the theatre. Many of them have been with him since he released his first, self-titled album in 1956. More than six decades into a landmark career, we're still here, screaming Mathis' name and begging him to sing just one more song before he leaves the stage.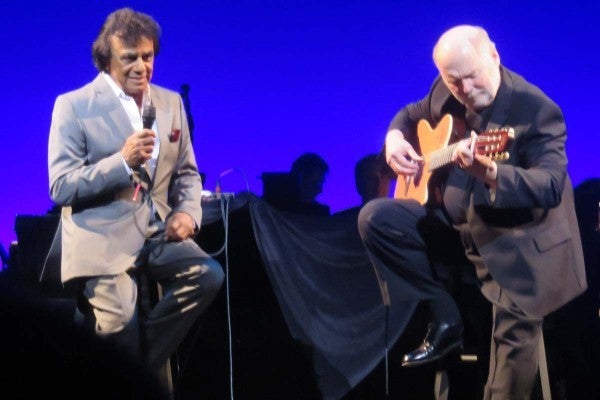 The entertainer's peerless, piercing tenor defies description, a fluid, multi-octave wonder that Mathis used Sunday night to out-sing The Stylistics on a handful of their Thom Bell-penned R & B classics from the 1970s. That same voice was behind live versions of the artist's own classics that were untouched from their 1950s arrangements. Mathis' versions of Henry Mancini's "Moon River" and The Beatles' "Yesterday" were quite simply the best versions I've ever heard.
This show was the third time I've seen Mathis in concert in as many years, and each show was different from the last. Unlike other performers of his generation who trot out the same, tired show year after year, Mathis is unwilling to rest on his laurels. He is still giving his fans 100 percent, and Sunday night, his standing-room-only crowd ate it up.
Mathis is celebrating his 82nd birthday with the release of his new album, Johnny Mathis Sings The Great New American Songbook, which includes covers of songs by artists like Bruno Mars, Whitney Houston, and R Kelly and is due September 29th…which brings to mind another shockingly unfathomable fact about Sunday night's show. In a world where products are hawked endlessly via broadcast, mobile, and social media channels, Johnny Mathis neither sang his current single, a breathtaking cover of Leonard Cohen's "Hallelujah," nor mentioned his upcoming album. Not one single time.
He didn't have to. Johnny Mathis has been a star, giving sold-out audiences much more than their money's worth, for longer than many of his fans (this writer included) have been breathing. Independent of what he's singing, be it Tin Pan Alley-era favorites, religious standards with Percy Faith's orchestra, his timeless Christmas music, or his own romantic ballads, Mathis is still bringing a level of perfection and showmanship that is, frankly, from a different time. In 2017, after 61 years in show business, we'll buy the new album.
And one day soon, we'll be sitting in another auditorium screaming Mathis' name and begging him to sing just one more song from it.
Go to www.johnnymathis.com for information on Mathis' The Voice Of Romance Tour.
Go to www.michaelpcoleman.com for information freelancer Michael P Coleman, or follow him on Twitter: @ColemanMichaelP
Calling all HuffPost superfans!
Sign up for membership to become a founding member and help shape HuffPost's next chapter
This post was published on the now-closed HuffPost Contributor platform. Contributors control their own work and posted freely to our site. If you need to flag this entry as abusive,
send us an email
.