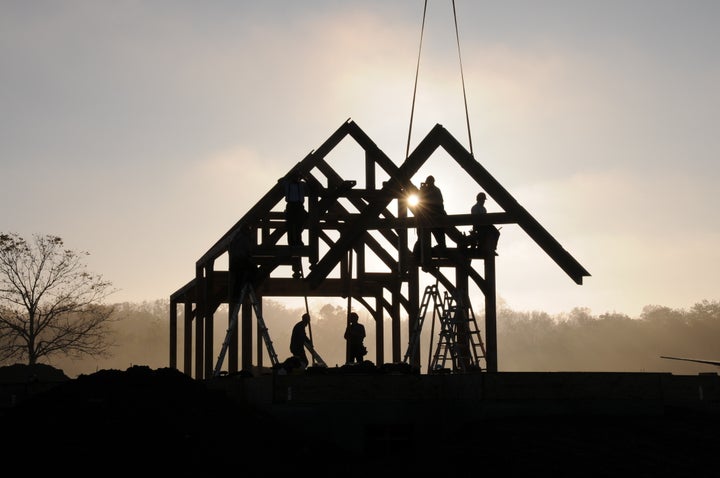 It's easy to romanticize Amish entrepreneurs, imagining them running a business by candlelight. Actually, many Amish businesses do have power -- they just generally find some form of alternate energy to power their store's lights or credit card processing machine, like wind turbines or solar energy panels. Some even have websites.
Even the Amish have to change with the times.
Johnny Miller knows that. Today, the 45-year-old Amish entrepreneur is running a very different business than the one he first took the helm of in 1986. Miller, the co-founder of OakBridge Timber Framing, a home-building company, may look like he belongs in 1890, but his company operates much like any company does in 2012. For instance, like almost every other business owner out there, he has a website, and he is hardly depending on a lantern light to show him the way to business success. His company utilizes a diesel generator and tools that run off air hydraulics, and OakBridge has clients across the country, willing to bring Miller and his team out to build their homes. They've traveled to 23 states so far.
OakBridge employs 10 people -- mostly family members, including some of Miller and his wife, Cinda's nine kids -- and the business makes approximately $1 million in revenue every year.
That's not bad under any circumstance, but it's especially impressive when you consider Miller and his employees work without, say, smartphones and air conditioning.
Who works at your company?
There's my father, Andrew. He is the first generation. He's 74 and enjoys his work immensely and comes to work every day. He was really instrumental when the company got started. He's always been a do-it-right-or-don't-do-it-at-all type of person, and he instilled that in his boys. My two sons, James and Andrew; my two brothers, Neal and Aaron, and my nephew, Nathan, work at the company. My cousin, Joni, is the office manager; my niece, Rachel, works in our office, and my daughter, Naomi, is our bookkeeper. There are 10 of us.Is it more difficult to be Amish in 2012, or was it just challenging as when you started back in 1986?
It is harder, especially in the last five years as we've realized how important it is to have a website. We didn't have a website until just a few years ago. If you're local and selling to people in a 20-mile radius, it's less important, but when you're selling to people out of state and who might not know the Amish life and culture, it's crucial. It's actually a must today. If you don't have a website, you really don't exist.
So who maintains your website? I'm assuming you don't.
We have a printing company, and we pay them a fee to do all the changing and updating and everything like that. It's almost like paying them for doing our marketing.
What else has changed in the last quarter of a century since you opened your business?
The customers want things faster and like to stay in contact with you. The way people operate in today's world, they're not fine with a house being built a year and a half after they order it. They want it in six months or a lot sooner. We've had to change a lot of things about how we do business in the last four or five years. We've noticed, in fact, if we're not willing to change, we may as well shut our doors. So we've been flexible in a lot of the small things, and that's been crucial.
So is the public more impatient? Is it that 24/7 mentality?
I would say this: Ten years ago, people would just walk up to your office, and you'd build their home. In today's world, it takes more work to make a sale.
So does being Amish help a business?
Good question. I would assume it helps for some people, and some people might have other preferred companies that aren't Amish. But people tell us that they want the Amish craftsmanship, and some of that is perhaps a reason people might like our company. There are a lot of good companies out there as well that aren't Amish, but Amish are known for hard work and craftsmanship, and I think it does help.
I understand that OakBridge's goal is not to grow and expand and make millions of dollars. I realize you're Amish, but you're also an entrepreneur. So is that accurate to say?
In a way. We want to do a very nice number of homes, and we don't want to sacrifice our craftsmanship for quantity. We enjoy the size of our company. If you have 500 employees, you don't even know everybody. The 10 of us are all family -- although we have an architect who is non-Amish. About five years ago, during our 20th anniversary, we made a solid decision that perhaps we do want to grow. But the area in which we want to grow the fastest is basically to get better. We're still learning the characteristics of wood, and we have team meetings where we brainstorm and discuss how can we get better and what can we do to make it better.
Do you get a lot of odd questions because you're Amish?
A lot of people ask us some unusual questions. They'll ask us why we don't drive cars, and it's simply a culture issue and not a faith issue. Or they'll ask us why an Amish boy can't go to college, stuff like that, and the truth is, they could. Certainly going to college is a very good thing, but if your child goes to college for four years, perhaps he's not going to stay with the culture, which is neither right nor wrong, but each parent enjoys it when their children are the same culture as theirs. But we also get asked a lot of ridiculous stuff, like is it true that the Amish don't pay taxes. Are you kidding? We pay taxes like everyone else. I don't know why a question like that would crop up. The truth is, Amish pay their taxes.
Name: Johnny MillerCompany: OakBridge Timber FramingAge: 45Location: Business office in Howard, Ohio; Mill in Loudonville, OhioFounded: 1986Employees: 10Website: www.oakbridgetimberframing.com/
Related
Before You Go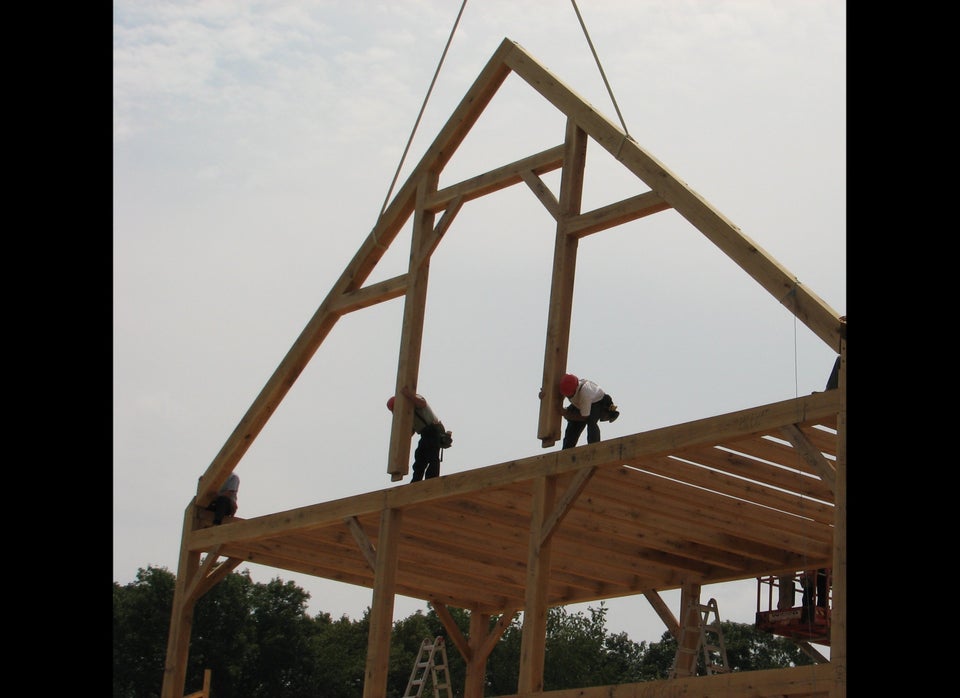 Gallery
Popular in the Community