Most people can't really afford a vacation to Hawaii, let alone buy a house there. So how is it that one man, who never made more than $20,000 a year, was able to own his own home -- mortgage-free -- in one of the world's most desirable places?
Well back in 1999, when Johnny Sanphillippo was 31 years old, he was making a living as a housekeeper in San Fransciso. But ever since he had graduated from college, he was feeling the pressure of the "American dream" to own something that strictly belonged to him. "There's something about American culture that makes us think we need to own a home," he told us.
Unfortunately, due to his income constraints, he learned very quickly that he wouldn't be able to afford a home in San Franscisco -- or anywhere else in California for that matter. But he didn't give up hope for making his dream a reality, and began researching potential properties in other locations that met his requirements. Obviously he had to like the idea of living in the area, be able to afford it and it had to be accessible by public transportation since he didn't have a car.
Coincidentally, he met a man who was renting an apartment in his building who suggested that Hawaii would be the perfect location for Sanphillippo to explore. He quickly booked a trip. "You have to realize, at this time it cost $99 to go to Hawaii by plane," he said. "It was freakishly easy to get to."
Financing would be another story. Without many assets, Sanphillippo knew that securing a mortgage would be an uphill battle. But, thanks to Hawaii's economic struggle due to a decline in tourism, he was able to find a vacant lot right on the Big Island, for just $3,000.
Then it was time to build -- but it wasn't as easy as he thought. Sanphillippo was committed to creating a tiny home because of the practicality of small living. But he couldn't get the county or contractors to be on board with how small he wanted the space to be. "I even had family and friends who that I was crazy for doing this," he said.
Cleverly, Sanphillippo was able to work the system by drawing up plans for a two-story home and a detached two-car garage. "A part of me thought eventually I would be able to build the rest of the home," he said. "But now, I don't need it -- I don't want it."
Over a period of 10 years, Sanphillippo slowly completed the 480-square-foot home. Gradually he finished the interior and exterior, creating a gorgeous space that even has the simple luxuries he really wanted, like a full-sized bed (not typically found in small homes) and a large dining table so he could host parties. The rest of the house is furnished with fabulous second-hand and thrift store finds. And he is completely mortgage-free. The only expenses he has are property taxes, which are around $740 a year, plus $1,000 for insurance.
Currently, Sanphillippo does not live there full-time (his primary residence is in San Francisco). There isn't much work and, he thinks it's an area better suited for those who are ready to retire. "It's not that people can't get by," he said. "But if you're young, you really need to be in a place where there is a more vibrant economy."
However, Sanphillippo feels strongly about living small, having the sense of security that can only come with being mortgage-free and not falling prey to consumerism. "You don't need very much stuff in life," he said. "You need to ask yourself why you need this stuff you think you need. Is it because you really need it or is because you've been told over and over, you have to have it."
Click through our slideshow to see Sanphillippo's lovely Hawaiian tiny home.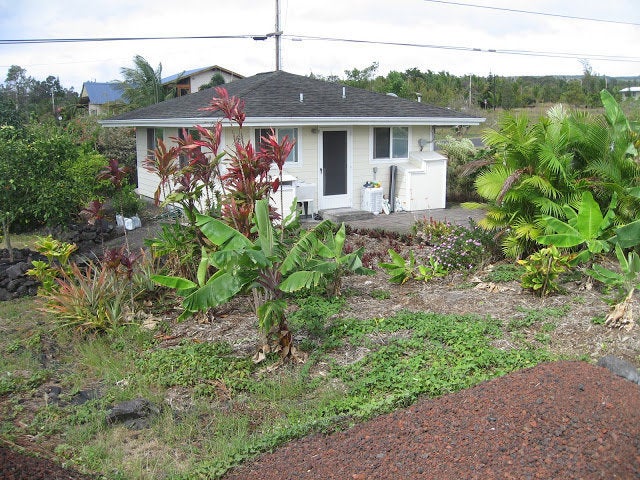 Johnny Sanphillippo's Hawaiian Dream
Do you have a home story idea or tip? Email us at homesubmissions@huffingtonpost.com. (PR pitches sent to this address will be ignored.)
Related