As we approach the holiday season, the Huffington Post Gay Voices RaiseAChild.US "Let Love Define Family™" series continues to bring you heartwarming stories of LGBT couples and singles who pursued their dreams of building a family through fostering and adoption. We hope you'll find inspiration here to provide a safe and loving home for a child in need. This interview with Johnny and Todd Cole of Concord, Massachusetts underscores the fact that each person has something unique and special to share with their children. -- Corinne Lightweaver, RaiseAChild.US
When Johnny Cole, 37, a high school English teacher, and his husband Todd Cole, 44, a high school music teacher, built their dream family, it's no surprise that music -- and musicals in particular -- continued to play huge role in their lives. In our interview, the Coles shared their thoughts about adopting Cassie, now 7, and Amir, now 6, through the Massachusetts foster care system and about using musicals to broach difficult topics with their children.
Corinne Lightweaver: How did you two meet?
Johnny Cole: We met at Boston University. I was an undergrad there and Todd was in graduate school. He was a vocal performance student and I had a lot of friends involved there, so we met through mutual friends.
Todd Cole: The first time I actually saw Johnny was at a choral recital on campus and circumstances just drew my attention to him. I noticed later on that he was directing a musical on campus with the theater group and I volunteered my services to help him and the production out.
Corinne: What was the musical?
Johnny: Todd came and saw "Little Shop of Horrors" when I was performing in that show, but we hadn't met officially then. I was directing the next musical, and he responded to my ad in the "Little Shop" program for a music director. Even though he ended up not working on the production that was how we met. He wrote me an e-mail and I wrote him back. We actually met the night before our winter break and we hung out in the student union for a couple of hours talking. I was flying back to California for break. We ended up emailing every day over the four-week break and that was the beginning.
Corinne: How has music or theater continued in your life?
Johnny: When we got married in 2004 we had already been together seven years. Before that we hadn't really ever thought about marriage because it wasn't really an option. We had been living in upstate New York while I attended grad school and then after I finished we returned to Massachusetts. When the right to marry actually became law in May 2004, we were house hunting at the time. We were walking toward an open house and I said, "What about this gay marriage thing? It's kind of crazy!" and he said "Yeah," and I said, "I feel like we should do it really quickly before they take it away. He said, "Yeah." That was how we decided to get married. Very romantic!
Because we anticipated that what ended up happening in California might happen here, we threw the wedding together really quickly. We got married on a Thursday afternoon and because it was so quick there were only 40 to 50 people there. We thought it would be kind of weird to have dancing with only 40 people so, because we have so many friends who sing and perform, we decided to have a recital after our wedding. So we sent out an invitation and asked our guests to prepare a song and sing it at the concert portion of our wedding as their gift to us. It was really an important part of the wedding and one of the best parts of the day. They all sang some really meaningful songs and we actually sang a song at the end.
Corinne: What did you sing?
Johnny: We sang a song called "All The Wasted Time" from the musical "Parade." It's just a song that we really like singing together. It's actually a pretty morbid song, but the lyrics are really great because it's the husband and wife talking about how much time they've wasted not being together. We had been together for seven or eight years at that point and would have gotten married a lot sooner if we were allowed to, so it seemed like a lot of wasted time. The song just seemed to fit nicely with our relationship and the speed of politics at the time.
Todd: Music has always been a big part of our lives together. I've been a music teacher for almost 20 years now. At the time of our wedding we were both teaching in different schools and Johnny was directing the theater program at his school. I would come over to his school and direct the musicals even though we were teachers in different schools. We would collaborate on projects like that.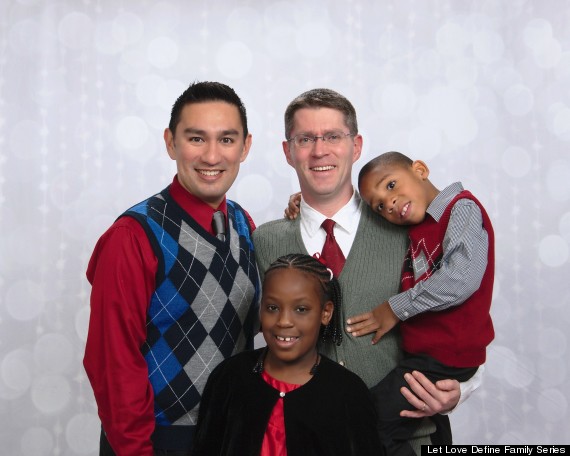 Johnny: As an undergraduate I had majored in public relations at Boston University and ended up working in NYC for two years doing theatrical press. The job was not doing good things for my love of the theater, so because of Todd's influence on my life and the great teachers I've had, I decided to go into teaching. After I got my degree, I ended up teaching English in Boston and ran the afterschool theater program.
It was fun introducing the high school kids to musical theater. And it's great that Todd got to come over and work with me. We would take a busload of kids to New York every year. We would do a day trip, leaving at the crack of dawn on a Saturday, then see a matinee, have dinner and attend an evening show before returning on the bus that night. So it was a big part of our life then and now it has become something that's a big part of our lives with our kids.
Our daughter saw her first musical, "The Lion King," at three years old. Then we took her to see "Les Miserables." We were a little nervous about bringing our son to the theater but it's really awesome now -- we take them all of the time. When he's in the theater and the music starts, he's just transfixed and stops moving. He becomes very focused and can have a great conversation about it afterward.
Todd: It's fun to watch audience members when we sit down with two young kids and see how they always get nervous, thinking, "Oh, here we go! What are they bringing kids for?" Once the show starts, they look over and can't believe this boy is absolutely glued to what's going on and doesn't make a peep or squirm at all!
Corinne: Have you taken them behind the scenes? Do they understand how that works?
Johnny: We've had the opportunity to do that a couple of times. When we saw "Bring it On: The Musical" with them, we were able to go backstage through my connections from my time in New York and the kids got a little tour.
When we took Cassie to see Alvin Alley American Dance Theater for the first time when she was three and we got to go backstage. They gave her one of the yellow fans that they use in "Revelations," so that's up on her bedroom wall.
Theater has been a great avenue for us to have some difficult conversations with the kids because we're all different races in the family. I'm Asian, Todd is white, our son is Latino and our daughter is black, so musicals have helped us be able to talk a lot about it. When we watched "Les Mis" for the first time with Cassie, we were able to talk about Fantine being so sick that she asked Valjean to take of her daughter and that's sort of the dialogue we've had with Cassie about her mom. The foster system is different from private adoption in that most of these kids have been separated from their parents through a judicial process, and it's a hard thing to talk about with young kids. We've always had a big parenting belief that you find the age-appropriate ways to talk about it with the kids. Through theater, we've been able to explain to Cassie that her mom was really sick and knew she was too sick to take care of her, and that's why both of their parents signed over their parental rights so we could adopt them.
Corinne: Can you tell me a little bit about why you decided to adopt through foster care?
Johnny: First of all, we couldn't afford any other of the other options. We researched surrogacy, which we ruled out because of cost. Then we attended some informational sessions for private adoptions and we were still floored by the cost. Beyond the fact that we couldn't afford it, we were unsettled by the concept of paying so much money and then listing what "type" of baby we were hoping to adopt. It felt too much like shopping.
Then a friend told us to look into foster care, so we went to an informational meeting and we thought it sounded very good for our family. And I remember saying to the woman who ultimately became our social worker that it all sounded good to us but could she talk about the financial aspect. She said, "Well, there's a stipend, there's x dollars per month, but you shouldn't be doing this for the money." She clearly misunderstood me so I said, "No, can you tell us how much we pay? What's the cost?" We were so surprised when she said there was no cost. As we learned more about the children who were waiting for homes, we felt it was the best option to expand our family. This route gave us our wonderful children and provided a "forever family" for two kids who really needed it.
Corinne: What was the fost/adoption process like as an LGBT-headed family?
Johnny: Thankfully, it was pretty uneventful. When we first went to the information session, we asked explicitly about it. This was in 2006. The social workers told us that ten years prior they would have to make sure that LGBT parents' cases were presented before certain judges, but that now it was not an issue for any judge. Massachusetts already had legalized gay marriage for two years, so it had already become the law of the land, really.
Todd: There were six straight couples, one single woman and one same-sex female couple in our training class. Our social worker told us that we were actually the only ones in that class that moved forward with fostering and adoption.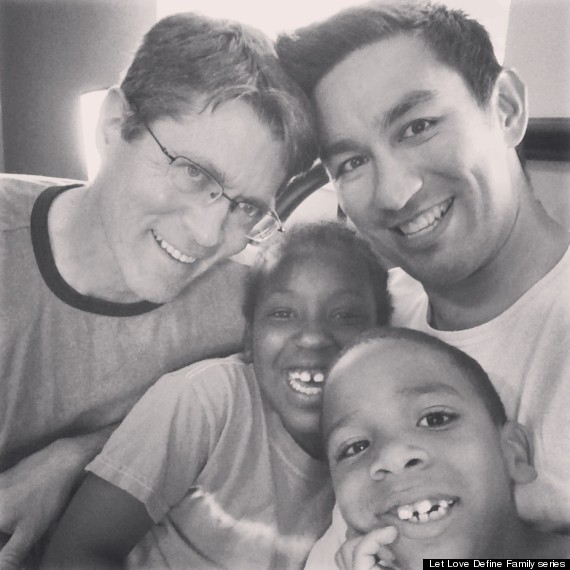 Corinne: What was your fostering and adoption experience like?
Johnny: It was different with each child. We brought Cassie home straight from the hospital. Her mother had left her there at the hospital, so Cassie entered foster care a few days after birth. We also got to name her since her mother didn't before she left. Her mother did resurface a few months later, but the Department of Children and Families (DCF) had already changed their goal from reunification to adoption. We were able to finalize the adoption in 18 months.
Our son, who was one year old when he came to live with us, had spent the entire first year of his life in a great temporary foster home. DCF wasn't making pre-adoptive foster care placements at the time he was born so, unlike our daughter, he had to go to a temporary foster home until he was legally free. He went into care because his mother was incarcerated when she gave birth. We finalized the adoption with him about ten months after he came to live with us.
Corinne: What would you like other families to know about becoming parents through the foster care system?
Johnny: I wish everyone would do it. There's this tremendous fear that these kids are damaged in some way, but that couldn't be further from the truth for the vast majority of the kids waiting for a good home. It's certainly complicated navigating birth family relationships, but all good parents have to learn to leave their egos behind and do what's best for their kids, and that's exactly the case with welcoming foster kids into your family.
We love sharing the world with our kids. When I look over at them in the middle of a show and see their focus and joy as they watch something unfold on stage, it makes me so happy. At the same time, I think we both like how they expose us to new things, like becoming soccer dads!
Corinne Lightweaver is the Communications Manager at RaiseAChild.US. Since 2011, RaiseAChild.US has run media campaigns and events to educate prospective parents and the public, and has engaged more than 2,400 prospective parents. For information about how you can become a foster or fost/adopt parent, visit www.RaiseAChild.US.
Calling all HuffPost superfans!
Sign up for membership to become a founding member and help shape HuffPost's next chapter