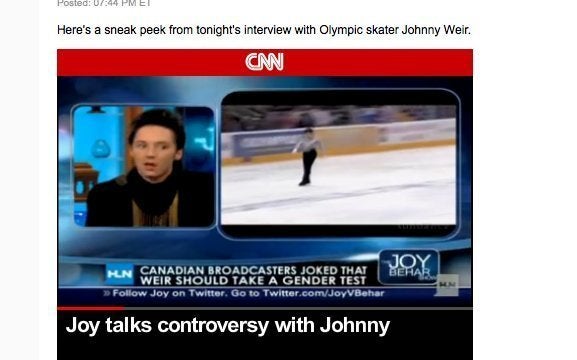 Johnny Weir, the flamboyant U.S. Olympic figure skater, appeared on "The Joy Behar Show" last night and addressed the comments that he is "too gay" for figure skating and that remarks by Canadian commentators that he "needed a gender test." He told Behar that
everyone is different... they never talk about anyone being too butch for figure skating.

I just wish they would think before they actually said it. There are so many kids like me, coming after me, whose parents might repress them just because they saw what they said about me, that their kids are going to turn out like me. And I think me is pretty fabulous.
Behar agreed that Weir was fabulous and said she loved his "Snooki" hairdo. Weir gently corrected her that it was actually Marie Antoinette.
He and Behar shared a funny moment when she brought up the "too gay" comments as he slyly murmured back to her, "too gay." Behar laughed and replied "figure skating -- hello!"
Popular in the Community